Slash the cost of remodeling
Work with your contractor by doing a 'partial DIY.' Not everyone is super-handy, but most of us can bag trash or paint.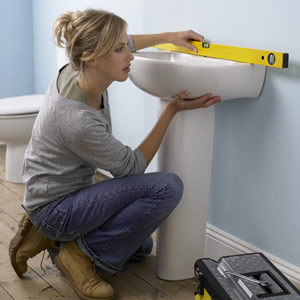 Recently I talked with a woman whose contractor husband frequently encounters resistance to his bids. No doubt a lot of contractors get the same reaction. The fact is (a) insurance and equipment aren't cheap and (b) he and his crew are entitled to a living wage.
But instead of getting defensive, he gets creative.
"Paint the remodeled rooms yourself and the job will be $X cheaper," he'll tell homeowners. Or: "Tear out all this paneling and take care of the on-site trash disposal and you'll save $X."
Not everyone is the DIY type but almost everyone can learn to use a paint roller, or a sledgehammer. While you'd need to be choosy about which tasks you take on, doing some of the work of a repair or remodel can save some serious coin.
Ross Coulter and his wife had a set-in-stone budget to remodel the kitchen and bathroom in their Dallas home. After talking with a general contractor they knew they didn't have enough for the whole job.
The contractor offered a counterproposal: He'd do some of the work and then act as "consultant" while the couple did the rest. They had DIY experience from a previous home and felt comfortable tackling flooring, tile work and painting.
He drops in once a week for an hour to check on the project. When the project is finished the couple will have saved "thousands of dollars," Coulter says.
Part of the solution
Be cautious about taking on too much too fast. (Hint: Contractors get plenty of work fixing "weekend handyman" projects.) However, you might be surprised by what you can learn.
Shawnee H., 29, bought a condemned 600-square-foot home in the Minneapolis area. She watched a lot of DIY videos on YouTube and sought advice from a family member in the building industry.
When she
did
hire contractors she'd ask how she could contribute to the jobs. For example, she shaved $300 off the central air installation by clearing an area for the outside unit.
After six months the place was habitable enough to live in while she finished. The total cost to buy, gut and remodel was $90,000.

"There was no way I could have ever gotten another house anywhere near (that) price," Shawnee says.

A typical project
Upgrading the bathroom is a popular remodel -- and one that might pay you back if you're planning to sell in the near future. Sean Murphy, DIY specialist for Build.com, suggests a homeowner-helper approach to updating the W.C.:

Do the demolition yourself. "The least technical part of any remodel is removing the old in preparation for the new," Murphy says -- and it could save you $400 to $500 in labor costs. Check with the builder to make sure what needs to go out.

Have all fixtures/furniture ready. Buying your own supplies could save you 10% to 15%, and having the remodel built around these items means "there won't be any surprises when it comes time to install the finishing touches, since the space will have been built to your product specifications." In other words: no costly, last-minute changes with the builder.

Paint it yourself. Depending on the number of colors and the bathroom's size, you can save $250 to $600 "if you have the time and patience for (painting)," Murphy says.

What's it worth to you?
Incapable of even prying loose a few deck boards? You could still put in some hours with the daily cleanup. "Anything the contractor doesn't have to pay someone for helps your bottom line," says Andrew Schrage of the Moneycrashers personal finance site.
Don't forget to value your time, though. Christopher Burns spent way too many hours last summer on a drywall at his Utica, NY home.

"Sweaty and covered in dust every night is how I spent my evenings for a few weeks...(It) took away quite a bit of time from my family," he says now.

Sometimes doing some of your own work isn't optional -- it's the only way you'll be able to afford the project at all. If you greatly value your free time, you'll have to wait a little longer for the remodel, i.e., until you can save up the money to have someone else do it.

When you're discouraged by the look of those old bathroom fixtures or the poorly designed kitchen space, remind yourself that at least you're not going into debt to get them fixed.

And if that doesn't make you feel better? Start watching YouTube how-tos.

More on MSN Money:

DATA PROVIDERS
Copyright © 2014 Microsoft. All rights reserved.
Fundamental company data and historical chart data provided by Morningstar Inc. Real-time index quotes and delayed quotes supplied by Morningstar Inc. Quotes delayed by up to 15 minutes, except where indicated otherwise. Fund summary, fund performance and dividend data provided by Morningstar Inc. Analyst recommendations provided by Zacks Investment Research. StockScouter data provided by Verus Analytics. IPO data provided by Hoover's Inc. Index membership data provided by Morningstar Inc.