Cash in your kid's closet?
A new study says the average family has $1,318 worth of saleable children's gear -- and resale has never been easier. Some parents even turn a profit.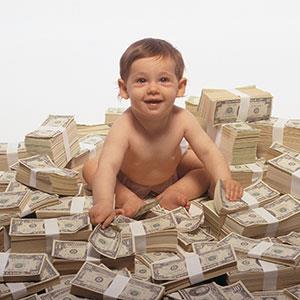 That adorable dress Grandma sent was worn exactly once. Or maybe your little buckaroo outgrew his stylin' cowboy boots before he could break them in properly. 
A new study from the children's clothing resale site thredUP says that the average family has has $1,318 worth of saleable children's wear.

Reselling has never been easier. Children's consignment stores, eBay, community resale events, Facebook groups and online companies like thredUP, Moxie Jean and Seams Karmic make it possible to turn outgrown clothing and gear into cash money. 
At times those new-to-you outfits are new, period. Ashley Nuzzo, who blogs at Frugal Coupon Living, buys from as well as sells to thredUP; plenty of her purchases show up with department-store tags still attached.
Other parents also plow the money back into those same sources to re-outfit their kids for less. Some have turned reselling into a profitable sideline. Tiffani Taff makes as much as $900 a year selling her kids' outgrown clothes -- or clothes they've never had a chance to wear.

"I have purchased items just to turn around and resell (them)," says Taff, who blogs at Thrifty Tiff.
Things to know 

Interviews with a handful of Savings.com DealPros turned up the following best-practice tips on turning old clothes into new money:
Inspect before selling. Items with grass stains or obvious wear won't be accepted for consignment. (Would you pay top dollar for a beat-up item?) However, they might sell for a quarter at your next yard sale as "play clothes."
Iron everything.
The clothes will look much spiffier on the consignment store rack or in the online photos.
Think "ensemble." When possible put together outfits versus selling shorts and tops or skirts and blouses singly. "Presentation is huge. . . . If your clothing looks top-notch people will be willing to spend more," says Melissa Buckles of The Bargain Shopper Mom. 
Go local. Don't want to fuss with mailing? Consignment shops will sell your duds and split the money. The advantage is lots of traffic; the disadvantage is, well, having to split the money. Look for consignment sales in your area; these, too, have lots of traffic but you may get to keep more of the cash. Courtney Solstad, a Dallas mom of three, recently earned $300 (after fees) at such a sale.

Go really local. Solstad also belongs to a Facebook group devoted to selling children's clothing and gear. It's like an online garage sale except that "you don't have to scavenge -- you see a picture and you buy it," says the mom of three, who blogs at My Crazy Savings. In the past two months Solstad has made $500 via Facebook.
Worth your time? 
The pass-it-along tradition among new parents will likely never go away. It's good frugal karma to share those jeans or onesies. But if you're feeling pinched economically, why not sell that Burberry dress your daughter's godmother sent?
The thredUP study lists which brands hold their value for resale. Look for such clothing at yard sales and thrift or consignment shops.
Or retail stores: Taff hits a twice-annual clearance sale at The Children's Place. "Items go as low as 99 cents," she says, and can be resold for $3 or $4.

Be sure to factor in any costs -- postage, eBay fees, the consignment store's cut -- and also the amount of work involved. While it can be as simple as filling up and mailing a postage-paid box or dropping off your little duds at a local shop, this still involves sorting, inspecting and ironing.
Depending on your circumstances that can certainly be worth your while. The women I interviewed swear by the process. But if you're super-busy and have only a few saleable items, you need to decide whether making an extra $20 is worth the hours and potential stress.

More on MSN Money:
DATA PROVIDERS
Copyright © 2014 Microsoft. All rights reserved.
Fundamental company data and historical chart data provided by Morningstar Inc. Real-time index quotes and delayed quotes supplied by Morningstar Inc. Quotes delayed by up to 15 minutes, except where indicated otherwise. Fund summary, fund performance and dividend data provided by Morningstar Inc. Analyst recommendations provided by Zacks Investment Research. StockScouter data provided by Verus Analytics. IPO data provided by Hoover's Inc. Index membership data provided by Morningstar Inc.