What keeps you from saving?
Maybe it really does take every dime to make ends meet. Or maybe you're not holding yourself accountable.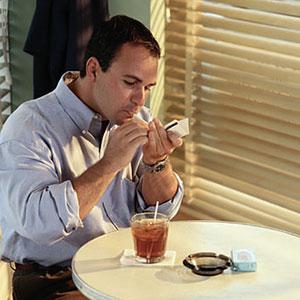 The U.S. personal savings rate dropped to 3.3% in September, according to the U.S. Bureau of Economic Analysis. This time two years ago, we were saving 5.6%.

Pick your reasons why: stagnant wages, rising costs of food and fuel, rent/property tax increases, utility price hikes, high student loan payments.

Or how about: frequent meals out, big televisions, expensive vacations, buying more car/house than you can afford, and our increasing national tendency to be smartphone rich and cash poor.

In some cases, it really does take every dime just to keep the lights on. The under- or unemployed truly may not be able to save, and even those who make decent money are increasingly pinched.

Be honest, though: Do you skip saving because you can't afford to, or because you don't want to do the hard work of holding yourself accountable?

One couple I know has zero savings and no emergency fund, and they are regularly late with mortgage and car payments. Yet somehow they have the money for junk food, smartphones and satellite television. Their main financial tool seems to be hoping that the checks clear; they consider nonsufficient funds charges a necessary evil.

Their bank probably loves them.

Round up the usual suspects
As noted, some people can't make ends meet because they don't earn enough or can't find jobs. Others sabotage themselves with one or more of the following bad habits:
Not having a budget. Without some basic money management, you bleed bucks on things like late fees and bounced checks. Two or three of those per month means $60 to $75 that won't go into savings.

Picture yourself putting three or four $20 bills on the barbecue grill and turning on the gas. Bad idea, huh? Especially when you can: 
Automate payments, making late fees a thing of the past.
Plug your finances into an online budgeting tool like Mint.com or Adaptu.com.
Go to MSN Money's personal finance page for articles on the basics of budgeting.
Autopilot spending. Do you tend to buy a soda and a bag of chips when you go in to pay for your gasoline? Grab a couple of magazines while waiting in the supermarket checkout line? Take money from the cash machine on Friday even though you have no firm weekend plans?

Get one of those online budgeting tools going, and track your cash for a month. Or track it on paper. The amount of cash you piddle away each week might make you cry.

You don't have to give up fun. You just need to be more intentional about it.

Vices. Just about everybody has a nonessential but oh-so-satisfying treat: beer, pedicures, cigarettes, lottery tickets. Personally, I could give up Diet Coke or midnight movies. But I don't want to, so I treat myself -- after all the essentials are covered. That includes putting money into savings.

Again: You're allowed to have fun. Just don't do it at the expense of long-term security. Take care of business before you see to your pleasure.

The bigger picture

Not having an emergency fund. This sounds counterintuitive: I can't save because I haven't saved yet? Yes. When you don't have that cushion, an unexpected expense can sabotage your budget: You end up bouncing checks, adding to existing consumer debt or, heaven forbid, taking out a payday loan. The extra you pay out is cash you don't get to keep.

Don't give your money to a bank, a credit card company or a payday lender. Give it to yourself, by putting it into savings. Start with the $500 that MSN Money columnist Liz Weston recommends for a baseline EF. Coaxing just $10 a week out of your budget will get you there.

Or automate savings from every paycheck, which will force you to learn to live on what's left. You might have to cut back on smoking, skip the payday pizza, drink water instead of soda and give up taking the kids to a movie every Saturday.

Yep, you'll miss those things. My advice? Until you build yourself that cash cushion, find some cheaper ways to have fun.

Think of the bigger picture: The next time a tire blows out or your kid breaks her glasses, you'll be able to pay cash for the unexpected expense. The stress that unexpected expenses used to cause will be gone.

Believe me: You won't miss that sort of thing at all.

More on MSN Money:
DATA PROVIDERS
Copyright © 2014 Microsoft. All rights reserved.
Fundamental company data and historical chart data provided by Morningstar Inc. Real-time index quotes and delayed quotes supplied by Morningstar Inc. Quotes delayed by up to 15 minutes, except where indicated otherwise. Fund summary, fund performance and dividend data provided by Morningstar Inc. Analyst recommendations provided by Zacks Investment Research. StockScouter data provided by Verus Analytics. IPO data provided by Hoover's Inc. Index membership data provided by Morningstar Inc.
WHAT IS FRUGAL NATION?
Donna Freedman's Frugal Nation blog is for readers who want to live cheaply -- whether due to necessity or a lifestyle choice. It explores living sustainably and making life more meaningful at the same time.
Donna Freedman, a writer based in Anchorage, Alaska, writes the Frugal Nation blog for MSN Money. She won regional and national prizes during an 18-year newspaper career and earned a college degree in midlife without taking out student loans. Donna also writes about the frugal life for her own site, Surviving and Thriving.