Your doctor may know your unhealthy secrets
Some hospitals are using patients' credit card data to identify patients at risk for poor health.
This post comes from Krystal Steinmetz at partner site Money Talks News. 

Canceled your gym membership? Bought a few packs of cigarettes? It appears your doctor may be privy to these types of unhealthy activity choices, even if you didn't disclose them yourself.
According to Bloomberg, a number of hospitals are using detailed consumer data reports to develop patient profiles in an effort to identify those at risk of getting sick, so they can step in before it happens.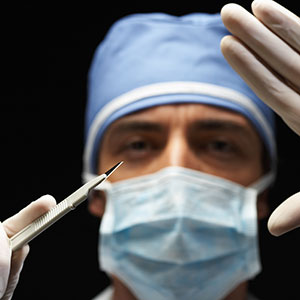 "Information compiled by data brokers from public records and credit card transactions can reveal where a person shops, the food they buy, and whether they smoke," Bloomberg said.
In other words, the doughnut and soda you routinely have for breakfast may not be as secret as you think.
A hospital chain in the Carolinas is already compiling data for millions of people, trying to identify high-risk patients.
But many Americans are worried that health care's embrace of consumer data mining is an invasion of privacy. There are concerns over its impact on doctor-patient relationships.

Bloomberg said:
"It is one thing to have a number I can call if I have a problem or question, it is another thing to get unsolicited phone calls. I don't like that," said Jorjanne Murry, an accountant in Charlotte, N.C., who has Type 1 diabetes. "I think it is intrusive."
A New York Times story about the mining of data by hospitals points out another potential problem: What if the information is wrong? The story says: 
In a
more-data-the-merrie​r

culture, patients may ultimately be unable to choose whether their health insurers know they prefer organic foods, hunt big game or own a dog. If health insurers mistakenly peg certain people as dog owners, patients probably won't find that out, either.

Before the Affordable Care Act, hospitals operated on the traditional fee-for-service model. Now, hospital pay is often linked to quality, not quantity. For instance, hospitals face fines if their readmission rates are too high. But they're rewarded if they perform well based on a "benchmark of clinical outcomes and patient surveys," Bloomberg said.




It's important to note that Obamacare doesn't allow insurers to charge people more based on their health status, so the data mining can't be used to increase or decrease insurance rates, Bloomberg said. Also, the information collected on patients would be private, bound by doctor-patient confidentiality agreements.




It's disconcerting to think that every credit card purchase I make is being monitored and possibly sold to other parties. It's weird enough to think of marketing companies using my shopping data, but now my doctor has the potential to see it too. I don't really have anything to hide, I guess. I'm honest with my doc about not always making good eating choices and my lack of motivation to exercise. But still. I think all of this is a little creepy.




Do you think data brokers sharing your personal information -- like credit card purchases -- with hospitals and doctors is a violation of your privacy?




More from Money Talks News

It's bad enough that I get an internet pop-up add for tampons after buying some for my wife. So now, I buy 20 Slurpee's for my Little League team and I'm a diabetic risk! The box of cigars I bought for my buddy to celebrate a new baby, now I'm a smoker! Next, will insurance companies pick up on this information and attempt to deny payment based on predetermined risk assessments? Damn right it's an invasion of privacy.

Are you sure you want to delete this comment?
DATA PROVIDERS
Copyright © 2014 Microsoft. All rights reserved.
Fundamental company data and historical chart data provided by Morningstar Inc. Real-time index quotes and delayed quotes supplied by Morningstar Inc. Quotes delayed by up to 15 minutes, except where indicated otherwise. Fund summary, fund performance and dividend data provided by Morningstar Inc. Analyst recommendations provided by Zacks Investment Research. StockScouter data provided by Verus Analytics. IPO data provided by Hoover's Inc. Index membership data provided by Morningstar Inc.