How much does your doctor bill Medicare?
Federal data show that a tiny sliver of medical providers accounts for a hefty share of Medicare costs. You can find out how much your doctor collects.
This post comes from Krystal Steinmetz at partner site Money Talks News. 

Some doctors are getting rich off of Medicare. And others look like they are, when they're actually sharing a billing code with other doctors or performing necessary but pricey medical procedures.
A new study shows that the top 1 percent of doctors and other medical providers accounted for 14 percent of the nearly $77 billion in Medicare billing recorded for 2012. Medicare is the government health insurance program for those 65 and older.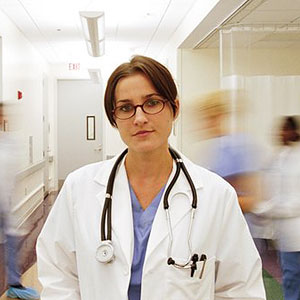 One Florida ophthalmologist reportedly billed Medicare for nearly $21 million in 2012, 64 times the average in the ophthalmology field. You can read more about him here.
The Centers for Medicare and Medicaid Services made the Medicare billing information public this week for the first time. Some of the statistics were startling. For instance, "Some top earners were paid as much as 100 times the average for their respective fields," Bloomberg said. 
Is your doctor on the Medicare billing list? You can check by clicking on the CMS website here.
But don't be quick to assume that the top earners on the Medicare list are scamming the system. Sure, some probably are, but that's not always the case. But it's hard to tell what's what just looking at the information that was released. According to The Wall Street Journal:
Medical groups and policymakers have asserted that the figures lack context needed to show which doctors may be abusing the system and which are simply hard workers and overseers of complicated medical practices, or those whose specialties involve high overhead costs, such as radiation oncology, that lead to bigger bills.
For instance, a family practice physician in Michigan shows up on the list as one of the highest reimbursed doctors in her field. But it fails to show that she oversees a statewide, Medicare-funded project, and the majority of the Medicare money billed in her name is used to reimburse other doctors for their services, not pad her pockets.
Medicare billing information has been kept under lock and seal since 1979. Last year, a federal judge overturned a previous injunction, and presto -- now we know where Medicare compensation is going. I think this is a great step in providing transparency for a government-funded program.
What do you think of the new Medicare billing information?

More from Money Talks News

Well, having a physician daughter, and being in medicine myself, again, I maintain that most physicians are only playing by the rules set out by Medidon'tcare. The Medicare Queen has stepped down, and another mounts the throne. This will only end when the fat lady sings for all of us. All systems are capable of being corrupt, and as long as humans manage the systems there will be corruption, stupidity and those awfully decadent people in the chairs of authority.
It is all crap. Believe this and move on to what is really important; your own immortality. It has nothing to do with governments and everything to do with eternity.  
Face reality: live with less, realize that less is more, and get ready for the eternity that you cannot imagine the glory of. This is what we are called to do.
And, by the way, remember that thrift shops are visited by those who already know about this. Why not strike up a conversation?? Learn from one another and just give up on what you can't control. In the mean time, stop writing drivel and lies.
Are you sure you want to delete this comment?
DATA PROVIDERS
Copyright © 2014 Microsoft. All rights reserved.
Fundamental company data and historical chart data provided by Morningstar Inc. Real-time index quotes and delayed quotes supplied by Morningstar Inc. Quotes delayed by up to 15 minutes, except where indicated otherwise. Fund summary, fund performance and dividend data provided by Morningstar Inc. Analyst recommendations provided by Zacks Investment Research. StockScouter data provided by Verus Analytics. IPO data provided by Hoover's Inc. Index membership data provided by Morningstar Inc.