5 ways to cut the cost of dental care in half
These tips can take a big bite out of your dental bills.
This post comes from Allison Martin at partner site Money Talks News.


Have you visited the dentist lately? If so, you are well aware of the hefty price tag that can accompany many services, both routine and non-routine.
A cleaning, full set of X-rays and exam generally costs anywhere from $175 to $300. And if you're among the millions of Americans who don't have dental insurance, you're paying the full amount yourself.
But there are ways to receive high-quality care at half the cost.
1. Dental schools
The lowest-cost option for those who don't carry dental coverage is a dental school.
Skeptical about the level of care you'll receive? Don't be. Although the procedures may be done by students, they are well-supervised by seasoned instructors. And the equipment and tools are high-caliber.
But bear in mind that you'll likely spend more time at the dental school receiving routine care because instructors have to check the work of their students before you are released. The upside to the extra time is that your teeth and gums will receive the thorough treatment they deserve.
Interested in giving a dental school a shot? Visit the American Dental Association's website for a comprehensive listing of locations nationwide.
Also, look for dental hygienist schools for low-cost routine cleanings. You can find them here.
Here's another possibility: The National Institute of Dental and Craniofacial Research says you may be able to sign up for a clinical trial dealing with your particular dental needs and get free or low-cost care. Go to the institute's website and click on "Clinical Trials" near the top.
2. Low-cost clinics
No dental school nearby? If you have limited income, look for a dental clinic associated with a federally funded community health center in your town or county. They charge for services on a sliding scale based on income. You can find them here.
3. Ask questions and be firm
If a dental school or community clinic is not an option, inquire about pricing and payment policies upfront before you visit a local provider. For instance, the dental office may give you a discount if you immediately pay the full bill. Ask about other discounts as well.
Compare prices between offices, which can vary widely. Talk to friends and read reviews to evaluate service if you're looking for a new dentist. You want a dentist with fair prices and dependable care.
Check to see if the dentist has been disciplined by your state's dental board. The ADA provides contact information for state boards here.
Also, be careful about accepting costly niche cosmetic services or extras you may not need, like a deep cleaning if you don't have gum disease. A good dentist won't try to talk you into a crown when a regular filling will do. Unfortunately there are dentists who try to upsell patients.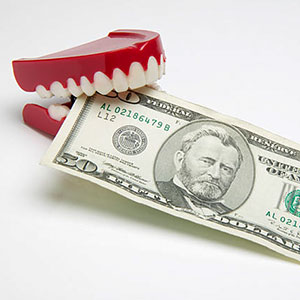 Once you've received treatment, keep adequate records in case you receive a hefty bill after the fact for services you didn't authorize.
4. Know what your plan covers
If you're fortunate enough to have dental insurance through your workplace, be aware of what the coverage limits are. The plan may cover the entire cost of one or two basic cleanings a year, but you'll often end up having to pay half the cost of expensive procedures out-of-pocket. Also, insurance usually doesn't pay for cosmetic procedures.
Since you're going to be paying for all or a big chunk of many services, that's another reason why it's important to be sure the procedure is truly needed.
No insurance? You may want to look into dental discount plans, where participating dentists offer lower prices to plan members, who pay a fee every year. But be careful to choose a reputable company.
5. Preventive maintenance
A simple way to keep the costs of dental care under control is by taking care of your teeth, both at home and with regular cleanings at the dentist office.
That means brushing twice a day and flossing daily. It's essential for the health of both your teeth and gums.
According to the ADA, 100 million Americans skip dental visits each year, "even though regular dental examinations and good oral hygiene can prevent most dental disease."
So, do yourself a favor and pay a visit to the dentist. And while in the dental chair, it's also a good idea to inquire about any additional tips that will help you maintain an optimal level of care at home.
Do you have any additional tips to help cut dental costs?
More from Money Talks News
These are pretty good ways to have dental treatment at a low cost. Need to also add on your list — dental tourism, which is increasingly growing every year. There are good dentists right across the border in Mexico  (
http://www.placidway​.com/profile/1965/De​ntalia-Dental-Clinic​s
) that cater almost exclusively to Americans.  Patients are now driven by the reasonable costs, and satisfying results. A reported 75% dental treatment savings in some countries like Mexico and Thailand. But of course the most important thing of all is proper dental care habits. If you're proactive about keeping your teeth in shape, just like keeping your body in top condition, it will save you from costly dental procedures and plenty of pain. A healthy lifestyle will show up throughout your entire body.
Are you sure you want to delete this comment?
DATA PROVIDERS
Copyright © 2014 Microsoft. All rights reserved.
Fundamental company data and historical chart data provided by Morningstar Inc. Real-time index quotes and delayed quotes supplied by Morningstar Inc. Quotes delayed by up to 15 minutes, except where indicated otherwise. Fund summary, fund performance and dividend data provided by Morningstar Inc. Analyst recommendations provided by Zacks Investment Research. StockScouter data provided by Verus Analytics. IPO data provided by Hoover's Inc. Index membership data provided by Morningstar Inc.