A major change is coming to Medicare
A lawsuit settlement will end a Medicare policy that deprives chronically ill people of needed care.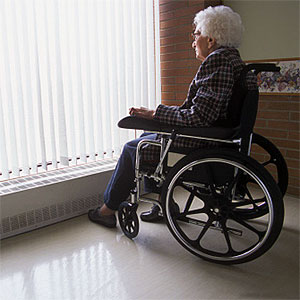 Here's a Medicare rule I didn't even know existed until a lawsuit settlement dealt it a death blow last week: Medicare will not pay for skilled nursing care or therapy for patients who are not expected to get better.
That's right. It doesn't matter if the skilled care or therapy would make your life less miserable or slow your downhill slide. Think of the special care needed for those with Alzheimer's or Parkinson's or chronic lung disease.
That's going to change. The Los Angeles Times explains: "Under the terms of the settlement -- expected to be approved by a federal judge in Vermont in coming months -- Medicare would not deny skilled nursing care and various forms of therapy for beneficiaries, regardless of their prognosis."
The U.S. Department of Health and Human Services called the settlement a mere clarification of the rules and downplayed the impact.
But others say this is a huge development. The New York Times, which broke the story about the lawsuit settlement, said tens of thousands could expect to benefit. Other say it could help hundreds of thousands of Medicare recipients.
The New York Times said: "Under the agreement, which amounts to a significant change in Medicare coverage rules, Medicare will pay for such services if they are needed to 'maintain the patient's current condition or prevent or slow further deterioration,' regardless of whether the patient's condition is expected to improve."
According to The Associated Press:
"Those who stand to benefit include not only people with intractable conditions like Alzheimer's, multiple sclerosis, Parkinson's and chronic lung disease. Those who are growing weaker because of advancing age, placing them at greater risk of falls and other problems, also could be helped."
The class action includes more than 10,000 Medicare patients whose claims for skilled nursing care and therapy were denied before the suit was filed. But no one knows how many Medicare recipients have simply gone without these services because they were told that Medicare wouldn't pay for them and they couldn't afford the cost themselves.
Also unknown is the financial impact to Medicare, already a large drain on the federal budget. But paying for improved care now could reduce more costly treatment and hospital stays later on. 
Another odd aspect to this case is that the rule that's being rewritten -- the so-called "improvement standard" -- isn't in the law that created Medicare nearly a half century ago or in government regulations. It's spelled out in a Medicare manual and in the rules used by private contractors hired by Medicare to decide which claims are paid and which are not.
Who all stands to benefit after the judge approves the settlement? Medicare is a government health insurance program for those 65 and older and younger people with disabilities.
Have you or someone in your family been denied coverage under Medicare's improvement standard?
More on MSN Money:
DATA PROVIDERS
Copyright © 2014 Microsoft. All rights reserved.
Fundamental company data and historical chart data provided by Morningstar Inc. Real-time index quotes and delayed quotes supplied by Morningstar Inc. Quotes delayed by up to 15 minutes, except where indicated otherwise. Fund summary, fund performance and dividend data provided by Morningstar Inc. Analyst recommendations provided by Zacks Investment Research. StockScouter data provided by Verus Analytics. IPO data provided by Hoover's Inc. Index membership data provided by Morningstar Inc.