Wal-Mart tests life insurance sales
The big-box chain has partnered with MetLife to sell life insurance in 2 states.
This post comes from Mark Chalon Smith at partner site Insurance.com.

MetLife, Wal-Mart and an iconic beagle with droopy ears have forged a partnership to sell life insurance to bargain-hunting shoppers.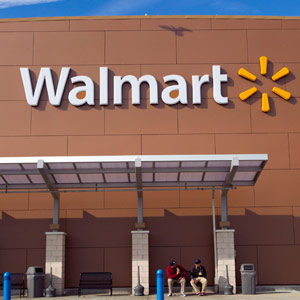 The New York-based insurer now offers a prepaid life insurance policy in about 200 Wal-Mart stores in Georgia and South Carolina. Packaging and promotional materials for the one-year policies, which start at $69 for $10,000 in death benefits, feature the puckish image of Snoopy, the "Peanuts" canine created by Charles Schulz.
The big-box chain store, headquartered in Bentonville, Ark., and recognized as the world's biggest retailer, follows in the steps of Costco, which began offering health insurance in nine states in April. Costco hooked up with Aetna in its insurance deal.
Walmart's clout attracted the insurer
Shane Winn, a MetLife spokesperson, said the joint venture with Wal-Mart will provide the largest U.S. life insurer with access to the retailer's broad consumer base.
"With 84% of Americans having shopped there in the past year, Wal-Mart provides the type of reach and scale that MetLife seeks, so we can bring this product to the widest possible audience," Winn said.
Winn described the partnership as "a pilot program" with no immediate plans to offer policies beyond South Carolina and Georgia. But if sales are good in those states, he noted, it would make good business sense for MetLife to consider marketing to other regions.
The policies vary according to age and how much coverage you want. People aged 60 to 65 pay $429 a year for $25,000 worth of coverage, while those 18 to 44 can get a one-year, $10,000 policy for $69.
How does the process work? Wal-Mart shoppers buy cards equal to the policy's cost. From there, they'd call MetLife, which would ask questions about their health and, if they're approved, activate the policy. Those who don't qualify can get a refund at Wal-Mart, Winn said.
Cutting out the middleman
MetLife has made it clear since its earnings report in May that it wants to cut expenses by $600 million by 2016. One of the ways to do that is to focus more on direct sales -- like selling insurance on the Web or at Wal-Mart. Direct sales of life insurance could climb to 13% of the nationwide life insurance market in 2016, up from the 8% in 2010, according to a company presentation.
But Winn stressed that the Wal-Mart partnership is not about cost cutting; it's more about finding an untapped revenue stream in a new market.
Sarah Spencer, a Wal-Mart spokesperson, told Bloomberg that this is the first time the retailer has sold insurance. She added that Wal-Mart is trying to expand its financial services offerings, and that it's too early to judge customers' response to MetLife's products.
More from Insurance.com and MSN Money:

"Get ML, it pays"-NOT. Look into it-LOTS of suits against them for collecting money and not paying. Add in the spoliage-the number of people who pay the money at WM and never get the coverage for whatever reason-fail to follow-up, rejection, etc. This is a windfall. Maybe another insurance company I don't know so much about...

The great thing about this move is that it will raise consciousness in Americans - who are typically underinsured or not insured - about the need for and importance of having life insurance.
The downside is that consumers are not going to get what they really need because Walmart is only offering one product, from one company (MetLife).
To find the right life insurance product, people can use some of the powerful features provided by many insurance websites. A good one is the QualityTermLife website .
To help prepare you before you buy, you can find all the information you need about insurance, use the quote engine to play around with coverage amounts, and find the lowest rates by comparing products from hundreds of top companies.
(The reason I recommend the Quality site is because it is one of the only ones that don't ask for your contact information before showing you the quotes!)
Are you sure you want to delete this comment?
DATA PROVIDERS
Copyright © 2014 Microsoft. All rights reserved.
Fundamental company data and historical chart data provided by Morningstar Inc. Real-time index quotes and delayed quotes supplied by Morningstar Inc. Quotes delayed by up to 15 minutes, except where indicated otherwise. Fund summary, fund performance and dividend data provided by Morningstar Inc. Analyst recommendations provided by Zacks Investment Research. StockScouter data provided by Verus Analytics. IPO data provided by Hoover's Inc. Index membership data provided by Morningstar Inc.