Tooth fairy as economic indicator?
A dental insurer believes 'the value of a lost tooth is closely related to the U.S. economy.' What does it mean that the going rate for a baby tooth dropped 17% in the past year?
This post comes from Brandon Ballenger at partner site Money Talks News.


Here's an economic indicator you probably never thought about: the tooth fairy.
For more than a decade, a dental coverage network called Delta Dental has been surveying families about their visits from the famous collector of baby teeth. And they've found something to chew on.
The going rate for a tooth has tracked with the stock market seven out of the past 10 years. The graph below compares the value of tiny teeth with the Dow Jones Industrial Average.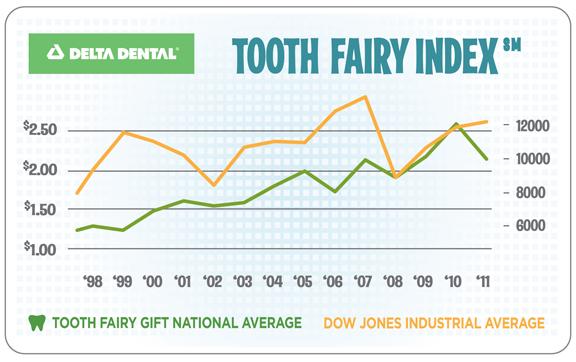 The latest results show the tooth fairy was hit harder than the average investor last year. Delta Dental says the payout for a tooth lost in 2011 was an average of $2.10, down from $2.52 in 2010. That's a 17% decline and close to the 2009 average.
Nonetheless, there's something to smile about: She still visits 90% of homes, giving anywhere from $1 (the most common amount) up to $100.
Pricier than a mouthful of lost baby teeth -- children get 20 baby teeth in total, says the American Dental Association (.pdf file) -- might be a couple of trips to the dentist. A third of parents allow their kids too many sugary drinks, according to the Delta Dental poll. Fortunately, it notes, "90% of those surveyed say they take their children to the dentist every six months."
More on Money Talks News and MSN Money:

Typical lack of understanding regarding statistics, causation, and correlation.  This story looks like the tail wagging the dog.  The "tooth fairy" index looks more like the stock market is a leading indicator of tooth values rather than the other way around.  The simplest, and most obvious and logical solution is usually correct. 
Note the '02 stock drop then '06 tooth drop and the '07-'08 stock drop and the "current" tooth drop.  The more severe the stock drop, the quicker the following tooth drop.
UGH!
Are you sure you want to delete this comment?
SMART SPENDING
Should you join the military?
The pay for serving and protecting your country isn't great at first, but military service comes with some decent retirement and education perks -- and substantial risks.