Kicked off a parent's health plan: Now what?
Here are 5 potential sources of insurance for people who are nearing their 26th birthday and who will no longer be covered by a parent's policy.
This post comes from Barbara Marquand at partner site Insure.com.
You'll need to do more than make a wish for good health when you blow out the candles on your 26th birthday.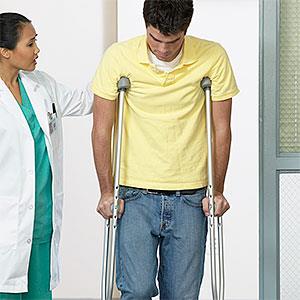 If you're among the millions of young adults who have stayed on their parents' health insurance plans, you'll need to find new coverage.
The Patient Protection and Affordable Care Act lets a young person stay on a parent's health plan up to age 26. Whether the coverage ends on your birthday or at the end of the policy year depends on the plan.
"Most plans are at least extending it to the end of the month or to the end of that policy year," says Steve Wojcik, vice president of public policy for the National Business Group on Health.
As your 26th birthday approaches, your parent should contact his or her employer's human resources department to find out when coverage will end.
"It's important to plan ahead instead of waiting until the last minute," says Martin Rosen, a co-founder of Health Advocate in Plymouth Meeting, Pa., a service that helps individuals and employers navigate the health care system.
Here are health insurance options to explore when you're kicked off a parent's plan:
Enroll in your own employer's plan
If you have a job that offers health insurance, let your benefits administrator at work know you'd like to enroll in the health plan. Normally, you sign up for health insurance at work during open enrollment, which typically takes place in the fall for the following year. But under federal law, you're eligible to sign up outside of the open enrollment period if you've lost coverage on a parent's plan.
Coverage through spouse's plan
If your spouse or domestic partner has employer-based health insurance, see if you qualify for coverage on his or her plan. Most employers that provide health insurance to employees extend health benefits to spouses, and a growing number of employers extend benefits to domestic partners. Don't procrastinate. Under federal law, your spouse or partner has 30 days after you lose coverage to ask the employer to add you to the health plan.
Consider COBRA
COBRA is short for the Consolidated Ominius Budget Reconciliation Act. The law gives families a safety net if they lose employer-sponsored health insurance because of unemployment, divorce, death of a spouse or loss of eligibility for coverage as a dependent. Under COBRA, you can continue to receive health insurance benefits under your parent's plan for up to 36 months.
This might be your best bet if you have a health condition that would make qualifying for an individual insurance policy difficult. There's one big catch, though: You have to foot the premium, plus an administrative fee of up to 2%.
Your parent's health plan administrator should notify you about your eligibility for COBRA continuation coverage, Wojcik says. You will have 60 days to decide whether to elect coverage.
Comparison-shop for an individual policy
You might find coverage that's more affordable than COBRA by shopping for an individual health insurance plan. An independent health insurance broker can help you sort through the options.
Think about the level of health care you're likely to need, then compare premiums. Generally the higher the deductible, the lower the premium. Other out-of-pocket costs include co-payments for doctor visits and coinsurance -- the percentage of health care bills you pay after the deductible is met. Consider how much health care you're likely to need and plan accordingly.
Dig into the details about what plans cover before you select one.
"Do the math and do your homework and make some sort of evaluation," Rosen says. "People tend to overinsure. Why would you pay an extra $400 or $500 a month for a low-deductible plan if you only go to the doctor two or three times a year?"
Starting in 2014, you'll have to have health insurance by law, and you'll be able to shop for plans through a state insurance marketplace called an exchange. Insurers won't be allowed to deny you coverage or charge higher premiums because you have a health condition.
But until then, you might have trouble qualifying for an individual health plan if you're already ill. Or an insurer might sell you a policy but exclude coverage for the pre-existing condition.
Other options
If you make little or no money, check whether you qualify for Medicaid, the federal and state program for low-income individuals and families.
If buying health insurance is simply out of the question, look for ways to save on health care. Community clinics offer services on a sliding scale, and most health care providers are willing to negotiate costs for uninsured patients.
Also, comparison shop prescription drug prices. Retailers such as Wal-Mart and Target offer one-month supplies of many generic prescription drugs for $4.
 "The Healthcare Survival Guide" by Rosen and Dr. Abbie Leibowitz features other tips and is available online for free.
More from Insure.com and MSN Money

They posted the 2014 obamacare procedures and costs on a local radio stations web site today.  Obviously written by a drunk lawyer.  I can't eat enough aspirin to kill the pain from banging my head on my desk after trying to understand it.  The costs are astronomical.  Good luck with this one America your gonna need it!

Our son who just got out of the military, age 25 signed up to join the reserves in Washington state.
In addition to the stipend he was going to get Medical Insurance through them while he is going to college under the GI bill.
Due to a payment snafu he along with a bunch of other new recruits weren't getting paid as the government screwed up.
Because of this he couldn't get the insurance.
He went to his monthly reserve duty as required while waiting for them to fix it.
The only option was for my wife and I to put him on our medical plan which we did.
The pay snafu has finally been fixed five months later.
Whether some don't like it or not it is one of the few good parts of Obamacare.

This is one of the insane parts of ObamaCare. At 21 you have all the privileges of being an adult, but this allows younger people to be leaches of the parents until their 26. Grow up, get a job, fend for yourself. Ask for help only when truly needed. We are raising a generation of weak minded, week willed, entitlement mentality losers. BTW I'm only 35 but was raised to understand the importance of earning everything. You are NOT entitled to anything. Even LIfe, LIberty, and the Pursuit of Happiness was paid for thought blood and sweat of our previous generations. If your 26, mentally capable, and physically capable of taking care of yourself then do so.
Are you sure you want to delete this comment?
DATA PROVIDERS
Copyright © 2014 Microsoft. All rights reserved.
Fundamental company data and historical chart data provided by Morningstar Inc. Real-time index quotes and delayed quotes supplied by Morningstar Inc. Quotes delayed by up to 15 minutes, except where indicated otherwise. Fund summary, fund performance and dividend data provided by Morningstar Inc. Analyst recommendations provided by Zacks Investment Research. StockScouter data provided by Verus Analytics. IPO data provided by Hoover's Inc. Index membership data provided by Morningstar Inc.