What's wrong with mental health care?
The latest mass shooting has renewed focus on why people with mental illness don't get the help they need.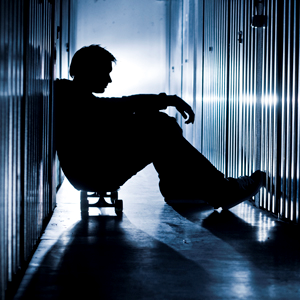 The president has called for a national dialogue about gun violence after the horrific mass shooting in a Connecticut elementary school. How about an equally exhaustive public discussion about the state of mental health care in the United States?
No one knows what compelled Adam Lanza to commit such unfathomable violence, but it's well known that perpetrators of some of the nation's other shooting sprees were mentally ill, and that the system failed to protect them and others from themselves.
You or someone you know
The National Institute of Mental Health says that one in four adults is diagnosed with a mental disorder in any given year, and that one in 17 people suffer from a "seriously debilitating mental illness."
Yet, when the nation fell into recession, mental health care was on the chopping block in many states and communities. ABC News reports:
"Since the recession forced budget cuts in 2009, state general funding for mental health care has decreased by an estimated $4.35 billion nationwide, according to the National Association of State Mental Health Program Directors . . . .

 

"Since 2009 alone, 3,222 psychiatric hospital beds are no longer available to patients, and another 1,249 may disappear soon because of proposed closures, according to the association. That's about 10% of all state psychiatric hospital beds gone in about three years, said Dr. Robert Glover, the association's executive director, who said he'd never been more worried."
Colorado is one bright spot. Gov. John Hickenlooper is asking the legislature for $18.5 million to expand mental health services, including more treatment beds, five walk-in clinics and a statewide hotline. Says Kaiser Health News, "The proposal is the result of five months of work by a group of advisers convened by Hickenlooper in the wake of a mass shooting in July at an Aurora, Colo., movie theater that left 12 dead."
A shortage of funding is not the only problem that plagues mental health care in the U.S. Among them:
Inadequate compliance with existing law. The Mental Health Parity and Addiction Equity Act, since 2010, has required work-based health plans that include mental health and substance abuse care to be treated as the plans do other ailments -- no special limits on coverage or extra costs. But just because the law requires they don't skimp on coverage, that doesn't make it so. Ask any mental health professional about that.
Mental health coverage is not universal. The parity law applies only to companies with 50-plus employees that provide mental health and substance abuse coverage, but doesn't require any employer to make that coverage part of their plans. Only 85% of members surveyed this year by the Society for Human Resource Management said their employers provide it (.pdf file). As for individual policies you buy on your own, some states require them to include mental health coverage; others don't.
Another bright spot: Beginning in 2014, the Affordable Care Act, known as Obamacare, will require that all health insurance plans for small employers and individuals include coverage for mental health and addiction. (Large employers will still be exempt.)
Also, states that agree to expand Medicaid under Obamacare will make the federal health insurance program's mental health coverage available to more low-income people. The Affordable Care Act also includes money to increase the number of mental health care professionals.
Many children don't get the help they need. Says another Kaiser Health News article:
"According to the National Institute of Mental Health, half of the people with a mental illness have it by the time they're 14. But on average, people don't receive formal treatment for their illness until they're 24, says David Shern, the president and CEO of Mental Health America, an advocacy group."
Parents who seek help for a mentally ill child often encounter frustration. A Here and Now story on NPR described one mother's herculean effort to identify and secure the necessary help that enabled her son to lead a normal life.
Writer Liza Long shared her struggles with an unresponsive system in the widely read "I am Adam Lanza's mother," published on The Huffington Post and other sites. (Worried about your child? The National Alliance on Mental Illness has a factsheet on what parents can do if they suspect their child needs help.)
Once children reach adulthood, the situation changes dramatically. In most states, an adult can't be compelled to seek treatment unless he or she threatens suicide or harm to others. If you have a loved one with a seriously debilitating mental illness that's untreated, you know the pain of watching that person spiral out of control.
All of these issues need to be re-examined in the brutal light of this new day. While 2014 will provide mental health care to more people, it isn't enough. Says Kaiser Health News:
"As many as 30 million people are expected to gain insurance coverage beginning in 2014. Of those, the U.S. Substance Abuse and Mental Health Services Administration estimates that 6 (million) to 10 million will have untreated mental illnesses or addiction, adding additional demands to a system that is already overwhelmed."
Wisely, President Obama's new task force is not limiting its discussions to gun control. "(Obama) said that any effort should include new restrictions on guns, but also improved access to mental health services and better management of violence in popular culture," NBCNews.com reports.
We all earnestly hope that real progress comes of this.
More on MSN Money:
What's wrong with it, lets see, some common answers when somebody asks for help..... we don't accept your insurance, we won't take new patients, we will see you 6 months from next Friday, the medication is $500 many not available generics, insurance only pays 50% so your portion is $300 which you pay at your visit, take these pills and goodbye, you get labeled as a nut case, etc. And hospital emergency rooms for psych patients in "crisis" are a nightmare beyond words, I have seen people in need of help walk out as they get grilled with the "third degree" aka evaluation and/or wait in chaotic waiting rooms hours on end.  Bottom line, mental health care is not easily or readily available nor is it affordable. Many patients need help when they are having a meltdown, not 6 months later, not on a schedule. The care is far from perfect but anything would be better than nothing. Wonder what Obama-care will do to make it worse than it already is....  

There is only one solution and that at times can fail.
We need to get back to extended family system with three generational cohesiveness and preferably living togather in a co-operative way.
Now grand parents in old age pass their time in lonelyness. Their middle one struggle to make two ends meet and keep marriage intact that half of the time going to fail. Kids alienated and if divorced parent often confused, frustrated and lonely. Many even when they grow up are sexless, friendless in lonely life. Sex , love has become commodity. You can chose all kind of variation in market place. If you do not measure up in some respect, your pillow is your sex buddy.
These loneliness has no mental heath fix. No amount of talking, drugs, supervision can give you place to belong , person to belong or feel good  about situation one finds one self.
As far as Connecticut situation, oh, well things happen and will continue to happen. In the population of over 300 millions where money is god, more is better and loneliness International and insecurity under best of situation is met stable. There is nothing one can do for some of the suicides, murders, mental break down. There are going to be dog bites, even though large majority of dogs are good. There are going to be vehicle deaths since it is the part of statistical reality. There are some people who are going to get very wealthy while their friends have no clue why their one friend sky rocketed.
Things happen. Be realistic. Fix what is possible. Try to fix other things in a reasonable way with modest expectations and live the best life you can and try to be best human being you can. There are no guarantees.

It's time to stop all the touchy feely stuff and put these people back into mental institutions and away from the public.  Most are not productive members of society. They are homeless, locked up in jail and "supervised" by family members that can't control them.  For some reason many of these family members have guns in the home that are available to anyone.  Unfortunately most people won't agree with me. But guess what, they will when their child is killed by some nut with a gun.

We don't need major gun control law changes. We need to face up to the mentally ill that are drifting around the country , looking to make a hit. Their heath records are concealed to the law, and their parents or spouses keep all this stuff secrete.. Look at all the shootings and they were all done my nuts that should have been in institutions.. These were all closed because of lack of funding.  Please go after the real cause Joe Biden, or the killings will continue. If the nuts can't find guns they will use other means, like bombs and fire, that will end up with far more damage.

<a
href="http://www.wes​tbridge.org/about_we​stBridge/Co-occurrin​gMentalIllnessandSub​stanceUse.html">ment​al
health and addiction</a> is a tricky subject to address but you are right, it needs to be addressed. We need to find a way we can treat them but we have to realize that our government is terribly in debt and can't do everything for us. It's something we need to help figure out.
I have to say where I am from there seems to be quite a lot of help available. We have clincs, drs. even one local hospital has a mental health unit. My own grandson has been diagnoised with the  same thing that gunman has Aspergerr's syndrome. He has been seen  by some of the best drs. is in threapy and attneds a special school and has several meds. The thing is that he gets violent and they say kids with this don't, I don't feel you can lump them all into the same catergory as I have witness my grandson in his OUTBURSTS and they are horrible. There at times my daugher has to even call police when the ambulance people cannot control him, so i know what it is like. What I don't understand is HOW on earth that mother knowing her son had issues had the AUDACITY to not only buy guns but to teach him how to shoot them. Then if that isn't bad enough she kept them in the house at arms reach. He tried to purchase a gun earlier in the wk.at Dick's stores and was DENIED.So if the mother didn't have the guns in the home, those kids would be ALLIVE TODAY.
Are you sure you want to delete this comment?
DATA PROVIDERS
Copyright © 2014 Microsoft. All rights reserved.
Fundamental company data and historical chart data provided by Morningstar Inc. Real-time index quotes and delayed quotes supplied by Morningstar Inc. Quotes delayed by up to 15 minutes, except where indicated otherwise. Fund summary, fund performance and dividend data provided by Morningstar Inc. Analyst recommendations provided by Zacks Investment Research. StockScouter data provided by Verus Analytics. IPO data provided by Hoover's Inc. Index membership data provided by Morningstar Inc.