Is the low interest rate party over?
Here's where mortgage rates could go and when, and what you need to know if you're buying, selling or refinancing.
This post comes from Marilyn Lewis of MSN Money.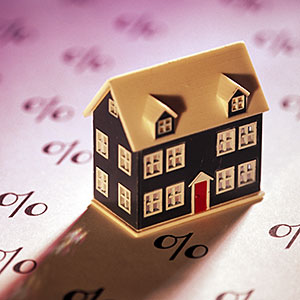 How much longer can low-low rates last? They've been creeping up, slightly, in recent weeks.
Today, Freddie Mac's weekly rate survey shows borrowers paying an average of 3.53% for a 30-year fixed-rate mortgage, unchanged from last week. That's up, however, from 3.34% at the beginning of the year.
Some analysts believe that interest rates have hit bottom and will keep climbing.
What about the Fed?
But wait a minute. Didn't the Federal Reserve commit to keeping rates low until the economy picks up? In fact, it did. And it renewed that vow with another stimulus round of bond buying last week.
And yet, other forces are pushing rates up, among them the strengthening economy. Some say the Fed's efforts are keeping rates from going higher than they otherwise would.
That would keep the rate rise gradual. As Bankrate.com mortgage reporter Polyana da Costa wrote, rates "won't rise significantly until the Fed feels like it's time to let the economy walk on its own."
How high? When?
But let's not get too wonky. If you're buying, selling or refinancing, you just want to know where rates are going. And when.
Mortgage experts agree that rates will be higher at this time next year. They differ on the details, although not a lot.
True, we've heard this prediction before. Mortgage banker Michael Becker of WCS Funding Group told Bankrate.com that mortgage experts have been predicting higher rates for a couple of years:
"I think that 2013 may be the year that forecasters are correct. Mortgage rates are already at all-time lows, so it's hard to see them dropping further."
Becker expects rates to stay about where they are now and to start rising "slightly" in summer. "I would be locking my rate in during the beginning of 2013 rather than hoping rates drop from their current levels," he says.
Becker is not alone in expecting the low-rate party to end. At Mortgage Daily News, 
others chime in:
"(I) would be shocked if we revisit recent rate lows for quite some time, if ever," says Ted Rood, senior originator, Wintrust Mortgage.
"If you haven't locked I suggest you do now before it's too late," says Mike Owens, partner, Horizon Financial.
Gradual rise
The Mortgage Bankers Association also forecasts higher rates by this year's end. But the increase will be gentle. "Mortgage rates are likely to stay below 4% through the middle of 2013, principally due to the announced ongoing purchases of mortgage-backed securities by the Federal Reserve under its QE3 program," says a recent news release.
The group expects (.pdf file) that 30-year fixed-rate mortgages will average 3.8% by the end of the first quarter this year and rise to 4.4% at year's end. It predicts borrowers will be paying an average 4.6% by the end of 2014.
Holden Lewis, assistant managing editor at Bankrate, wrote:
"Mortgage rates are going to rise in 2013, and the main reason is that the economy will start to heat up. More consumers and small businesses will borrow money, more people will buy houses, more people will have jobs, and interest rates will rise."
Get moving
This means that if you haven't refinanced yet and you can, it's time to get moving. Seniors and soon-to-be seniors especially should take advantage of current low rates, says the San Jose Mercury News:
"The median value of mortgage debt for people 55 to 64 years old has increased 187% in the past two decades, probably because many pulled out home equity during the housing bubble, according to a report by AARP. The median amount of debt for people ages 65 to 74 has also increased sharply, the AARP said."
Many borrowers, including those headed into the retirement years, are refinancing into shorter mortgage terms. Freddie Mac says 29% of borrowers in the third quarter of 2012 (the latest numbers) opted for shorter loan terms.
The Mercury News gives this example:
"A 30-year, $300,000 mortgage at 3.36% carries a monthly payment that's almost $200 less than one at 4.5%. A 15-year, 2.69% loan would carry a higher monthly payment than the 30-year loan but would pay off sooner and save $70,000 in interest."
Even if your mortgage is underwater, your chances of refinancing are improving. The Home Affordable Refinance Program or HARP has been revamped, so "give it another shot in 2013," says da Costa at Bankrate:
"Lenders are much more open to HARP 2.0 refinances these days than they were a few months ago. If one lender says you don't qualify for a HARP refi, don't take 'no' for an answer, and try to find a lender willing to do it."
More on MSN Money:

This article is pure bunk.  The reason why rates are low is because our govt is DEEPLY IN DEBT.  If they pushed the interest rates up, they wouldn't be able to service the debt.  Think about all of the drama lately about the debt ceiling - this isn't a coincidence.
Basically, the govt is borrowing a tremendous amount of money, and they are also setting the interest rates at which they borrow.  Of course they are going to keep the rates low!
Don't be fooled thinking this is 'stimulating' the economy, think about the stimulus we'd all have if our savings accounts paid even a small amount of interest.

"They've been creeping up, slightly, in recent weeks."
A 5.68% increase from 3.34% to 3.53% is more than "slight" during the process of buying a home.  This means would be home buyers, especially on the coast where home prices and thus mortgages are higher, are going to have higher payments than expected if they started looking a few months back.  
This means "slightly" less people will find homes affordable.

The article is right on the money, Americans are panic buyers, just as we've seen with guns and ammo during the last year, as home prices and interest rates inch up, people will get the buying bug and as more people buy rates and prices will rise creating a new wave of buyers. Un-employment claims will continue to drop as new constructing increases and consumer confidence grows. Things are heating up and the Stock Market is reflecting this by its own surge.
Are you sure you want to delete this comment?
DATA PROVIDERS
Copyright © 2014 Microsoft. All rights reserved.
Fundamental company data and historical chart data provided by Morningstar Inc. Real-time index quotes and delayed quotes supplied by Morningstar Inc. Quotes delayed by up to 15 minutes, except where indicated otherwise. Fund summary, fund performance and dividend data provided by Morningstar Inc. Analyst recommendations provided by Zacks Investment Research. StockScouter data provided by Verus Analytics. IPO data provided by Hoover's Inc. Index membership data provided by Morningstar Inc.