Why micro apartments are a huge deal
Demand is strong for these affordable, trendy, teeny new digs, some about the size of a parking space. And in some locations, opposition is strong as well.
This post comes from MSN Money contributor Marilyn Lewis.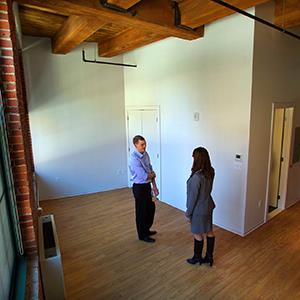 There's no middle ground when it comes to the matchbox-size apartments springing up in cities around the country. You love them or you hate them. They're tiny and cheap, and that's both the appeal and the problem.
Itty-bitty apartments with 150 to 300 square feet of total living space are a fast-growing trend in high-priced cities. A space 15 by 17 feet, for example, provides 255 square feet of living area. The biggest micros are 500 square feet. That's half the size of a two-car garage. High-priced custom homes often have closets vastly larger.
Demand for micro apartments is strong in cities such as Boston, New York, Montreal, San Diego, San Francisco and Seattle, where rents are rising fast. There, micro apartments constitute a new kind of affordable housing -- minus the government subsidies. (The photo shows a micro apartment unit in Boston.)

'Rip-offs' and 'firetraps'
Neighbor groups have sprung up all over Seattle to oppose micro housing. Irate opponents say they're firetraps and rip-offs for residents and cash cows for developers. Critics worry they'll attract transients and criminals. They object to the intense density and lack of on-street parking. The buildings are cheaply constructed and will become slumlike in time, ruining neighborhoods, others say. 
One neighbor told The Stranger, a weekly Seattle newspaper:
"Anyone who can scrape up enough money to live month to month can live there," he said, worried that low-income interlopers would jeopardize his chances to sell his own house. "I don't think most people want to live next to a boarding house with itinerant people living in it."
In his neighborhood, a loophole in the permitting process let a developer apply for six townhouses but build, within each townhouse, as many as eight micro units of 150 to 200 square feet each. Each cluster of micros shares a kitchen. Instead of the six townhouses that neighbors were expecting, they were confronted with 46 tiny living units, each renting for about $500 a month.
As compelling as the arguments against the micro apartments sound, The Stranger's thoughtful exploration demolishes each as false or hysterical.
Life in a micro
Plenty of Americans are thrilled to get one of these teeny apartments. The Stranger caught up with residents who love life in their micro homes. One was Alex Tursi, 29, a contractor who does graphic design at Microsoft (Microsoft owns and publishes MSN Smart Spending):
He acknowledged it was small space, but "the sacrifice of the space is an equal trade-off to have my own spot," he said. His last home, with comparable rents in the neighborhood, was in a house "with people I found on Craigslist, and I lived with strangers, and one of them was just a nut."
New York is so taken by the micro movement that the Bloomberg administration held a design competition to encourage affordable micro dwellings. The Museum of the City New York is showcasing an exhibit of clever designs for 325-square-foot dwellings.
The need for cheaper housing is indisputable. "In downtown Boston, a one-bedroom of around 500 square feet can go for as much as $2,100 a month," The Atlantic writes.
Seattle is a leader in the micro movement. There, the average rent has risen 15% for a studio apartment (now at $991) and 21% for a one-bedroom ($1,230) in the past five years, The Stranger says.
Since 2006, Seattle has allowed construction of 48 buildings of micro apartments, each 125 to 200 square feet -- enough homes for about 2,300 people, USA Today says.
Strong demand
John Infranca, a research fellow at the Furman Center for Real Estate and Urban Policy at New York University Law School who is writing about the teeny apartment movement, told USA Today that demand is strong in many cities for single-person housing:
"People are getting married later, divorcing at a higher rate, delaying marriage for several reasons, or are older individuals outliving spouses," he said, adding that "on a square-foot basis, it's not affordable, but it's more affordable than other studio and one-bedroom apartments."
Solo households are a growing share of the population in industrialized countries, MSN Real Estate says. The Census counts 33 million Americans living alone. A quarter of all U.S. households are made up of just one person, The National Association of Realtors says.
"We have a shortfall now of 800,000, and it's only going to get worse,"New York Mayor Michael Bloomberg said at a recent news conference. "This is going to be a big problem for cities with young people."
Tenants are attracted by the new construction, lower prices and the chance to ditch their commutes and their housemates. They  typically stay for around a year, one Seattle-area developer told USA today.
Judy Green, a senior who lives on a fixed income, told USA Today that she's happy in her tiny Seattle home:
"I can afford the rent. The unit is lovely and the building is attractive. It's nicely finished and it has large windows with lots of light. I'm comfortable with the size," she told council members recently. "There's people like me that live minimally and are happy with a place like this."
All in all, Americans may just have to get used to micro apartments. In crowded Asian cities they're already common. Stylish Tokyo, for example, leads the way in architecturally intriguing urban homes, says this ABC News video report. But it would be naive to think that all tiny housing is equally desirable, as this altogether different ABC News feature illustrates, with dramatic overhead photos of families squished together in tiny Hong Kong apartments.
More from Smart Spending:
DATA PROVIDERS
Copyright © 2014 Microsoft. All rights reserved.
Fundamental company data and historical chart data provided by Morningstar Inc. Real-time index quotes and delayed quotes supplied by Morningstar Inc. Quotes delayed by up to 15 minutes, except where indicated otherwise. Fund summary, fund performance and dividend data provided by Morningstar Inc. Analyst recommendations provided by Zacks Investment Research. StockScouter data provided by Verus Analytics. IPO data provided by Hoover's Inc. Index membership data provided by Morningstar Inc.