Widowed, and now facing eviction
Homeowners over 50 are the fastest-growing group facing foreclosure. Widows are vulnerable when their names aren't on the mortgage.
This post comes from Marilyn Lewis of MSN Money.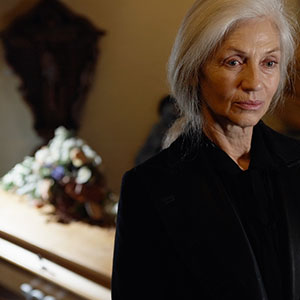 The fine print in mortgage contracts is blamed for a rising number of widows losing their homes to foreclosure, The New York Times reports. The problem is acute among women whose mortgages are in the husband's name alone. Those who can't get the bank to put the mortgages in their name after a spouse's death face the loss of their homes.
No one tracks foreclosures among widows, much less older widows. But AARP reported this summer that its researchers found that foreclosures among Americans older than 50 grew 23% from 2007 to 2011. That translates into 1.5 million additional foreclosures.
Growing problem
According to the Times:
" . . . interviews with elder-care advocates, housing lawyers and borrowers suggest that the problem is spreading fast, propelled by an aging population. Legal aid offices in California, Florida, Ohio and New York say it is among the top complaints from clients. Billy Howard, a consumer lawyer in Tampa, Fla., said he had more than two dozen cases involving widows, up from virtually none before 2007.

 

"'These women are essentially invisible,' said Gladys Gerson, a lawyer for Coast to Coast Legal Aid of South Florida."
Housing advocates point to three forces coming together to create the widows' mortgage problems: 
Growing debt.

Older Americans have more debt -- especially more mortgage debt -- than ever before. Americans from 65 to 74 years old now carry more debt than any other age group, the Times reports. Before the recession, retirees typically paid off debts before quitting the workforce. Now, however, "more Americans are reaching their 60s with so much debt they can't afford to retire,"

The Wall Street Journal wrote

 in an article about debt among elders.

Financial stress.

Spouses who lose a mate face cuts in income as their earnings shrink from two pensions to one and two Social Security checks to one. Older women are particularly hard hit because, often, their husbands earned considerably more than they did. Meanwhile, medical costs and other life expenses are rising. For women, lower earnings, longer life expectancy and higher insurance prices create an "$849,000 penalty for being born female,"

says The Motley Fool

. 

Backfiring mortgage strategy.

A couple may have opted to put their mortgage solely in the name of the husband. There are a number of reasons for making this choice, but often it's because he has a stronger credit history. (Here's a

discussion at FatWallet.com

 about the pros and cons of including one name or both on a couple's mortgage.) Whatever the reason, if the couple hasn't added the woman's name to the mortgage before the husband dies, the strategy puts the wife at risk of losing the home.
Financial difficulties
A loan modification to lower the payments seems the obvious solution for widows whose income has shrunk. But to qualify, the mortgage must be in the widow's name. Putting her name on the loan is difficult if not possible if she is behind on her house payments.
And that, increasingly, is the situation older people -- widowed or not -- are facing. AARP's study found that "people age 75 and older have a higher foreclosure rate (3.2%) than those age 50 to 64 (3%) or age 65 to 74 (2.6%)."
"Housing advocates say that their clients, especially if one spouse experienced a prolonged illness, often find they are already thousands of dollars behind," the Times writes. 
Even if she's current on her loan payments, a widow must navigate the famously difficult maze of mortgage servicers' bureaucracies. Some older widows are ill or are exhausted or confused and "do not have the energy to get through the bureaucracy," the Times says.
The newspaper interviewed several widows about their mortgage difficulties. One said her lender's representative refused to talk to her because her name was not on the mortgage. Another, who faces foreclosure after her husband's death left her struggling financially, said her lender declined to help her by setting up a new payment plan.
You probably recall complaints by foreclosed homeowners about "robo-signing" and other mortgage abuses that sparked an investigation by state attorneys general a few years ago. The states' investigation ended with an agreement requiring five big banks to pay $26 billion in restitution. Against that backdrop, the widows' difficulties with their banks sound eerily familiar. Writes the Times:
"Complaints from widows about botched forms, unanswered calls and the peculiar frustration of being asked repeatedly by servicers for the same documents echo the concerns that culminated in a $26 billion settlement in February over other mortgage flaws with the country's five largest mortgage servicers."
More on MSN Money:
DATA PROVIDERS
Copyright © 2014 Microsoft. All rights reserved.
Fundamental company data and historical chart data provided by Morningstar Inc. Real-time index quotes and delayed quotes supplied by Morningstar Inc. Quotes delayed by up to 15 minutes, except where indicated otherwise. Fund summary, fund performance and dividend data provided by Morningstar Inc. Analyst recommendations provided by Zacks Investment Research. StockScouter data provided by Verus Analytics. IPO data provided by Hoover's Inc. Index membership data provided by Morningstar Inc.