The pros and cons of selling your house yourself
Not surprisingly, Realtors discourage the practice of selling your home yourself. But they have a few very good reasons why.
This post comes from Michele Lerner at partner site HSH.com.

Whether you live in a sellers' market or not, you may be tempted to sell your home without the help of a listing agent in order to avoid paying their commission. However, many real estate experts warn that selling on your own could lead to financial mistakes that could cost you more than you're trying to save.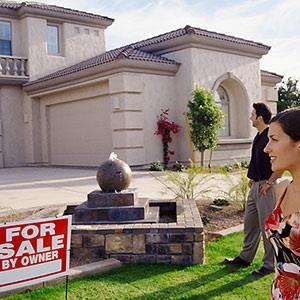 If you choose not to work with a Realtor, you can market your home entirely on your own or choose a flat-fee service to at least get your property listed on a For-Sale-by-Owner (FSBO) website.
According to the National Association of Realtors' 2012 Profile of Home Buyers and Sellers, just 9% of all home sales last year were FSBO. One-third of FSBO sales were by sellers who already knew their home buyers before the transaction.
"If you're very well educated about the real estate business and experienced, a FSBO sale might be OK, but for the vast majority of homeowners, you lose a lot by not having a professional represent you," says Steve Israel, president of the Buyer's Edge in Bethesda, Md.
According to the NAR, the primary reason homeowners choose the FSBO method is to save on the commission payment. While commissions are negotiable, typically sellers pay 6% of the sales price, split equally between the buyers' agent and the listing agent. FSBO sellers must still pay a commission to the buyer's agent, typically 3% or, for example, $6,000 on a $200,000 sale.
Pros of a FSBO:
Saving money. The biggest benefit of a FSBO sale is the ability to keep as much money as possible from the sale, says Debbie Kent, owner of GoToFSBO.com in Vienna, Va., which offers a range of services to FSBO sellers.
Some homeowners try to sell on their own with just a yard sign and some flyers, but they'll usually sell faster if they pay a small fee to be listed on the Multiple Listing Service, says Kent. Her company charges $275 to be listed on the MLS, Realtor.com, multiple FSBO websites, Zillow.com and Trulia.com. She says few sellers opt for her $175 package, which lists the property only on FSBO sites.
Communication. Kent says another benefit of FSBO is being able to negotiate directly with buyers when they, for example, request home repairs or a specific move-in date rather than passing messages back and forth between a listing agent.
In the Virginia housing markets where she does business, Kent says FSBO sales prices and the time it takes to go under contract are similar to sales with a Realtor.
Cons of a FSBO:
Lower sales price. Despite Kent's experience, the NAR says the average FSBO sales price in 2012 was $174,900, while the average price for a home represented by an agent was $215,000.
"One reason for the price discrepancy is that many buyers' agents shy away from FSBOs," says Israel. "Buyers' agents end up with more liability in the transaction since there isn't another agent involved."
Legal and financial troubles. Israel says sellers can end up in legal trouble if they "wing it" and opt out of using an agent who understands the local market, the legal and the negotiation process. He says the real estate sales contract in Montgomery County, Md., for example, is 52 pages long, which leaves a lot of room for mistakes.
"If you don't understand the contract you're signing you could end up with tax issues and extra seller charges," says Glenn Bill, a Realtor with Century 21 Scheetz in Indianapolis. "The countless things that could go wrong without professional assistance can cause undue stress on your family as well as financial hardship. For instance, the deal could fall through and you could end up owning two houses."
Time and effort. Bill says that another drawback to FSBOs is the time factor.
"For most people, it's difficult to set up showings and to handle all the phone calls, much less find out if the buyer is really qualified," he says. "You also need to think about the security issue of letting strangers into your home without the assistance of a Realtor."
While saving 3% of your sales price is appealing, make sure you recognize all the risk that you might encounter without professional help.
More from HSH.com:

Agents always make you feel too stupid to do it yourself or tell you how they are the professionals and they've made the mistakes so you should let them do it. Well, on the price of an average home, you'll end up being robbed by them for about $8,000. IT'S NOT WORTH IT. You can easily sell your home yourself, and NoMoreAgent.com gives you all the tools for a fraction of the price. I spent $250 and got my home on the mls, my home all over the internet, a flyer, a craigslist ad, guides on selling my home, etc etc....the list goes on for miles. PLUS they have amazing customer service. Again, I highly recommend NoMoreAgent.com

Contracts can become a headache, but you really just have to set a time frame to sit down and digest the information, researching and consulting a professional on terms that may seem a little confusing. Do the process right and you have many many thousands in extra equity saved, do it wrong and you may have a legal issue on your hand. The important key is employing the right technique and getting good assistance when needed.
Property By Owner List -- PBOList.com

I recently tried to sell my house. When i looked into signing up to various websites, i found them all overpriced for what you get.
So instead I created a Facebook Page for my property & used a the Facebook Property Listing App to create a professional looking listing. I got about five or six interested people who contacted me through Facebook Messages.
I ended up selling my house through an agent in the end as I had already bought another but would definitely try to sell using Facebook again next time.
The App i used for those interested is
Property Listing App for Facebook
https://apps.faceboo​k.com/sellmyhousefas​t/

Please correct me if I am wrong, but how are realtors (who have not passed the state bar) eligible to give legal advice? I believe if is a crime for a realtor to advice on the legal aspects of the contract (at least here in VA).  It is the real estate attorney usually at the title company who reviews the contracts. Also, How exactly do the realtors help in tax issues??
The only thing i agree with this article is that buyers agents may be biased against the FSBO's and that's obviously important for their survival.


Are you sure you want to delete this comment?
DATA PROVIDERS
Copyright © 2014 Microsoft. All rights reserved.
Fundamental company data and historical chart data provided by Morningstar Inc. Real-time index quotes and delayed quotes supplied by Morningstar Inc. Quotes delayed by up to 15 minutes, except where indicated otherwise. Fund summary, fund performance and dividend data provided by Morningstar Inc. Analyst recommendations provided by Zacks Investment Research. StockScouter data provided by Verus Analytics. IPO data provided by Hoover's Inc. Index membership data provided by Morningstar Inc.