When rent takes half your income
A quarter of all US renters spend at least half of their paychecks on housing. If you're barely getting by, will you ever get ahead?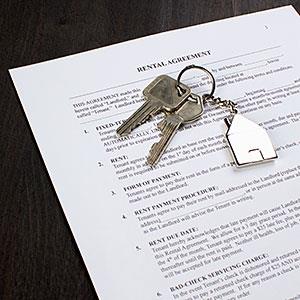 Do you make $18.79 an hour? If not, good luck finding an affordable apartment.

One common guideline is that a rental shouldn't cost more than 30% of your income. By that standard, you'd have to earn a minimum of $18.79 per hour to afford a decent place to live, according to the 2013 "Out of Reach" study from the National Low Income Housing Coalition.

Trouble is, the average renter earns $14.32 per hour.

Study authors say these numbers highlight the challenges faced by lower-income renters: "Increasing rents, stagnating wages, and a shortage of affordable housing."

How much are they spending? Too much.    

A second study, from the Center for Housing Policy, shows that 26.4% of working renters are spending more than half their income on rent.
"Working renters" means households with incomes less than 120% of the median for their areas. That works out to more than 13.5 million U.S. residents, based on data from the U.S. Census.

This group's rent has risen 6% in the past three years but their incomes have dropped by 3% -- a trend that lead study author Janet Viveiros calls "unsustainable."

"Spending most of your paycheck on rent means cutting back on other necessities, including health care and even food," she says.

Viveiros didn't mention financial planning or eventual homeownership. But it stands to reason that if you're barely getting by you'll never get ahead, let alone be able to buy your own home or retire.

Why is housing so expensive?
According to the U.S. Census, 33 million U.S. residents live alone. That means plenty of competition for available apartments, even though not all 33 million are renters.

Some are ditching their roommates, or are finally moving out of Mom and Dad's place. Others are former homeowners who lost their homes or walked away from mortgages and need places to live.

Not everyone who wants to buy is ready to pull the trigger: They're gun-shy about the recent housing bubble or they can't get enough loan to pay for a place now that prices are rising. This group constitutes 2 million more tenants since before the housing bust, according to MSN Money Real Estate.
No wonder vacancy rates haven't been this low in more than a decade. It's a landlord's market, and low- to moderate-income workers often struggle to find a decent place to live near the workplace.

You expect high rents in places like Los Angeles or Manhattan. But half of the 18 metro areas with the largest share of cost-burden households are in the South. In fact, Miami has the highest percentage (41%) and Orlando-Kissimmee weighed in at 35% -- the same as New York City.

The construction of 4.5 million housing units would "close the gap between the demand for affordable housing and the supply," according to the Out of Reach authors. The National Housing Trust Fund, a provision of the Housing and Economic Recovery Act of 2008, could potentially provide money for such construction. However, the NHTF is not yet capitalized.
Demand -- and rents -- will continue to grow in the coming year
, according to a study cited by Rent.com. Seven in 10 landlords surveyed report at least three tenants clamoring to lease as soon as an apartment is listed.
Rent.com's advice: When viewing apartments, take a couple of forms of ID and a checkbook so you can put down a deposit on the spot. Otherwise you "run the risk of losing (out) to one of the many other people looking at the space."
That is, if you can afford the rent.


Readers:
What percentage of your income goes to housing costs?


More on MSN Money
DATA PROVIDERS
Copyright © 2014 Microsoft. All rights reserved.
Fundamental company data and historical chart data provided by Morningstar Inc. Real-time index quotes and delayed quotes supplied by Morningstar Inc. Quotes delayed by up to 15 minutes, except where indicated otherwise. Fund summary, fund performance and dividend data provided by Morningstar Inc. Analyst recommendations provided by Zacks Investment Research. StockScouter data provided by Verus Analytics. IPO data provided by Hoover's Inc. Index membership data provided by Morningstar Inc.