How to get out of your apartment lease
If you aren't going to be able to hold up your end of a rental agreement, there are steps you can take to minimize the damage.
This post is by Niccole Schreck at partner site U.S. News & World Report.

Life is uncertain. Sometimes, even when you've done your best, circumstances force you to drastically change your plans. Whether you have to relocate for a job, your roommate or significant other flakes out on you or you just can't afford to stay, knowing how to break an apartment lease without digging yourself into a deep hole can prove invaluable.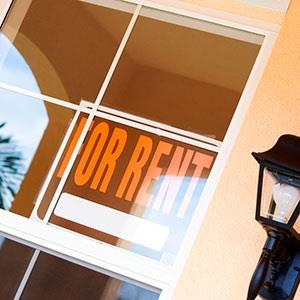 Landlords have renters sign leases for a simple reason: security. It costs property managers money to clean, advertise and find a renter again.
If that takes them a month, that's a month they aren't earning rent. When you sign a lease, they're happy knowing that they have a year (or more) in which they won't have to worry about re-renting.
Depending on your reasons, your landlord may be sympathetic. However, breaking your rental contract could have serious consequences: You could be required to pay the rent for the remaining months on the lease; your landlord could take legal action; or your credit report could be impacted. For these reasons, breaking your apartment lease should be your last resort -- but if you have no other choice, follow these steps to make sure you're protected:
1. Read your lease
If you have to break your apartment lease, the first thing you should do is review the rental agreement. Many leases have an opt-out clause that explains precisely what you're responsible for in this scenario. It may indicate that you have to give notice of your intention to vacate the apartment one or two months in advance, or you have to find your replacement renter. If your lease doesn't have this kind of clause, proceed to step two.
2. Talk to your landlord
As soon as possible, tell your landlord about your situation. If you are a responsible renter and have a good relationship with your landlord, the process of breaking an apartment lease can go smoothly. Your landlord is a person, so be honest about what's going on, and he or she might understand. While this may seem like a crisis to you, it probably isn't the first time your landlord has had someone break a lease. Give your landlord as much notice as possible before you move out.
If you need to break your lease immediately, offer to find someone to sublet from you. However, keep in mind that if you are allowed to sublet and you choose to do so, you're still legally responsible for the rent and anything that goes wrong through the length of your rental contract.

3. Find a new tenant
In many states, both you and your landlord are required to try to find a new tenant if you move out early. In legal terms, this is known as "mitigating damages." This means that landlords can't just leave the apartment empty and sue you for back rent; they have to try to rent it.
If your landlord isn't able to find a new renter quickly, you may be required to pay for the days the unit remains vacant, and if the landlord has to re-rent the unit at a lower price, you might have to pay the difference -- so the sooner a new, acceptable tenant is found, the better for everyone.
Sometimes, it's possible to break your lease without penalty under special circumstances. Common permissible reasons for breaking a lease include:
Your apartment is unlivable. You will most likely need proof of your issues, as well as your attempts to resolve them, and the actions, or lack thereof, the landlord took regarding this matter.
You receive a military order to move to another area or get called in to active duty.
You get injured or become seriously ill.

To learn more about local laws and how to break an apartment lease in your state, contact a local renters' rights organization, your local legal-aid office or a lawyer.

More from U.S. News and World Report:

Let me tell the author of this article that they are living in a fantasy world.  I own 2 apartment buildings, keep them well maintained and have a property manager as well as myself interviewing tenants and have them sign leases for 1 year.  On any given day even if they are only 1or 2 months into a lease you will see a U-Haul truck coming & they move out not giving a $hit about the lease or how many months are left.  And if you try to take them to court it is a long drawn out process & they will claim they are moving out because its noisy (not true) or a leak (not true) & basically the Court system sticks up for the Renters...not the Landlord.  And if the Court rules in favor of the Landlord & makes the tenant pay...well good luck ever to see a dime from them.

I have a rental house.  I always get first and last month and about a $1k damage deposit.  If someone vacates in the middle of the night, it would be pretty hard to lose rent money as I have always been able to re-rent in a month or less every time in over 13 years of being a rental property.  In 13+ years, I have never had so much as missed one day of rental income.
The best advise I could give would be to always talk to prior landlords and get the scoop and do a credit check.  Just make sure you are really talking to the landlord, not the renter's buddy.  If both prior landlord and credit checks out, chances are you will be ok.  But no system is perfect.
And stay in contact with the renter and fix things that break.  Don't give the renter an excuse or reason to leave.

Leases vary from state to state. Some have a standardized lease that is required ( my state) and some let the landlord draw it up. I have several rental houses and I can say that the best way to get out of a lease is READ IT BEFORE YOU SIGN IT.  The lease is there to spell out what you can expect and what the landlord can expect. Depending on the landlord, the situation and the circumstances they may or may not let you out of the lease. You have rights and the landlord has rights. Buying a house will not automatically get you out of the lease. Normally military service, Job transfer and anything regarding health and safety will be considered as reasonable. It really does depend on the situation, the landlord and the circumstances. It costs money when people move out and landlords are in the business to try and make a profit. I can assure you that most landlords have PLENTY of stories about deadbeat tenants and how they left the place in a mess in the middle of the night. It is a tough racket and tenants leaving early makes it tougher.


'Small print' as well as reading the terms and conditions is something which can make or break - in fact - it can cost you a fortune - especially when it comes to rental agreements. I like the service from Check-A-Contract - well, they do what it says on the tin. In big writing. Checking contracts - and 'small print' for that matter. For a small fee they highlight the small print, advise on changes, deletions or additions. Turnaround for contracts is less than 72 hrs and all contracts are worked on by qualified top lawyers. Worth knowing, especially if you have to look out for small print in contracts, general agreements, signing rental or leasing agreements and so on.
http://checkacontrac​t.com

Though some advice is good...
By far this is terrible one way or another.
First off...
Depends what state you live in. Since its just easier to get a living tenant into a recently vacated apartment. Instead of wasting time to try and collect what previous tenant left owed.
Even from State to State, you got your local laws that sometimes vary just slightly, but enough from County to County.
That courts side with tenant...? eh depends on what State.
I hate living in apartments, they always find a way to screw you over. If you are like me and want to keep your credit as clean as possible you end up paying up what they say you owe them.
When I moved last I left my apartment cleaner than when I got it... yet I HAD to pay a cleaning fee which was also charged at the start of the lease. and then again when I moved out.
Re-keying is another.
A bunch of other things. Paying them would be cheaper than taking the landlords to court over, or hiring an attorney.
So be careful and weary of such tactics. If you feel like you have been cheated or are being cheated out of money.
Make sure you took pictures of premises prior to returning keys.
Make sure you email them to yourself and to the manager and or assistant manager at least.
If possible write a note saying that premises are in acceptable condition and there are no damages that would require any extra payment, have landlord sign it. Email it along with pictures.
Hopefully that will save you some problems.
Good Luck.


Are you sure you want to delete this comment?
DATA PROVIDERS
Copyright © 2013 Microsoft. All rights reserved.
Fundamental company data and historical chart data provided by Morningstar Inc. Real-time index quotes and delayed quotes supplied by Morningstar Inc. Quotes delayed by up to 15 minutes, except where indicated otherwise. Fund summary, fund performance and dividend data provided by Morningstar Inc. Analyst recommendations provided by Zacks Investment Research. StockScouter data provided by Verus Analytics. IPO data provided by Hoover's Inc. Index membership data provided by Morningstar Inc.