How to stockpile Twinkies
Hostess Brands' closing set off a run on the durable snack cake.
This post comes from Jen Wieczner at partner site MarketWatch.
Those looking to stockpile cases of Twinkies may have to act quickly.
Just hours after Hostess Brands closed its business on Nov. 16, legions of junk-food addicts began cleaning out supermarket shelves and online retailers.
Already, several listings for the cream-filled sponge cakes have begun to sell out on Amazon.com. At least one supermarket chain canceled its half-price Twinkie sale. And though there was no sign yet of price gouging, at least one seller on eBay appeared to be asking as much as $59.99 for a box of 10 Twinkies (that's $5.99 for a single Twinkie). "There's a run on Twinkies," says Teri Gault, the founder of supermarket-savings website The Grocery Game.
The snacking frenzy was set in motion Nov. 16, when Hostess Brands said it filed a motion with the U.S. Bankruptcy Court to close its business, lay off most of its 18,500 employees and sell its assets -- a move that has consumers set to snap up what's left of the company's snacks.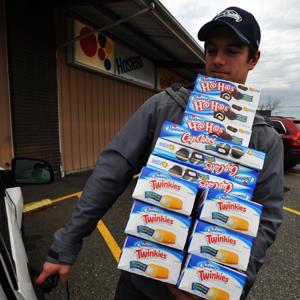 Those building up their supplies may be disturbed to find out that the snack's official shelf life is just 25 days. But Hostess hoarders can rest assured, say experts: The treats will still stay tasty for months -- if not years -- to come.
"Twinkies don't spoil -- they taste pretty much the same long after their expiration date," says Steve Ettlinger, the author of the book "Twinkie, Deconstructed," for which he researched the snack food's ingredients. While researching the book, he came across a several-years-old stash of Twinkies. "A little hard but not spoiled," he reports. Plus, they don't need to be refrigerated. "The whole point is that they're stable at room temperature," Ettlinger says.
Meanwhile, at least one store in the Southern supermarket chain Publix, which had put Hostess Brands products on sale before the news of the company's closing, has already canceled the promotions. The half-off sale on Twinkies (two packages for $4.29) was supposed to have run through Tuesday, according to Gault. "It's a crisis thing," Gault says. Publix did not immediately respond to a request for comment.
And experts say supermarkets would be receiving their last Hostess deliveries over the weekend, after which time the products will be shipped out to Hostess Brand outlets. But even the outlets can be hit or miss, as some locations were closing down while others are being flooded with a jackpot of overstock, says Gault, who recommends that consumers call their local outlets directly to find out what they have in stock.
Hostess Brands says it plans to keep the retail outlets open for seven to 10 days to sell out the remaining inventory. There is another option: drive to Canada. The companies that own the rights to Hostess snacks across the border remain in operation.
Intrepid Hostess fans could approach supermarket managers and ask to be taken into the backroom or warehouse to look for excess supply before it's shipped out to the outlets, suggests Gault. "If I really wanted a Twinkie, I would," she says.
Big-box stores may also be bidding on Hostess Brands' inventory. "I think the Wal-Mart buyer of snacks was on the phone with them saying, 'I want them all,'" says Phil Lempert, the grocery analyst for the site Supermarket Guru. Wal-Mart did not immediately respond to a request for comment.
And experts expect that the Twinkie may be reincarnated by another company or creative marketer, in the form of ice cream, breakfast cereal or a doughnut-hole-shaped​ treat. (Maybe the Smithsonian museum will buy some, speculates Ettlinger, adding that President Bill Clinton put one in the millennium time capsule.)
"Twinkies will not disappear," Lempert says. "Long live the Twinkie."
More on MarketWatch and MSN Money:
DATA PROVIDERS
Copyright © 2014 Microsoft. All rights reserved.
Fundamental company data and historical chart data provided by Morningstar Inc. Real-time index quotes and delayed quotes supplied by Morningstar Inc. Quotes delayed by up to 15 minutes, except where indicated otherwise. Fund summary, fund performance and dividend data provided by Morningstar Inc. Analyst recommendations provided by Zacks Investment Research. StockScouter data provided by Verus Analytics. IPO data provided by Hoover's Inc. Index membership data provided by Morningstar Inc.