Could mortgage rates hit 2%?
Now that that Federal Reserve is committed to keeping borrowing costs low, might mortgage rates drop even further?
This post comes from Marilyn Lewis of MSN Money.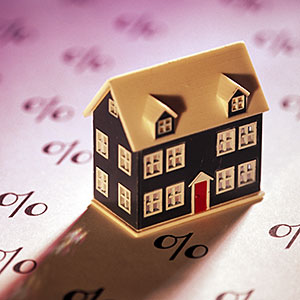 Mortgage interest rates fell this week, back to the lowest they've ever been. Freddie Mac's weekly survey shows:
30-year, fixed-rate mortgages sold last week averaged 3.49% (borrowers paid an average 0.6 point).
15-year fixed rates averaged 2.77% -- a new all-time low (borrowers paid an average 0.6 point).
This month, the Federal Reserve made a move that should keep the cost of borrowing low for at least another year:
The Fed said last week it would buy $40 billion every month in mortgage-backed securities until the labor market improves substantially. The program, known on Wall Street as "QE3," will likely lower interest rates for mortgages and also help some people refinance their home loans.
So: lower rates, right?

In theory, rates for mortgage buyers and refinancers should drop. Homebuyers and owners are wondering how low rates might go. Could 30-year fixed rate mortgages drop down into 2% territory?
Sadly, you're not going to like the answer. It's looking like you can forget your hopes that the government's $2.75-trillion (so far, since 2008) bond buying spree might also create a little trickle-down for the average Jane and Joe. The anticipated mortgage interest rate drop isn't happening.
To be fair, the government support is helping lower the price of subprime auto loans.
But even as government subsidies drive down the cost of borrowing for banks to new lows, "the cost of mortgages to borrowers hasn't fallen anywhere near as much," says The New York Times' DealBook, in an article titled, "How Much Does the Fed's Plan Really Help Main Street?" Credit card rates, for another example, are stuck. 
HousingWire reaches the same conclusion, quoting Paul Diggle, an economist with Capital Economics, who "doesn't expect the 30-year fixed-rate mortgage to go lower than 3.25%." 
The question is, why? There are a variety of explanations. HousingWire believes the cause is the federal government, which plans to soon raise the fees charged to lenders. The idea is to have loans from government mortgage programs reflect their true cost and allow private mortgages to become more competitive:
The stimulus announced this week might not make mortgages much cheaper. Any drop may be offset by an increase in guarantee fees Fannie Mae and Freddie Mac are set to charge in November. The lender passes those charges on to the homebuyer.
BankRate, too, blames the government fees for consumer mortgage rates' lack of downward momentum.

Mortgage rates reached new lows this week after the Federal Reserve started its bond-buying program. But they could have dropped lower if Fannie Mae and Freddie Mac had not raised mortgage fees.

Financial Times has a different theory. It says banks aren't passing on their lower rates because demand for mortgages has grown so fast that banks can't keep up. With demand so great, there's no need for banks to compete by lowering rates.

"Very little of that (federal stimulus) is likely to make it through immediately to consumers," he said. "There's nothing that will force mortgage originators themselves to lower the rates that they're offering to consumers. Right now they have their hands pretty full in terms of the pipeline and managing paperwork and making loans. These folks are busy. There's not a bunch of people on long cigarette breaks."
FT continues, "Wells Fargo and JPMorgan, responsible for almost half new loans, are moving thousands of staff to the frontline of mortgage origination but are still struggling to cope, analysts say."
But DealBook counters that Wells Fargo has been well staffed for some time and is perfectly capable of handling the volume of mortgages. DealBook has another explanation: Banks like the new, fatter profit margins.

The banks are choosing not to reduce mortgage rates further. One reason: By keeping the rates elevated, they are able to earn much larger profits when they sell the mortgages into the bond market. If the level of profits on those sales stayed at recent average levels, borrowers might, for instance, pay $30,000 less in interest payments on a $300,000 mortgage, according to a recent New York Times analysis.
In another article, DealBook concludes that consumer mortgage rates right now should be about 2.83%.

"Put another way, the banks aren't fully passing on the low rates in the bond market to borrowers. Instead, they are taking bigger gains, and increasing the size of their cut."

Maybe, DealBook implies, the banks have just gotten used to pocketing fatter profits and there's no reason for them to change: 
The banks don't care because mortgage revenue is ballooning. But it all means that the 2.8% mortgage may never materialize.
More from MSN Money:
DATA PROVIDERS
Copyright © 2014 Microsoft. All rights reserved.
Fundamental company data and historical chart data provided by Morningstar Inc. Real-time index quotes and delayed quotes supplied by Morningstar Inc. Quotes delayed by up to 15 minutes, except where indicated otherwise. Fund summary, fund performance and dividend data provided by Morningstar Inc. Analyst recommendations provided by Zacks Investment Research. StockScouter data provided by Verus Analytics. IPO data provided by Hoover's Inc. Index membership data provided by Morningstar Inc.