Report: Housing crash is getting worse
The housing market is in tougher shape than anyone seems to realize. But is all this bearish news making you bullish?
By Brent Arends, MarketWatch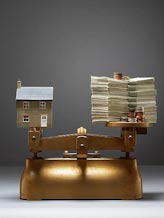 If you thought the housing crisis was bad, think again.
It's worse.
New data just out from Zillow, the real estate information company, show house prices are falling at their fastest rate since the Lehman collapse.
Average home prices are down 8% from a year ago, 3% over the quarter, and are falling at about 1% every month, according to Zillow.
And the percentage of homeowners in negative-equity positions -- with a home worth less than its mortgage -- has rocketed to 28%, a new crisis high.
Zillow now predicts prices will fall about 8% this year and says it no longer expects the market to bottom before 2012.
"There's no way we can get to flat, from these depreciation levels, in the last nine months of the year," says Zillow economist Stan Humphries. "Demand is a lot more anemic than we had previously thought."
When in 2012 does Zillow see the market bottoming out? Humphries won't say.
What a foolish boondoggle those tax breaks for homebuyers have turned out to be. The government spent an estimated $22 billion between 2008 and 2010 on tax breaks to prop up the housing market. All it achieved was a brief suckers' rally that ended last summer.
"As we said at the time, it was a giant waste of money," says Mark Calabria, economist at the conservative Cato Institute. "None of these things really turned the housing market around. They just put off the adjustment for awhile."
It's hard to overestimate the scale of the carnage in the housing market. Zillow found prices fell in all but four U.S. metro areas.
Falling real estate prices mean spiraling hidden losses throughout the economy, from banks to homeowners.
Remember Japan's "zombie banks"? These were the financial institutions that haunted that country's economic recovery after the 1990 crash. They staggered on with huge losses they could never repay -- the walking dead.
Here in America we have "zombie homeowners." Millions of them. According to Zillow, a record 16.3 million families are upside-down on their home loans. Sixteen million! And many are a long way upside-down. Their homes may never be worth as much as their mortgage. But they are hemorrhaging cash to pay the nut every month.
Recovery? What recovery? This looks a bit like a depression to me.
What does this mean?
All the misery makes me think of a great French general, Ferdinand Foch. He's the one who defended Paris at the Battle of the Marne in World War I. During the darkest hour of the fighting, he is supposed to have looked around him and said: "Hard pressed on my right. My center is yielding. Impossible to maneuver. Situation excellent -- I attack!" Article continues after video.
In other words, when it comes to distressed housing, I'm finding it hard not to be a contrarian bull.
Why? Am I crazy?
Well, maybe. But I'm a medium-bull for all the reasons everyone else is gloomy.
First, prices in many areas are now cheap. They have corrected a long way since the bubble began to burst five years ago. Of course, it depends on where you are. I'm still skeptical of the real estate markets that have held up best -- prime stuff like Manhattan, San Francisco or Beverly Hills. It's hard to get a deal there.
But in the places that have fallen the furthest, there are deals aplenty. Zillow found only four metro areas in America that have leveled out, or risen, lately. Notably, two of those are in stricken Florida -- Fort Myers and Sarasota. Have they fallen so far they've hit bottom? Maybe.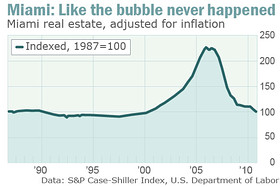 Look at this chart. It shows Miami real estate prices, adjusted for inflation, over the past quarter-century, using Case-Shiller data. The picture is pretty remarkable. The gigantic bubble has been completely wiped out. We're back to prices seen in the 1980s -- when "Miami Vice" was on the air.
The second reason: There are tons of foreclosures and short sales on the market. And there are plenty more sitting in the wings. Banks are holding back big shadow inventories of homes. And that means you can get a great deal. They have to sell. You don't have to buy. You hold all the cards.
Remember, the name of the game isn't "let's make a deal." It's "take it or leave it."
Third, in many places rental yields are terrific. It's cheaper to own than to rent. There have been some forced sales in my building in Miami. Based on my math, the latest buyers have bought condominium units for six times gross annual rents, and maybe 12 times net rents. We're talking net yields of 7% or more. And rents are rising, because so many former owners are now renters.
The fourth reason I'm bullish is that you can get a very cheap mortgage -- 30-year conforming loans are going as low as 4.3%. Throw in the tax break on the interest, and you are talking cheap finance.
The fifth reason is that, as painful as this collapse has been, real estate has historically proven to offer very good long-term protection against inflation. Returns have typically averaged about 1% or 2% above inflation. At a time when everyone has been piling into gold, commodities and TIPS bonds to protect themselves against the possibility of inflation, it seems odd that the most popular and successful hedge, namely real estate, goes a-begging.
Thirty-year TIPS bonds are yielding just 1.6% over inflation, and shorter-term bonds offer even lower returns. Short-term TIPS are actually offering negative real yields. How holding TIPS may actually make you poorer.
The sixth reason I'm bullish is perverse, but I'm sticking by it. Everyone else is bearish. You cannot find a real estate bull anywhere. No one wants to own this asset. No one wants to talk about it. No one wants to hear about it. Everyone seems to agree it's just going down, down, down -- forever.
They said much the same about stocks in 1987, 2002 and 2009; Treasury bonds in 1982; and gold in 2000. I cannot prove this is capitulation, but it sure smells something like it.
As ever, if you aren't disciplined and patient, this probably isn't for you.
I have absolutely no idea when real estate is going to hit rock bottom. It may take several years. I suspect it will do so in different markets at different times. But there are good homes out there going really cheap. If you hunt down the bargains, you're disciplined about price, you get the right financing, and you hold on for five years or more, you'll probably do pretty well from here.
More on MarketWatch and MSN Money:

I told everyone that housing prices would have to come down. If half of Americans now make less than $26,500 a year (in 2008 it was $32,000 a year) then home prices can be no greater that twice that for a stable housing market. So the price of homes still need to fall to about $50K to $60K range before they stabilize.
Welcome to the wonderful world of  lower and lower wages for Americans thanks to corporate CEO's wanting to make $250,000,000 a year and the only way they can do it is to fire $80,000 a year Americans and rehire them at $15,000 a year or move the jobs over to China and India and keep selling their products as if $80,000 a year Americans were making them.
It is a recipe for total economic disaster folks.

You ain't jest a-woofin'.  This country has been robbed by its own elite, aided and abbetted by part of their own class, our legislature.  What has been done should have been illegal, and in many cases it was, but they are getting away scot-free.  I'm thinking the only alternative is vigilante justice, since "legal" justice is not being done and probably can't do it.  If they have nothing to hold them in check, then they will continue to rob.  If they know somebody will be coming after them, then the story might be different.
Breaking up companies, liquidating and moving the work to other countries should be difficult like it is in Germany, France and elsewhere.  Germany still has most of its manufacturing.  They should have to reinvest in the USA and PAY TAXES in the USA, the system that made them rich.

I agree, if you can afford a home, it is a good(not great) time to buy. I would caution those that think this is a great time to invest in multiple properties. In today's market, being a landlord means renting to those who can't pay a mortgage. Why would paying their rent be any different. I used to own multiple properties and sold just before the bubble burst. I have friends that weren't so lucky. They are sitting on empty properties or chasing their tenants every month for the rent money. It's a tough time for everyone. Both of my adult children have moved back in with me. One of them brought her husband. If this trend continues, the demand will continue to shrink and prices will continue to fall.
JEYPFDNB...I love this contrarian outlook. Now buy some properties.  Its the difference between WINNING...........an​d WHINING. We dont want to go the direction of Charlie Sheen, doncha know.
Martin; Please do not speak as if our only recourse is violence. As I told another poster some time ago, that kind of language reduces one to being worse than their enemies.  It also encourages the kinds of episodes like Gabrielle Giffords in Tucson. I dont believe you actually want events such as those to occur around you, or your children, am I right?
Here is a weapon the elites fear as much. An informed electorate propounding rational solutions using reasoned debate. Cut it down the middle, take the best from both sides (extremes) and vote disgusting incumbents OUT~!
Are you sure you want to delete this comment?
DATA PROVIDERS
Copyright © 2014 Microsoft. All rights reserved.
Fundamental company data and historical chart data provided by Morningstar Inc. Real-time index quotes and delayed quotes supplied by Morningstar Inc. Quotes delayed by up to 15 minutes, except where indicated otherwise. Fund summary, fund performance and dividend data provided by Morningstar Inc. Analyst recommendations provided by Zacks Investment Research. StockScouter data provided by Verus Analytics. IPO data provided by Hoover's Inc. Index membership data provided by Morningstar Inc.