Protect your mobile device at work
As more companies adopt bring your own device (BYOD) policies, it pays to play it safe.
This post comes from MSN Money contributor Michelle V. Rafter.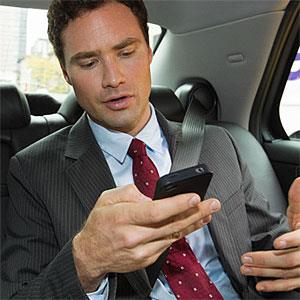 Your  boss just let you know that you're free to bring in your own mobile device to work. Is that a good thing? Well, yes, and no.
It's a good because it gives you the flexibility to work on a phone, tablet or laptop you already have. In some cases, you may also get to use whatever Internet browser, software program or apps you choose. Or your company may give you money to pay for something new and reimburse you for the expense.
More companies are adopting policies that corporate execs and information technology departments commonly refer to as bring your own device, or BYOD. One recent study found that 62% of employees at U.S. small and medium-sized businesses said their  companies have a BYOD policy.
Generally speaking, employees like BYOD, and it shows. In 2012, 74% of respondents in a poll from technology analyst Forrester Research said they picked the smartphone they use at work, 71% picked their own tablet and 54% chose their laptop or notebook computer.
In 2012, 48% of people said they'd pay to use a tablet of their own choosing at work, up from 33% in 2011, says David Johnson, a principal analyst at Forrester.
BYOD policies
But there's a downside. When employees use their own smartphones or tablets, most companies expect them to take steps to keep whatever confidential work data they're using on them safe.
There are other risks. Devices are just as susceptible to attacks from malware and computer viruses as a phone or laptop that's strictly for personal use. If you lose a business computer or phone that you paid for, you may also have to pay to replace it, Johnson says.
At many companies, the onus of understanding what's included in a BYOD policy is on the employee, and many don't know what's covered. For example, 42% of employees in a December 2012 study from Globo said they didn't know whether their company's BYOD policy gave the business' IT department access to their personal devices.
"You want to think of how you can do your best to safeguard what's shared between you and your company," Johnson says. 
The golden rules of BYOD
If you're using your own smartphone or other device for work, the first step is familiarizing yourself with your company's BYOD policy. Here's what Johnston and other experts say you need to do: 
Password protect your device. Or in the case of a smartphone, use a passcode. Pick something unhackable, not the last four digits of your Social Security number, your date of birth or your partner, child or pet's name.
Encrypt the hard drive. Both Windows and Apple operating systems have built-in encryption that can be used to shield data stored on a machine's hard drive so if it's lost or stolen, it can't be unlocked, Johnson says.
Use anti-virus software. Pick a brand, install it, and turn on automatic updates so patches and bug fixes happen without you having to worry about it, Johnson says.
Be selective about software or apps you use. Only use apps -- paid or free -- from reputable companies that have security measures in place that protect your information, he says.
Use cloud-based file storage as backup. Subscribe to an Internet-based service such as Dropbox, Box.net, Microsoft SkyDrive or Google Drive and regularly copy files to your account so if a device gets lost, stolen or damaged, you've still got your work files.
Separate work data from personal data. This could be as simple as creating folders for work documents so they're not mixed in with your vacation pictures and tax return information. Your company's IT department may set up a completely separate virtual machine inside your laptop with its own user interface and remote access to the corporate network. "It's basically two operating systems on one machine," Johnson says.
Install device location apps. Services such as Find My iPhone and Plan B for Android phones can even be installed remotely after you lose a device.
Report a lost or stolen device ASAP. Your first call should be to the police, and the second to your company IT help desk, especially if you hadn't password-protected the device or encrypted data on the hard drive, so they can take the appropriate action to minimize the damage. If you paid for a phone or laptop with a credit card that offers loss protection if something happens, you may be able to get reimbursed for the cost of a replacement.

More from MSN Money: 

BYOD has lots of challenges, and I agree that security and especially data security, are the main challenge for most organization and BYOD; but there are many solutions out there such as MDM and other large management systems. I think one of the more interesting ones is that companies are writing thier own data security apps that use API's like Tigertext's SOX/HIPAA compliant texting TigerConnect API, or the Dropbox API, that run on multiple device and OSes. The benefit is that these apps are easy to deploy and easy to use, and I think you will see more companies using this stratagy to deal with BYOD.
Are you sure you want to delete this comment?
DATA PROVIDERS
Copyright © 2014 Microsoft. All rights reserved.
Fundamental company data and historical chart data provided by Morningstar Inc. Real-time index quotes and delayed quotes supplied by Morningstar Inc. Quotes delayed by up to 15 minutes, except where indicated otherwise. Fund summary, fund performance and dividend data provided by Morningstar Inc. Analyst recommendations provided by Zacks Investment Research. StockScouter data provided by Verus Analytics. IPO data provided by Hoover's Inc. Index membership data provided by Morningstar Inc.
MORE PERSONAL FINANCE SECTIONS & TOOLS