How to make a quick $50
If you're jobless, underemployed or just looking at a paycheck that won't stretch as far as it needs to, odd jobs may be your answer. You might be surprised at what's out there now.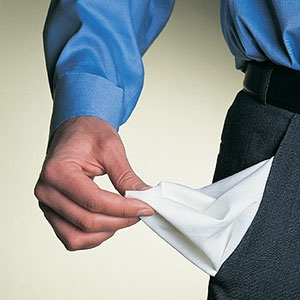 Given that the economic "recovery" is being fueled by lower-paying and/or part-time jobs, you might be in the market for some extra money.

Yes, that stinks. Debate the politics another time, though; right now you need to find ways to pay the bills.

A good place to start is an article on the Wealth Informatics blog. The author, Suba, lists nearly 70 ideas. In addition to the usual suspects like babysitting, plasma donation and selling stuff on Craigslist, she's come up with some creative ways to make a buck. For example:
Grocery shopping. People are willing to pay supermarkets for delivery, so they should be willing to pay you -- especially if you tack on extras like coupon matching and meal-planning based on that week's loss leaders.
Laundry schlepper. Suba once knew a student who picked up clothing, delivered it to the laundry or dry cleaner, and then returned the finished products. It took half the weekend, "but covered his living expenses for the rest of the week."
Professional loiterer. She didn't call it that, but that's what it is: You get paid to wait for the electrician or the cable guy.
But do such jobs pay enough? And how do you find them?
First, the pay: It can be mediocre or it can be pretty great, depending on what you're signing up to do. (It also depends on what you
like
to do; more on that later.) I've seen ads on sites like
TaskRabbit
 and
OddJobNation
 for gigs as simple as: 
Participating in a two-hour social media/fashion focus group ($100).
Taking several loads of laundry to the laundromat and returning it clean and folded ($23).
Removing and discarding packing materials from 30 small boxes, flattening the boxes and putting them in a recycling bin ($29).
If you're underemployed, a home-based worker, a retiree who needs to bring in extra or an at-home parent, then odd jobs can be a good fit. When I went broke in midlife (think: divorce, college) I was always on the lookout for extra cash. I babysat, house-sat, pet-sat, participated in medical testing, and did light housework and personal-care chores for a senior citizen.
The most unusual gig? Watching a short pornographic film, part of a psychology student's project on women and sexuality.


Can't find a job? Make one
Consider making your own "job" by focusing on what you like to do and/or what you're already doing anyway. Suppose you do three long training runs per week. Offer to take your busy neighbor's dog along; Fido will get needed exercise, and the extra bucks will make up for your having to carry poop bags on the trek.
Is gardening your passion? Offer to create and/or maintain someone else's landscape. Live in a high-rise? Put up a sign letting neighbors know you'll collect their mail while they vacation.
Do you walk your kids to school? Offer to take other people's children along. If you work at home, let neighbors know you're willing to sign for packages or let in the plumber.
Not all fast-cash options are odd jobs as such. How about: 

Find and fix. If you're a good tinkerer or can turn a beat-up bookcase into a colorful accent piece, start searching for stuff to repair and sell. Check curbs on trash day, the areas beside apartment-house Dumpsters and the "free" section of Craigslist. (I once talked with a guy who picked up "broken" yard equipment for free, then tuned it up and sold it).
Mystery shopping. Two things you need to know: Never pay for leads (sign up for free at Volition or the Mystery Shopping Providers Association), and ignore scam emails (no reputable company would look for shoppers this way). The more work you do, the more likely you'll land the higher-paying "shops."
Short-term rentals. If having strangers in your house doesn't creep you out, sites like Airbnb and Roomorama can earn you thousands. Living near an exciting city or beautiful countryside is a plus; one couple's D.C.-area home earned them $37,000 in a year.
Game shows, either onstage or watching. Check your favorite program's website for contestant info. A woman I interviewed makes extra cash as a "super-excited, cranked to maximum capacity" paid audience member. She also auditions for game-show pilot episodes. If you don't get selected, an upbeat attitude might snare you one of those paid audience member gigs.
All right, so that last one is a long shot. But plenty of people live near where game shows are filmed, and some game shows do regional tryouts. (In the early 1990s I was on "Jeopardy!" -- and they found me by coming to Alaska.)

Finding the right job
If you have a specialized skill (writing, editing, medical transcription, data entry, virtual assistant), check out sites like eLance, PeoplePerHour, Freelancer.com and Guru.com.
Companies like Fiverr and Gigbucks let you post your unique abilities (serious or silly) for hire. Browse their listings, because you may have a saleable skill (writing quick satires, imitating Darth Vader) you never thought to try and sell.

Part-time gigs can be found at the online sites mentioned above, on Craigslist (yes, legitimate gigs are regularly advertised there) or on bulletin boards at the supermarket. Obviously you need to exercise caution when accepting a job, no matter where it's listed; if something feels wrong, don't accept it.

Or simply put the word out among friends, either informally or through social media. Suba suggests advertising in your own neighborhood. People you know are likely to feel more comfortable with you "instead of trusting complete strangers." Once you've done a few jobs, you'll have references that will likely lead to complete strangers trusting you.

According to Abigail R. Gehring, author of "Odd Jobs: How to Have Fun and Make Money in a Bad Economy,"  short-term employment has its charms.
"The variety of people you will meet, places you'll find yourself and skill sets you'll discover are sure to keep life interesting," she says.

Readers: What's the oddest odd job you ever did?

More on MSN Money:

DATA PROVIDERS
Copyright © 2014 Microsoft. All rights reserved.
Fundamental company data and historical chart data provided by Morningstar Inc. Real-time index quotes and delayed quotes supplied by Morningstar Inc. Quotes delayed by up to 15 minutes, except where indicated otherwise. Fund summary, fund performance and dividend data provided by Morningstar Inc. Analyst recommendations provided by Zacks Investment Research. StockScouter data provided by Verus Analytics. IPO data provided by Hoover's Inc. Index membership data provided by Morningstar Inc.
MORE PERSONAL FINANCE SECTIONS & TOOLS