Do you keep track of your points?
Three-quarters of Americans don't know how many frequent flier miles or credit card rewards points they've earned.
This post comes from MSN Money contributor Mitch Lipka.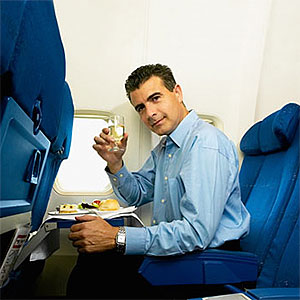 About three-quarters of Americans don't know how many frequent flier miles or credit card rewards they've accumulated, according to a survey released today by the travel information site ThePointsGuy.com.
"Failing to keep track of your rewards miles and points is like throwing money away," site founder Brian Kelly said. "There are good rewards programs for every type of consumer. Whether you're redeeming miles and points for first-class plane tickets, gift cards, cash back or something else, the cardinal rule is that you have to keep track of how many you have. Websites and apps are making it easier than ever to manage rewards, yet almost three out of four Americans aren't taking good care of their miles and points. That's alarming."
One potential consequence of losing track of what you've earned is letting the rewards expire rather than using them. More than a quarter of those surveyed acknowledged that they had allowed earned rewards to expire.

Several rewards aggregation websites allow consumers to collect information from many, or all, of their programs in the same place -- a one-stop monitor for what has been earned. Users can also find out on the sites how close the next reward is and receive alerts about upcoming expiration dates.

Among the sites are GoMiles.com, MileWise, AwardWallet.com, Points.com and MyRewardsTree.

The survey also found that many consumers just don't understand how the programs work. Only 41% of those surveyed said they understand the workings of frequent flier programs. About 67% said they understand the rewards programs.

One way to keep most rewards programs active and avoid losing reward points or miles is to make a small purchase that gives you credit in that particular program. Someone who hasn't flown for a while on a particular airline can usually keep an account current by linking it to a hotel or car rental program and earning miles there.

While the programs can be confusing, consumers shouldn't allow their accumulation of points and miles to just disappear.

If you're notified by one of your loyalty programs that the terms have changed, it also pays to spend a few minutes reading the materials. You'll want to know about a big increase in the number of points needed to earn a reward so you can book before the increase takes effect.

The general rule when it comes to rewards programs is to not simply allow your points or miles to accumulate beyond what you'll need to redeem them. They aren't currency, and the companies can change the terms with little or no notice -- essentially devaluing what you've built up. Hotel programs, for example, typically reconfigure their levels for redemption annually.
Also, re-evaluate your loyalties. Just because you joined a program a long time ago doesn't mean it's right for your today.
More from MSN Money:
As someone who's been lazy about claiming credit card cash-back rewards, I use the Amazon.com VISA because I shop online at Amazon.com a lot and it's generous cash-back rewards Visa allows you to directly apply your cash-back rewards to your purchases without having to go through any setup: when you choose your payment options the rewards total shows up and you're asked how much of it to apply to the purchase.

You get 3% cash-back on Amazon purchases, 2% on gasoline, restaurant, drug store and stationary store purchases and 1% on everything else.

Occasionally, I use the 5% cash-back bonus program at Discover Card (you have to sign up through your webpage on the site, and you can link that site and your rewards to Amazon purchases, though it takes a little more work.



I have around 1.5 million perks miles at Am Exp--Delta Airlines and also at USBank.    Been increasing at about 75k miles a month lately since I've been charging so much to the Visa.  Pay it all off each month though, so never have any interest.    They could cancel the whole thing and I probably wouldn't know.  Never use them.  Just give them away to family and friends.

Are you sure you want to delete this comment?
DATA PROVIDERS
Copyright © 2014 Microsoft. All rights reserved.
Fundamental company data and historical chart data provided by Morningstar Inc. Real-time index quotes and delayed quotes supplied by Morningstar Inc. Quotes delayed by up to 15 minutes, except where indicated otherwise. Fund summary, fund performance and dividend data provided by Morningstar Inc. Analyst recommendations provided by Zacks Investment Research. StockScouter data provided by Verus Analytics. IPO data provided by Hoover's Inc. Index membership data provided by Morningstar Inc.
MORE PERSONAL FINANCE SECTIONS & TOOLS