Online prices can vary by ZIP code
When you're shopping online, you may be charged a different price depending on where you live, a news report says.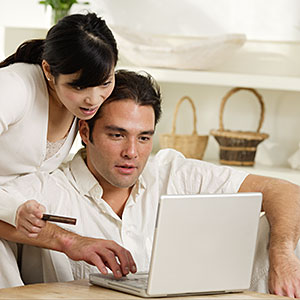 Why would Staples.com offer a stapler at $15.79 to one online customer but advertise the same stapler at $14.29 to another who lives just miles away? It appears that customers who live close to a brick-and-mortar store operated by a Staples competitor are presented with a lower price online, The Wall Street Journal reports. 
The Journal has done a marvelous job explaining how our online activities -- including how we connect to the Internet and what we look at -- are used by companies to target ads at us. For instance, it reported last summer that Orbitz was showing rooms in higher-priced hotels to Mac users because they're inclined to spend more than PC users on accommodations.
In the latest report, the Journal says Staples.com appears to change online prices based on what it believes your proximity is to its own and major competitors' stores, as indicated by your computer's "address."
The Journal did exhaustive testing of online prices displayed to customers of Staples.com across the U.S. It said:
"In the Journal's tests, ZIP codes whose center was farther than 20 miles from a Staples competitor saw higher prices 67% of the time. By contrast, ZIP codes within 20 miles of a rival saw the high price least often, only 12% of the time.

 

"Staples.com showed higher prices most often -- 86% of the time -- when the ZIP code actually had a brick-and-mortar Staples store in it, but was also far from a competitor's store."
Not only that, but the Journal's study showed that those who live in higher-income areas are most often being shown the lower price. The Journal explained:
"In what appears to be an unintended side effect of Staples' pricing methods -- likely a function of retail competition with its rivals -- the Journal's testing also showed that areas that tended to see the discounted prices had a higher average income than areas that tended to see higher prices."
Thus, it appears that if you live far from areas of big-box stores and huge malls -- like on the plains of north-central Montana -- you'll see the higher price online. In fact, the Journal has an interactive page so you can check how your ZIP code fared in the Journal's test of the stapler price. My ZIP code -- where there's no Staples, OfficeMax or Office Depot within 100 miles -- got the higher stapler price every time.
That doesn't seem fair, but it's not illegal. It also makes business sense. Since I live where there's no major competition like OfficeMax or Office Depot, Staples has no incentive to offer me the better price.
However, it's also disconcerting. Haven't we expected the Internet to help us find the lowest price? When I visit a price comparison site, will the lowest offer be available to me when I actually click through to the retailer's website?
And it's always uncomfortable to learn that companies know so much about us. Says the Journal:
"The Journal identified several companies, including Staples, Discover Financial Services, Rosetta Stone Inc. and Home Depot Inc., that were consistently adjusting prices and displaying different product offers based on a range of characteristics that could be discovered about the user."
More on MSN Money:
DATA PROVIDERS
Copyright © 2014 Microsoft. All rights reserved.
Fundamental company data and historical chart data provided by Morningstar Inc. Real-time index quotes and delayed quotes supplied by Morningstar Inc. Quotes delayed by up to 15 minutes, except where indicated otherwise. Fund summary, fund performance and dividend data provided by Morningstar Inc. Analyst recommendations provided by Zacks Investment Research. StockScouter data provided by Verus Analytics. IPO data provided by Hoover's Inc. Index membership data provided by Morningstar Inc.
MORE PERSONAL FINANCE SECTIONS & TOOLS