The cheapskate's guide to turning happy hour into dinner
Casual dining restaurant chains have jumped on the happy hour train with deals on drinks and snacks -- maybe enough for dinner.
This post comes from Elizabeth Sheer at partner site Cheapism.com.

Happy hour, once known as cocktail time, is that transition period between the end of work and the start of dinner.  It used to be that you had to hang at a local bar for a happy hour deal -- and that's still probably your best bet for a cheap alcoholic drink. But family/casual restaurant chains have joined in the fun, if for no other reason than to generate revenue during off-peak hours.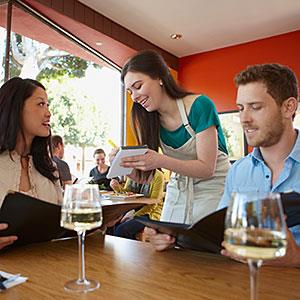 There are no national standards for designated happy hours, but they typically fall somewhere in the 4-7 p.m. timeslot on weekdays. The deals vary by chain and even location within chains, so check before heading out. If you're savvy about your choices, you can order enough bar snacks with your beverage of choice to forget about dinner altogether.
The catch, in most restaurants: You have to sit at the bar or in the lounge, with the expectation that you'll order a drink. That said, some offer early bird specials in the main dining room that you can enjoy without an alcoholic accompaniment.
Applebee's. Many Applebee's restaurants are franchises and may or may not offer happy hour deals. Where they do pop up, happy hour runs from 3 p.m. to 6 p.m., and some reappear with a late-night menu from 10 p.m. until closing. Happy hour at Applebee's often includes half-priced drinks, or at the very least, two-for-one draft beers and appetizers. Appetizers include spinach and artichoke dip, mozzarella sticks, chicken wings, cheeseburger sliders, onion rings, pretzels with dip, nachos, and fried green beans, among others.
If you prefer to skip the alcohol, try the two-for-$20 menu, which could prove to be cheaper than the
drinks-and-appetizer​s
deal. This special includes one appetizer and two entrees from a limited menu.
Carrabba's Italian Grill. Carrabba's hosts a weekday happy hour from 4 p.m. to 6:30 p.m. (or 7 p.m., depending on location) and, at some outlets, all day Sunday. The two-for-one drinks menu includes liquor, beer, and sangria; wine comes in a "quartino" (quarter of a liter) for the price of a small glass.
If you sit at the bar or in the lounge at some locations, you can order small plates that may be a filling substitute for dinner -- meatball and parmesan sliders, for example, as well as antipasto, meatballs and ricotta, and tuna carpaccio.
Other locales offer $5 cocktails along with $5 appetizers like flatbreads, zucchini fritte, and a skewer of grilled white-meat chicken. Many restaurants in the chain also host Tasting Tuesdays, where $8 buys a sample of three different wines.
The Cheesecake Factory. Happy hours at The Cheesecake Factory vary by location; in Florida they run for two hours starting at 4 p.m. Many spots also discount appetizers by half and some put out a special happy hour menu featuring goodies like TexMex eggrolls, Thai lettuce wraps, and fried macaroni and cheese. Plan on spending $5 for cocktails and wine (beer is $4) and $5 for each snack.
Houlihan's
At many Houlihan's, happy hour starts at 4 p.m. and lasts long into the night -- until closing, that is. This chain also supports a day-long happy hour on the weekend or possibly just Sunday. During happy hours customers at some locations get $1 off draft beers, house wines, and a select menu of mixed drinks.
Elsewhere, they enjoy half off well drinks, beer, and Long Island teas during the week, and bloody Marys or mimosas on Sunday. If you want table service and are prepared to eat a late lunch rather than dinner, the early bird special available at some locations between 3 p.m. and 5:30 p.m. starts at $14.49 for three courses. 
Longhorn Steakhouse
This chain recently rolled out a happy hour menu at most locations that runs from 11 a.m. to 7 p.m. Monday through Saturday. The drinks menu features cocktails like mojitos for $3, half off draft beers, and $1 off a glass of house wine. Cut-rate appetizers include a real burger at $5 that will do for dinner, and $3 chicken and waffle sliders and fried artichokes.
Outback Steakhouse
Deals at Outback Steakhouse start at $4 for drinks and snacks "all day, every day" for customers sitting at the bar. Small- and medium-sized Bud Lights are cheaper than $4, and few drinks cost more than $5. Even the highest-priced appetizer on the happy hour menu, short rib nachos, costs only $7 and should hold you for the night if you don't share.
P.F. Chang's
Another casual dining chain with a national happy hour policy (but prohibited by law in some states), P.F. Chang's offer extends from 3 p.m. to 6 p.m. daily, and includes cocktails, wine, beer, and sake at prices ranging between $3 and $6. Appetizers also fall under the $6 umbrella and include dim sum (dumplings and won ton) and "street fare" like Asian tacos and tuna tataki crisps.
TGI Fridays
This is one chain that you would expect to have a happy hour, and it does -- every day, during hours that vary by location. The after-work and late night special appetizers go for 50 percent off, and include pot stickers, flatbread pizza, sliders, chicken wings, and potato skins. Add joy to your week on Wednesdays, when martinis cost just $3 and bottles of wine are half-priced.
More from Cheapism:

forget Carrabbas, they are LOUSY, LOUSY and worse.   Tiny drinks,  lousy chicken sandwich which is only a small frozen breast dropped on some nice thick bread.  Menu says one thing, delivery is something else.   No managers are available.  We once loved the place but now its commercial food badly prepared.   The bar service awful   Fridays twice as good at half the price.
Are you sure you want to delete this comment?
DATA PROVIDERS
Copyright © 2014 Microsoft. All rights reserved.
Fundamental company data and historical chart data provided by Morningstar Inc. Real-time index quotes and delayed quotes supplied by Morningstar Inc. Quotes delayed by up to 15 minutes, except where indicated otherwise. Fund summary, fund performance and dividend data provided by Morningstar Inc. Analyst recommendations provided by Zacks Investment Research. StockScouter data provided by Verus Analytics. IPO data provided by Hoover's Inc. Index membership data provided by Morningstar Inc.
MORE PERSONAL FINANCE SECTIONS & TOOLS