How to set financial goals you'll actually achieve
Setting financial goals is the first step toward financial freedom. Here are some tips to help you set and achieve worthwhile goals.
This post comes from Rob Berger at partner site The Dough Roller.

Setting goals is an important part of the process of improving our finances. It's so easy to get bogged down in the day-to-day pressures of life. Goals help us think beyond the daily details of life and focus on the big picture.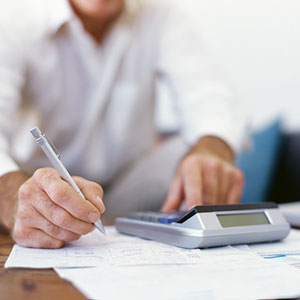 As important as goals are, setting and achieving them can be difficult.  Study after study demonstrates, for example, that most never keep New Year's resolutions.  A study by the University of Scranton's Journal of Clinical Psychology found that just
8 percent of people
are successful in achieving their resolutions.
In an effort to increase the odds of success, here are some tips on setting effective financial goals you'll actually achieve.

How to set effective financial goals
Consider the past: Considering your history with setting and achieving (or not) financial goals can help you set more effective goals now. By understanding past successes and failures, you can better prepare yourself to achieve financial goals in 2014.
Find your motivation: We all find motivation in different ways. What motivates me may not motivate you. One key to successful financial planning is understand what motivates you. By tapping into what drives you, you'll set goals tailored specifically to you and increase the likelihood of success.
Be realistically unrealistic: Goals need to push us, but not overwhelm us. Set goals that are too easy and you'll likely never reach your potential. Set goals that are too aggressive and you'll likely get discouraged. For me, the sweet spot can be found with goals that I describe as "realistically unrealistic." Some call it stretch goals.
Make your goals specific and actionable: Goals need to be specific. A good way to tell if your goals have met this test is to ask how you'll know when you've accomplished your goal. If you can't answer that question, it's time to rethink your goals. In addition, goals should be followed up with an action plan. A good start is to ask what your first step will be to achieve the goal.
How to achieve your goals
Personalize your goal: While many people share common goals (e.g., investing for retirement, getting out of credit card debt), what one must do to accomplish those goals is often very specific to their circumstances.  For example, getting out of debt may require some to make considerable changes to daily spending habits.  In contrast, some may be in debt due to health issues or a failed business.  The key is to understand your specific circumstances and to tailor your plan accordingly.
Remove bad choices: Achieving any goal is hard enough without being constantly confronted by potentially bad choices.  To improve your chances of success, remove the possibility of making bad choices whenever you can.  If you goal is to pay extra on credit card debt, make the payment as soon as the money is available rather than letting the cash sit in the checking account.  If credit cards are too tempting, leave them at home.
Automate
: By automating aspects of your financial live, you increase the chances of success. You also simplify your life. Automation can range from monthly investments in a 401k or IRA to
saving an emergency fund in a savings account
.
Set interim goals: I set interim goals when climbing out of a debt.  My first goal was to tackle credit card debt.  My next step was to pay off school loans.  And my final step was retire our home equity line of credit.  By setting interim goals, it can help you stay motivated.
Track your progress: Tracking your progress toward a goal is important for two reasons. First, it can be motivational as you see yourself getting closer and closer to your goal. Second, it keeps you focused on your goal. And if you are finding it difficult to figure out how to track your goal, reconsider whether the goal is specific and actionable.
Get help: Particularly with financial goals, having somebody you trust encourage you and hold you accountable is critical for most.  Like a personal trainer, an accountability partner can be an objective sounding board when things get rough and you feel like giving up on your goals.
Develop good habits: '"We are what we repeatedly do. Excellence, then, is not an act, but a habit." This quote from Aristotle is instructive for financial goals. The most important thing financial goals can do is to help us start and maintain good habits.  In fact, all goals can and should be broken down to our basic, daily habits.  Change your habits and you'll achieve your goals.
More from the Dough Roller:
Whether it's been participating or coaching sports, weight loss, or financial goals I've learned to set three goals for each item:

1) what I should accomplish if everything  goes right.
2) what I should accomplish if things go as expected.
3) what I should still be able to accomplish if bad luck prevails.

I begin shooting for goal #1, but the beauty of the system is that if problems (unexpected expenses, a bear market, etc.) arise that make goal #1 impossible, I have something to fall back on instead of getting discouraged where a lack of motivation can derail the whole exercise.  The same applies to goal #2.



The Goal of every Parent should be to make sure their Kids are first aware of their Failure and that second, they teach their Kids how to avoid those same mistakes. Sadly, far too many times, that doesn't happen. So what ends up happening, far too many kids end up learning things the hard way. That at times can put folks in the hole, sometimes for life.

However, regardless of what hand you have been dealt, of your doing or others, addressing income is your best way to achieve financial goals. It's hard to get ahead if you aren't making a decent wage. So increase your skills set to maximize your income. The more you make, the better you will be able to save for retirement and avoid debt issues. So it's not only what you save, but how much you make. Don't let folks fool you into thinking otherwise.



How does he look when he goes into an interview? Is he v\covered with tattoos & piercings? We don't hire people with tattoos unless they can be covered at all times and only one earring this goes for both men & women. If you can't afford new clothes that is fine but be neat and clean all long hair tied back and know something about the company. Be willing to start anywhere.


so we have no debt except our home, we only owe 90,000 on it, we have that amount in our savings account, we put 1000 a month into our retirement 457 and tsp funds, we put 3,000 a month into our savings account, we plan on retiring in 5 years I will be 57 and hubby 55, I will have 20 years of federal service retirement and he will have 30 years with a county pension, we are going to sell everything and move to Puerto Vallarta, our home has gone down in value, but we even in 5 years will be able to sell and pay off and still probably make 50-80 thousand, we will not draw on our pensions or 457 or tsp until 60, we will live off of our savings, question is do we take and pay off house now or wait and pay it off in 5 years, hubby likes having that extra 90,000 in our savings account, in 5 years putting 3000 in savings we will have another 180,000 into our savings. We only pay 440 for our mortgage payment, so do we pay off mortgage now or just wait and pay it off in 5 years? We did refinance and it is a 30 year mortgage, that is why the mortgage is so low, but we did that knowing we had enough in savings to pay off, and plus knowing we have more equity in it than what we owe, we have so far great health insurance,unless we are forced into Obamacare, and if we got really sick we would be able to live off of one wage easily, hubby does make double what I do...so do we pay off the house now or just wait the 5 years, I just look at the interest on the house, its only 5 more years of interest either way, what would you all do? People don't have to work the rest of their lifes, we only make 120,00 a year between the both of us. We bought used vehicles in cash, we don't buy anything on credit, we don't buy lattes, eat out, we do go to Puerto Vallarta twice a year but we do it cheaply, we figure that is our date nights that we don't do for 6 months, really we do a week there for 2000 that is everything plane,hotel,food, and fun, so we are willing to sit home on weekends for 6 months to get our week in mexico, redbox videos and popcorn:) any advice on to pay off house now or in the 5 years? I don't feel it saves us much in taxes having a loan

Are you sure you want to delete this comment?
DATA PROVIDERS
Copyright © 2014 Microsoft. All rights reserved.
Fundamental company data and historical chart data provided by Morningstar Inc. Real-time index quotes and delayed quotes supplied by Morningstar Inc. Quotes delayed by up to 15 minutes, except where indicated otherwise. Fund summary, fund performance and dividend data provided by Morningstar Inc. Analyst recommendations provided by Zacks Investment Research. StockScouter data provided by Verus Analytics. IPO data provided by Hoover's Inc. Index membership data provided by Morningstar Inc.
MORE PERSONAL FINANCE SECTIONS & TOOLS