3 ways to be a cheap first date
Getting to know a potential romantic partner shouldn't break the bank, but how do you plan something budget-friendly that's also fun?
This post comes from AJ Smith at partner site Credit.com.


Many people have the misconception that you need money for romance. Finances are wrapped in the lore of love from diamond engagement rings to Disney princes. But you don't have to be a millionaire to find the one. And you certainly don't need millions to go on a first date. Here are some tips on how to be a cheap date.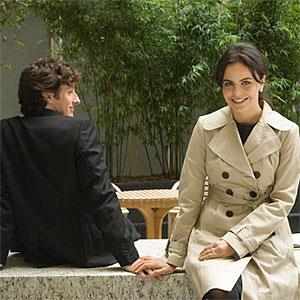 1. Don't hide it
If you are the one asking, mention that you are trying to keep costs down. Naming a goal should let your potential date know you are financially responsible. So saying, "I'm saving up for a house, but I really want to do something fun and get to know you" shouldn't be a turn-off. If you are the one accepting, also don't be afraid to speak up. Sometimes it's unclear who will be paying for the date and you don't want to say yes to dinner and suddenly be hit with an unexpectedly large bill (or at least half of it). Feel free to speak up and make suggestions of your own.
2. Ditch the traditional
Inviting someone out to dinner and a movie isn't very original. Show your creative side by coming up with something different (and cheaper!). Many museums have free or reduced tickets on a certain day. In New York City, on Sundays The Frick Collection is pay what you wish from 11 a.m. until 1 p.m.
A walk in the park is always free, and some parks even offer free entertainment like movies or theater performances. In Columbus, Ohio, you can catch performances of Shakespeare in Schiller Park. Donations are appreciated, but there's no cost to get in. A walk or a picnic in the park is another cheap date. Hiking is also a good activity – not only does it cost almost nothing but you are doing something with your date, so you'll automatically have things to talk about.
There are many community events that are not too expensive. Check for reduced prices on certain days or nights of the week.
3. Forget about food
Or at least a fancy dinner. Try keeping the food simple and easy (aka cheap) to focus on an activity. Check out a BYOB spot or suggest meeting for just dessert. If you want to include dinner, enjoy pizza together at a local favorite and then go to the fancy place for their fondue. Just make sure to do some research and make sure the pizza place is good. Perhaps your date will be impressed with your local knowledge of hidden gems.
If the potential date turns you down or demands an expensive night out, you know they weren't worth draining your funds for anyway! Better to know now.
More from Credit.com:

Dating is expensive, so I try to be respectful of that when I go out with a guy the first or 2nd time.   I always offer to pay for my share, and am willing to do so.  I've also, on occasion, picked up the check for a guy.   If he's paying, I don't order more than one drink and skip an appetizer.   It's not being cheap, it's treating someone the way you'd like to be treated & understanding that they aren't just a bank. 
Are you sure you want to delete this comment?
DATA PROVIDERS
Copyright © 2014 Microsoft. All rights reserved.
Fundamental company data and historical chart data provided by Morningstar Inc. Real-time index quotes and delayed quotes supplied by Morningstar Inc. Quotes delayed by up to 15 minutes, except where indicated otherwise. Fund summary, fund performance and dividend data provided by Morningstar Inc. Analyst recommendations provided by Zacks Investment Research. StockScouter data provided by Verus Analytics. IPO data provided by Hoover's Inc. Index membership data provided by Morningstar Inc.
MORE PERSONAL FINANCE SECTIONS & TOOLS