End of Saturday delivery could cost you
The US Postal Service's cost-cutting measure will devalue some Netflix subscriptions and give people less time to pay bills by mail.
This post comes from Kelli B. Grant at partner site MarketWatch.

If the post office doesn't deliver letters on Saturdays, mailboxes nationwide get a day off from being stuffed with junk mail. No big deal, right? But if you pay your bills by mail or subscribe to a DVD rental service, the change could hit your wallet.
The U.S. Postal Service announced Wednesday it plans to eliminate Saturday letter delivery, effective Aug. 5. Packages would continue to be delivered on Saturdays, and post office locations currently open on Saturdays would remain open that day under the new schedule.  
Consumers' outgoing mail would not be retrieved from their home mailboxes on Saturdays, nor would letters placed in a blue USPS box be picked up, says Darleen Reid, a spokeswoman for the USPS. Letters delivered to a post office location will not be processed that day, but will be processed Sunday for Monday delivery.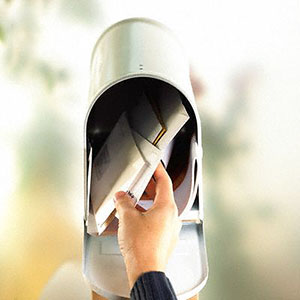 Without Saturday delivery or pickup, consumers will have to be more careful about making sure mailed bill payments arrive on time, says Gail Cunningham, a spokeswoman for the National Foundation for Credit Counseling. "Pay your bill the day it arrives if you're paying by mail," she suggests.
By law, credit card issuers have to set a payment deadline at least 21 days out from when they mail cardholders' statements, and the post office shift means consumers might get their statement two days later and have to send payment two days earlier.
This will inconvenience fewer people than it might have in the past. Just 23% of all bill payments are made with a check, according to an August 2011 study from research firm Fiserv, down from 61% in 2002. Meanwhile, online payments rose from 13% to 50% of payments during the same period.
But that still represents billions of checks. Another Fiserv study found that 59% of consumers still write at least one payment check each month. Consumers mailed just under 5 billion payments in 2010, according to a report that year from financial services research firm Aite Group. It projected a 6% drop by 2013, to roughly 4.7 billion mailed payments.
But even staunch e-payers may find that they have some mailed payments to worry about, says Ruth Susswein, deputy director of national priorities for advocacy group Consumer Action. Banks still send some payments arranged online through the mail, usually for smaller creditors that aren't set up to receive electronic payments, she says.
For consumers renting DVDs through a mail-delivery service like Netflix, no Saturday letter pickup or delivery can devalue subscriptions. Someone maximizing a monthly $7.99 one-disc Netflix subscription -- watching the movie the day it arrives and mailing it back the next day -- would get one less disc in August, eight instead of nine, if the customer started the month with a disc in hand. (A Netflix spokesman says the company had no immediate comment.)
It's too early to tell whether consumers will add more discs to their packages, switch to  streaming subscriptions or maintain the status quo, says Dan Rayburn, an industry analyst with Frost & Sullivan. "It's unlikely to make a major impact," he says.
Netflix's DVD business has been declining. In the fourth quarter of 2012, the company reported 8.2 million domestic DVD subscribers, down from 10 million in the first quarter. Domestic streaming subscriptions, meanwhile, grew from 23.4 million to 27.1 million during that same period. "With Redbox still around, people who want them can still get DVDs easily," Rayburn says.
More on MarketWatch and MSN Money:
DATA PROVIDERS
Copyright © 2014 Microsoft. All rights reserved.
Fundamental company data and historical chart data provided by Morningstar Inc. Real-time index quotes and delayed quotes supplied by Morningstar Inc. Quotes delayed by up to 15 minutes, except where indicated otherwise. Fund summary, fund performance and dividend data provided by Morningstar Inc. Analyst recommendations provided by Zacks Investment Research. StockScouter data provided by Verus Analytics. IPO data provided by Hoover's Inc. Index membership data provided by Morningstar Inc.
MORE PERSONAL FINANCE SECTIONS & TOOLS