It's not a mattress, it's a smartbed
The newest beds can monitor your sleep throughout the night and post updates on Facebook and Twitter.
This post comes from Geoff Williams at partner site U.S. News & World Report.

Hunting for a new mattress and perhaps trying to take advantage of a sale timed to Presidents Day? That 21st century bed you've been dreaming of isn't just a dream any more. Beds are becoming as high-tech as phones, cars and televisions, and as varied as the brands of toothpaste and shampoo.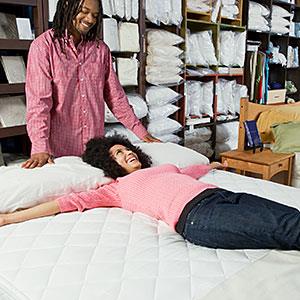 The most popular mattresses are still made of inner springs, but consumers can sleep on substances like gel foam, latex foam, memory foam or even just air.
Options include pillow-top, stuffing made of organic and natural -- that is, chemical-free -- materials and orthopedic mattresses. If you're buying a frame to go with it, you can go with an adjustable one, with which the sleeper's head and feet can be elevated.
But mattress shopping is about to get even more complicated -- or exciting, depending on your point of view. Every year, right about this time, the Las Vegas Furniture Market, a world-renowned industry trade show, finishes unveiling the latest and greatest in mattresses. According to reports from attendees, mattresses of the future will arrive this year, and it means that sleeping could get expensive.
Your mattress 2.0
People used to hide their money under the mattress. These days, though, the sleep industry is doing whatever it can to convince people to spend their money on the mattress rather than save some for "safe" keeping.
Frank Hood doesn't pretend otherwise. Hood is the president of Kingsdown, a maker of premium mattresses and sleep solutions headquartered in Mebane, N.C. Hood says he would like the mattress industry to pick up a few lessons from what the cellphone industry has done.
"You have a 23-year-old man or woman who will spend $600 on a new telephone every year and then spend $140 every month for the service," says Hood, who marvels that "people will spend $20,000 in 10 years on a communications device, but pause when they consider spending $2,000 on a surface that they're going to be lying down on every night."
Don Wright, who recently stepped down as chairman of the International Sleep Products Association, utters a similar lament. "It's one of the most necessary purchases you'll ever make. It completely has to do with your quality of life, and yet people ignore it," Wright says. "Our body changes a thousand times in 10 years, but people will hang onto a bed for 20 years."
Hood's company recently unveiled its line of Sleep Smart mattresses, which will be available at retailers in August and will cost more than the average person's sleep space. The queen mattress, box spring and base, for instance, is expected to retail for $10,000.
The beds can monitor a sleeper's movements, recognize if someone is in pain (say, from playing too much basketball that day) and respond by easing the pressure on the mattress. If you suffer from insomnia or sleep apnea, or you're just keenly interested in how you're sleeping, the mattress can give you a daily report of how much you slept and how well you slept. Over time, you can see how your sleep patterns are changing.
If you choose, you can have your bed tweet or send Facebook status updates of your sleep performance. If that scares you, there's no requirement to interact with your Sleep Smart bed. "You can just plug it in the wall and let the science of the 8 million profiles of human bodies and $4 million of research that went into this bed do the work," Hood says.
Your bed as Wi-Fi hotspot
Martin Rawls-Meehan, the CEO of Reverie, a mattress and sleep system manufacturer in Silver Creek, N.Y., is equally enthusiastic about the industry. His company just unveiled its 7S -- a high-tech adjustable bed base that should be in stores in March (the queen size will retail for $6,000). It can support any adjustable-friendly mattress, and the bed can also be used in conjunction with an app for tablets and smartphones, available on Apple iTunes and Google Play.
The app turns your tablet or smartphone into a remote that can adjust the mattress, channel-surf on the TV and turn the lamps on and off.
But are mattresses getting too smart? If the industry designs beds as hotspots to hang out, will we end up sleeping less? It's a question Rawls-Meehan says sleep experts have raised, but he says the industry is simply trying to give consumers what they want.
He says that if you can keep your bedroom gadget-free, go for it. But for those who can't quite get there or don't want to, it's up to the sleep industry to accommodate those consumers.
"You start seeing how your nieces and nephews have mastered the iPad at the age of 3, and you realize these gadgets are going to become an extension of people's limbs at a certain point," Rawls-Meehan says. "The wired bedroom is here to stay."
More from U.S. News & World Report and MSN Money:
DATA PROVIDERS
Copyright © 2014 Microsoft. All rights reserved.
Fundamental company data and historical chart data provided by Morningstar Inc. Real-time index quotes and delayed quotes supplied by Morningstar Inc. Quotes delayed by up to 15 minutes, except where indicated otherwise. Fund summary, fund performance and dividend data provided by Morningstar Inc. Analyst recommendations provided by Zacks Investment Research. StockScouter data provided by Verus Analytics. IPO data provided by Hoover's Inc. Index membership data provided by Morningstar Inc.
MORE PERSONAL FINANCE SECTIONS & TOOLS