How 'acting poor' can give you choices
One blogger says the way to spend less money is to pretend you don't have much of it. It's a good chance to decide what's most important to you.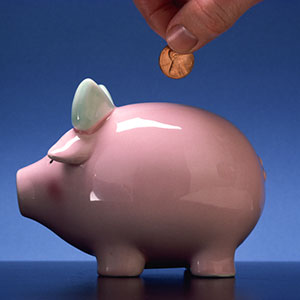 Last year a Seattle blogger wrote about "acting poor." Comfortably middle-class, Sarah used the word poor to mean "living well below one's means." That's because some people consider her life choices to be things that only poor folks do.
Sarah and her husband scavenged materials for their vegetable garden and chicken house. They harvest free wild blackberries, barter, make their own laundry soap, preserve food, and shop yard sales and thrift stores.
Each month she removes money from their budget by paying extra on their car and funding retirement, a flexible spending account and savings. She does this both to build a someday fund (with an eye toward starting her own business) and to develop creative money management tactics.
"Knowing you can live on less and actually doing it,
turns out they're two different things
," she wrote in a post on her site, Dogs or Dollars.
The blogger and her husband learned to "question each expense" in terms of what it means both to their everyday budget and their long-term goals. They also learned that you can do everything right, only to find that life has other plans.
In this case the curve ball was a delightful surprise: a son, born earlier this month. While a baby was not in the short-term plan, their preparations gave them tremendous flexibility. Sarah negotiated extra time off and can stay home for six months. Then her husband, a welder, will take a half-year leave of absence.
Plenty of people in their income bracket wouldn't be able to take so much time off, "because they didn't make the choices we did," says Sarah, who works in information technology.
"Since we knew we could live on significantly less income than we were currently making and we had a healthy chunk of savings to back us up, this was doable."


Directing your dollars
Their attitude is similar to my own mantra: I save where I can so I can spend where I want.
Thrift-store shopping, fruit gleaning, bulk buying, home cooking,
Dumpster wading
and other frugal hacks got me through some lean times. But I keep doing them because I see no reason to pay more than I have to in order to meet basic needs.
I also believe a little self-denial is good for us. That doesn't mean always going without. It means asking yourself why -- or whether -- you should spend.
How much cash slips mindlessly through your fingers in a day, or a month? Track your spending for just one week. What you find may surprise you:
Did I really spend $11 in vending machines? That's $575 a year for soda and candy bars!


Money in, money out
Reining in your spending will lead to freedom. That might sound counterintuitive, since some people equate "budget" with "prison." But when you've got money in place for all of your needs and at least some of your wants, you sleep really well at night.
If it takes "acting poor" to get control of your cash, then go ahead. Don't look at it as hoarding every dime in case something awful happens. Think of it as directing your dollars so that something good can happen -- a vacation, a home of your own, a baby.
Decide what really matters to you and then set out to achieve it. Ignore what other people say about your "poor" behavior or, worse, your "cheapskate" habits. This is the money you work hard to earn. When it comes in, you should be absolutely aware of how it goes back out.


More on MSN Money
DATA PROVIDERS
Copyright © 2014 Microsoft. All rights reserved.
Fundamental company data and historical chart data provided by Morningstar Inc. Real-time index quotes and delayed quotes supplied by Morningstar Inc. Quotes delayed by up to 15 minutes, except where indicated otherwise. Fund summary, fund performance and dividend data provided by Morningstar Inc. Analyst recommendations provided by Zacks Investment Research. StockScouter data provided by Verus Analytics. IPO data provided by Hoover's Inc. Index membership data provided by Morningstar Inc.
MORE PERSONAL FINANCE SECTIONS & TOOLS