Stop paying more than your share for the dinner bill
Tired of subsidizing the rest of the gang's big meals when all you had was a salad? There's an app for that. Other apps help to share rent, vacations and utilities.
This post comes from Donna Freedman at partner site Money Talks News. 


Some nights out are great fun -- right up until the bill arrives.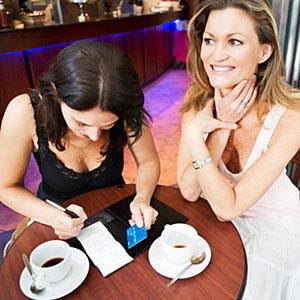 Why is it that the ones who say "Let's just split it four ways" tend to be the nightclubbing pals who pounded down expensive drinks (and plenty of them) all evening, or the fellow diners who ordered appetizers, surf 'n' turf, wine and molten chocolate cake?
That leaves on-a-budget you with two choices:
Split the bill four ways -- even if you drank club soda with lime all evening, or nibbled at a stir-fry while everyone else chowed down. (Hint: You are being exploited.)
Do the who-ordered-what math, person by person, until eyes are rolling out of everyone's heads.
Here's a third choice: Stand up for yourself, but forget the calculators. There's an app for that.
Apps like Tip N Split and Receipt Ninja take the math out of the equation, so to speak -- but they also make sure things are fair. Some will divide up other shared expenses such as rent, utilities, vacations and groceries. Or they'll keep tabs on who paid last time so that you don't end up arguing over whose turn it is to buy.
(Unless otherwise noted, the apps mentioned in this article are free and available both multiple operating systems even though the links may be for just for one.)
Bills don't necessarily have to be parsed down to the half-cent, incidentally. For example, an app called Plates lets specific items like bottles of wine or Copper River red salmon get charged to whoever consumed them, and then shares the rest of the bill equally among diners.
"People just want to be told roughly how much to chip in," says Jon Bittner, whose company released the app in the summer of 2013. It's currently available just for iOS but an Android version is in the works.
Let the app do the talking
Another of Bittner's programs, Splitwise, is designed for expenses you share regularly, especially with roommates. "When you're ready to pay up, a simple PayPal transfer is all it takes to settle your debts," says Emily Nickerson of The Daily Muse.
So rather than having to nag your flatmate for her share of the utilities or that last Costco run, you let the app do the talking. Sweet!
Or maybe you're the social organizer for your group, the kind of guy who puts down the deposit on the party bus or the ski-weekend condo. How often do you find yourself paying more than your share because you're too embarrassed to nag the holdouts who conveniently "forgot" to chip in?
An app called Settle Up! costs $1.99 but is definitely "worth two dollars," says Shelley Elmblad, financial software writer for About.com.
Among her favorite features: Settle Up! will send snapshots of bills to all users, summarize outstanding debt and how much each person has paid already, and provide support for multiple currencies (useful for those group vacations).
The SpotMe app for iOS uses Facebook optimization and free group messaging to track balances for bills you split (restaurants, rent, whatever) to make sure you get reimbursed. Daily and weekly summary reports mean that no one can "forget" to pay; you can also add photos, descriptions and notes.
More apps for you
Some other useful let's-do-this-fairly​ programs:
BillPin will email your friends their shares of the bill. It lets you charge some people less and others more, depending on need or prior agreement.
Divvy. Install this on your iPhone for 99 cents, then snap a picture of the receipt, drag each item to the person who ate it and you're done. The tax and the right amount of tip gets added, too.
Billr. "If you have an iPhone and love to eat out with friends, you need this 99-cent app," Nickerson says. It will calculate entrees separately -- "you know you don't want to pay for someone else's lobster when you enjoyed a salad" -- and divide up the costs of shared items like a bottle of wine or that bloomin' onion. It will also text or email a copy of the bill to all of the diners. (A similar app called Advanced Bill Splitter is available free for Android.)
These apps let you protect your budget without seeming like a buzz killer. No one has to get super picky ("Karen's appetizer cost $2 more than mine! And both she and Stacy had dessert!") but no one gets stuck paying way more than his share. Ain't technology wonderful?
More on Money Talks News:
One night out with the old crowd I noticed one of the members seemed to always be gone to the john or somewhere when it came his time to buy..... one night when it was my time to order a round I told the lady to bring another round for every one but him, never had a problem with that again.


I think my friends and I are good at paying our fair share.  Many times I will pay more because I don't have the expenses they do.  I enjoy surprising a friend with a Starbucks or picking up the tab.  Since I don't do it ll they don't expect it and seem to really appreciate it.  If people are always taking advantage of you, then get new friends.

The adults of tomorrow are going to get a big fat check from the democrats of today. They may need to wash dishes for a lifetime to pay for the spending on illegal immigrants. Them comes the food, stamp, medical & welfare. Obama is pretty generous with other peoples money while his family flies to Hawaii for vacation. Put it on the tax payers bill again.
Are you sure you want to delete this comment?
DATA PROVIDERS
Copyright © 2014 Microsoft. All rights reserved.
Fundamental company data and historical chart data provided by Morningstar Inc. Real-time index quotes and delayed quotes supplied by Morningstar Inc. Quotes delayed by up to 15 minutes, except where indicated otherwise. Fund summary, fund performance and dividend data provided by Morningstar Inc. Analyst recommendations provided by Zacks Investment Research. StockScouter data provided by Verus Analytics. IPO data provided by Hoover's Inc. Index membership data provided by Morningstar Inc.
MORE PERSONAL FINANCE SECTIONS & TOOLS