The decline and fall of texting
The number of traditional SMS text messages has dropped for the first time ever, hinting at a major shift in mobile communications.
This post comes from Quentin Fottrell at partner site MarketWatch.

One of the ironies of cellphone use in recent years has been the decline of voice minutes in favor of text messages and emails. Phone calls became a secondary function of phones. But now Americans are sending fewer texts as well, leaving some to wonder: What are people using their phones for?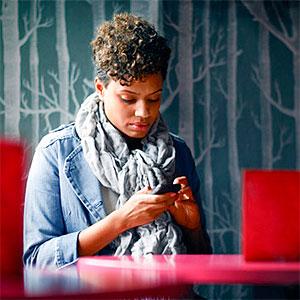 For the first time ever, the number of texts sent by U.S. customers dropped, according to a report published this week by Chetan Sharma, an independent mobile analyst and consultant. Though the decline is slight -- down 3% to an average of 678 texts a month in the third quarter -- it hints at a major shift in mobile communications.
As the traditional SMS text message falls out of favor, all those LOLs are probably just moving onto other platforms, such as Apple's iMessage and other services that send missives over the Internet, experts say. "Customers are moving onto more advanced ways to text," says technology analyst Jeff Kagan.
Free apps like Viber, Jaxtr SMS and iMessage offer more features than traditional texts and tend to be cheaper to use.
Texts represent a major source of revenue for wireless carriers, which sometimes charge as much as 20 cents for a single text message -- transmissions said to cost the companies just a few cents.
In fact, earlier this year, AT&T CEO Randall Stephenson expressed his concern about the decline in text messages. "You lie awake at night worrying about what is that which will disrupt your business model," he said. "Apple iMessage is a classic example. If you're using iMessage, you're not using one of our messaging services, right?" (AT&T's wireless-data business remains "robust" and saw an annual increase of 18% to $6.6 billion in the third quarter of 2012, according to Mark Siegel, a company spokesman.)
The rise of hybrid voice/instant messaging services may be another death knell for the humble text. Google Voice allows subscribers to send and receive free text messages on their mobile phones as long as all texts are sent and received through each user's Google Voice number rather than the number provided by the carrier. Google Voice users can also send free texts by speaking into the phone.
Likewise, Apple's voice-activation service Siri will transcribe voice messages via iMessage -- but only if the recipient has iMessage installed too.
"There's less need to spend an extra $20 or $30 a month on text-messaging plans," says Linda Barrabee, an analyst with market researcher NPD Group.
Since messaging is now being done over the Internet, wireless carriers are looking for ways to milk more revenue out of data plans, experts say. "Texting has been a very profitable business for the carriers," Barrabee says. Verizon Wireless and AT&T are phasing out unlimited-data plans and, earlier this year, introduced shared-data plans with unlimited talk and texting. Sprint and T-Mobile, meanwhile, still have unlimited-data plans.
What's more, data is getting more expensive. Faster 4G LTE connections will boost data usage to 1.2 gigabytes a month from 500 GB on slower 3G connections, according to Validas, which analyzes wireless bills.
But consumers are getting savvier at managing their data usage, experts say. Some 80% of Android and iPhone users accessed their data over Wi-Fi in September, according to a recent report by the NPD Group. They are more dependent on their smartphones and using them on Wi-Fi, Barrabee says. In May, Time Warner, Comcast, Cablevision, Cox Communications and Bright House Networks teamed up to offer their customers access to more than 50,000 Wi-Fi hot spots.
More on MarketWatch and MSN Money:
DATA PROVIDERS
Copyright © 2014 Microsoft. All rights reserved.
Fundamental company data and historical chart data provided by Morningstar Inc. Real-time index quotes and delayed quotes supplied by Morningstar Inc. Quotes delayed by up to 15 minutes, except where indicated otherwise. Fund summary, fund performance and dividend data provided by Morningstar Inc. Analyst recommendations provided by Zacks Investment Research. StockScouter data provided by Verus Analytics. IPO data provided by Hoover's Inc. Index membership data provided by Morningstar Inc.
MORE PERSONAL FINANCE SECTIONS & TOOLS