Skip the flowers -- she wants a smartphone
Bouquets and chocolates are still popular on Valentine's Day, but there's increasing interest in tech gifts. Clothing is a hot gift trend, too.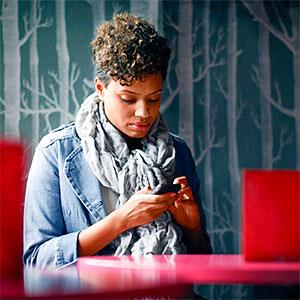 An interesting shift is occurring at the online coupon site
Rather-Be-Shopping.c​om
.  Normally the most requested coupons during the first couple weeks of February are for jewelry and flower merchants.
Not this year.
"Lands End coupons and Best Buy coupon offers have been trending the highest since Feb. 1," says site founder Kyle James.
So nothing says "romance" like a down coat or electronics?
Maybe. "Flowers die, candy is calories we don't need, and jewelry loses its luster," James says.
The
deal-finding/cash-ba​ck
shopping site
FatWallet.com
 has also registered some interesting February spikes in technology and clothing. Electronics have risen by 38% this month. Apparel sales have gone up noticeably in the past few years; currently they're more than 100% higher than they were in February 2011.
Consumer-friendly return policies have made shopping online for clothing much easier, according to FatWallet spokesman Brent Shelton. As for tech, "it's now a sexy gift that satisfies a couple of aspects of their lifestyle: It's something they want and it's within their budget."
Another possible reason for the jump in tech sales is seasonally lower prices, since retailers want to make room for new items introduced at the 2013 Consumer Electronics Show. But I tend to agree with James and Shelton: Tech is such an integral part of modern life that plenty of people consider a smartphone or tablet to be a pretty desirable gift -- and smaller price tags plus online coupons and/or cash-back shopping rebates can mean that smartphones and tablets cost the same as dinner out plus parking plus babysitter.

Looking for deals
Does this mean the traditional candy, floral and jewelry categories are kaput?
Hardly. Nearly one-fourth of the women surveyed by online coupon site
RetailMeNot
 said they'd love to receive jewelry, and 14% are hoping for flowers. Again, coupons and rebates of up to 16% make both more affordable.
Tech did pop up, however: 12% of women (and 4% of men) surveyed said they'd give a pricey gadget if money were no object. If money
is
an object, you can still address a significant other's tech wants or needs by keeping an eye out for deals.
For example, Groupon recently offered a leather iPhone case for $6. A recent FatWallet deal was for "touch-screen" gloves, perfect for winter phone use, for $2.99; these days a simple greeting card can cost that much.
Sites like FatWallet,
DealNews
 and
MyBargainBuddy.com
 bristle with potential gifts, from tech to teddy bears. Be careful about offering stuffed animals, though, unless you know your sweetie likes them. Some women find this to be a gift that infantilizes, and some men are not sure what they're supposed to do with a plush frog holding an "I Wuv You" sign.


Get creative
Can't spend anything at all? The Retail Me Not survey noted that 28% of men and 13% of women would love a meal on Valentine's Day, so put together a romantic dinner from ingredients in your freezer and pantry.
If it's early days in your current relationship, don't scare him or her off with the prospect of a romantic meal at home. Instead, bake some cookies or cupcakes. I've seen name-brand cake and cookie mixes at dollar stores and drugstores; these are the "snack size" boxes that make a dozen sweets, which is less overwhelming as a gift.
(Shout-out to those who think they can't bake: If you can figure out the instructions to program a DVR, you can follow the directions on the cake-mix box. Add some chocolate chips, nuts or coconut (or all three!) to the mix, or personalize it by chopping the recipient's favorite candy bar into small pieces as an add-in. You will earn Thoughtful Sweetheart points.)
You could opt to demonstrate caring through service. Anyone can buy a bouquet of roses -- they sell them at gas stations, for heaven's sake -- or a heart-shaped box of chocolates. It takes a special man or woman to offer to detail a loved one's car, or to take over catbox/dog yard chores for six months.
However you choose to celebrate -- if you choose to celebrate at all -- do
not
go into debt for Valentine's Day. Set a budget and stick to it. If you're expected to spend more than you can really afford to prove your love, you might want to think about the nature of the relationship.
Readers: What are you doing for Valentine's Day?
More on MSN Money:
Are you sure you want to delete this comment?
DATA PROVIDERS
Copyright © 2014 Microsoft. All rights reserved.
Fundamental company data and historical chart data provided by Morningstar Inc. Real-time index quotes and delayed quotes supplied by Morningstar Inc. Quotes delayed by up to 15 minutes, except where indicated otherwise. Fund summary, fund performance and dividend data provided by Morningstar Inc. Analyst recommendations provided by Zacks Investment Research. StockScouter data provided by Verus Analytics. IPO data provided by Hoover's Inc. Index membership data provided by Morningstar Inc.
MORE PERSONAL FINANCE SECTIONS & TOOLS