Is your TV too big?
Screen sizes are inching up, but going big may not be in your best interest. You have to consider the ideal amount of space between the TV and the people watching it.
This post comes from Kelli B. Grant at partner site MarketWatch.

With TV watchers immersed in college and professional football games, Major League Baseball playoffs, and season openers for hot shows like "The Walking Dead" and "Dexter," it's relatively easy for manufacturers and retailers to make the case for increasingly bigger big-screen TVs.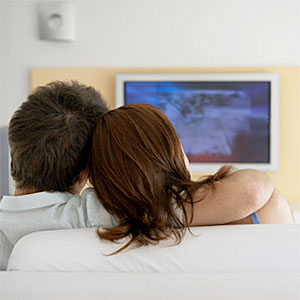 Shoppers may not want to buy into the hype, though -- a bigger set can often mean a worse viewing experience.
Industrywide, the screen size of the average TV produced has grown by 2 inches over the past year, to 36.8 inches as of August, according to DisplaySearch, a division of research firm NPD Group. Sharp has the biggest average size of panels shipped, at 48.3 inches -- and the biggest jump from last year, when that figure was 39.1 inches. Samsung screens are averaging 39.4 inches versus 37 inches last year, while LG-brand screens have increased to 38.9 from 36.2 inches last year.
The bigger the sets available, the bigger the sets consumers tend to buy, particularly in the U.S., where shoppers are typically more interested in screen size than features, says Paul Semenza, senior vice president of DisplaySearch. "It's about, how big of a set can I get into my room?" he says. The Consumer Electronics Association projects a 27% increase in sales of sets 60 inches and bigger next year, versus 6% for 55- to 59-inch sets.
Plus, as set prices drop, it's easier to get a bigger and better set for the same price during your next upgrade. And deals tend to be on larger-than-average models. Right now, manufacturers are pushing 46- and 47-inch models the hardest, says Louis Ramirez, the senior features writer for sale-tracking site Dealnews.com. "We're predicting the 46-inch category is going to be the new 42-inch," he says.
That was previously the sweet spot for pricing, which could entice more shoppers to buy even a little bigger. At the same time, shoppers may find smaller models -- like 32-inch sets -- less attractive, too. Most bear lesser-known brand names and lack the features of bigger models, like built-in Wi-Fi, he says.
But going bigger often isn't better for viewers. Retailers and installers often reference "optimal viewing distance" -- the ideal amount of space between a set and the person watching it. The bigger the set, the more space you'll need. The Consumer Electronics Association's rule of thumb is to sit at a distance of two to three times the screen's diagonal measurement. In other words, for that 46-inch set, viewers should be at least 7.67 feet away, but no further than 11.5 feet. For a 60-inch set, the span widens to between 10 and 15 feet.
Problem is, many people with fixed living room setups don't have that kind of space. That leads to a viewing experience that can be outright bad. "It's the same amount of pixels spread out over a larger viewing area," Semenza says. "On these really big sizes, you get anywhere near the set and you can see the pixels." Sitting too close can also cause eyestrain, points out Ramirez.
Assuming shoppers aren't buying that new 80-inch set for the great room of their mansions, they have two options: One, rearrange furniture to get maximum viewing distance, and buy the biggest set that works for that space. Or consider being an early adopter and springing for one of the new 4k TVs, which have four times the resolution of 1080p sets, Semenza says. (That solution has its own problems, including price tags in the neighborhood of $20,000, and no ultra-high-resolutio​n content to take advantage of all those extra pixels.)
Even shoppers in the market for a smaller set may want to wait another month or two, Ramirez says. Those 46-inch sets, currently priced about $400, could see price drops of as much as 25% by Black Friday. "If you can hold off, definitely hold off," he says. "Holiday sales could save you a few hundred dollars."
More on MarketWatch and MSN Money:
DATA PROVIDERS
Copyright © 2014 Microsoft. All rights reserved.
Fundamental company data and historical chart data provided by Morningstar Inc. Real-time index quotes and delayed quotes supplied by Morningstar Inc. Quotes delayed by up to 15 minutes, except where indicated otherwise. Fund summary, fund performance and dividend data provided by Morningstar Inc. Analyst recommendations provided by Zacks Investment Research. StockScouter data provided by Verus Analytics. IPO data provided by Hoover's Inc. Index membership data provided by Morningstar Inc.
MORE PERSONAL FINANCE SECTIONS & TOOLS