Is not tipping ever OK?
Should a tip be considered a reward for good or excellent service at a sit-down restaurant? Or is it something you should always do?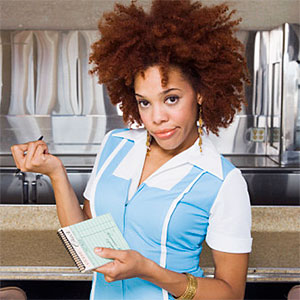 Are you in the camp that believes that if you can't afford to leave a tip, you should not be dining out?
I am, but that sentiment is not universal. Most recently, the no-tipping debate erupted again after a photo was posted on Reddit of a credit card receipt for $138.35 for a restaurant meal. In the line for the tip, someone wrote "single mom sorry" and added a cheery note, "Thank You it was great."
Some bloggers figured the receipt was a fake or, worse, was intended as a slap at single mothers. "I think the diner was not really a single parent, or at least not one who couldn't afford a tip, but rather someone trying to imply that some single moms feel like they are entitled to a pass because they are struggling financially," wrote Mari-Jane Williams on The Washington Post's On Parenting blog.
Mommyish blogger Lindsay Cross said she thinks the note on the receipt was "a very awful prank to make single moms look bad."
Since we have no way of knowing anything about the signer's intentions, let's focus on the basic question: Are you ever right to not leave a tip at all?
The Emily Post website seems silent on this question. The site's recommended tip for sit-down dining is 15% to 20%, pretax. However, no exceptions are listed. Tipping.org recommends the same range for tips.
Others who have commented on the topic seem to fall into one of two groups:
Those who recognize that the tip is a part of the server's pay and thus always tip. (This group generally includes those who work or have worked as a waiter and understand how hard the job can be.)
Wrote one commenter on Yelp in San Antonio:
"It's never acceptable to not tip your server at all! Even when the service is terrible. Now, I'm not saying you must leave a GOOD tip but keep in mind that these people live on the measly change you're leaving them. If there is a serious problem with your service/overall experience then let management know and trust them to take care of the problem."
Those who think a tip is a reward, and thus can be withheld.
"This arrogance that tipping is required for service is ludicrous," wrote Chris Thomas, a former server, on the Brass blog. "If you don't like working for minimum wage or less, don't work in service expecting more."
We can think of a combination of factors where you might be tempted not to tip. (This applies to sit-down restaurants in the U.S. In some countries around the world, tipping is not expected because restaurants pay the wait staff a living wage. Yes, hard to believe, I know.) The service would have to be really awful, like the server repeatedly ignoring requests for water refills, screwing up orders and delivering cold food -- all delivered with a bad attitude. Many recommend complaining to the manager in such cases. 
On the other hand, we can see why you might always want to leave something -- perhaps 10% -- even if the server was rude. Here's why:
But not tipping because you can't afford it is never legitimate. As one commenter at Yelp in Portland, Ore., wrote, it's like saying, "Can't pay my rent because I bought expensive furniture."
Is not tipping ever appropriate? Why or why not?
More on MSN Money:
DATA PROVIDERS
Copyright © 2014 Microsoft. All rights reserved.
Fundamental company data and historical chart data provided by Morningstar Inc. Real-time index quotes and delayed quotes supplied by Morningstar Inc. Quotes delayed by up to 15 minutes, except where indicated otherwise. Fund summary, fund performance and dividend data provided by Morningstar Inc. Analyst recommendations provided by Zacks Investment Research. StockScouter data provided by Verus Analytics. IPO data provided by Hoover's Inc. Index membership data provided by Morningstar Inc.
MORE PERSONAL FINANCE SECTIONS & TOOLS