Cutting the cord on a land line phone
More people than ever are dropping their land line service and going wireless exclusively. But before you throw out your old phone, make sure the move is right for your budget.
This post comes from Michelle V. Rafter of MSN Money.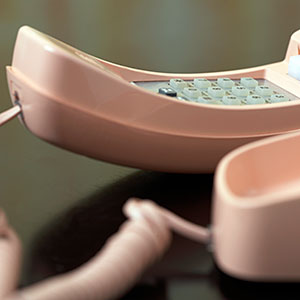 When the Wright family gave up their land line two years ago after a move from Oregon City to the neighboring town of Estacada, Ore., they never missed a beat.
"We decided we didn't use the land line enough to make it worth the money," says Kerry Wright, 38.
Over the past decade, the number of U.S. families like the Wrights -- which also includes Kerry's husband, Scott, and their 15-year-old daughter and 13-year-old son -- who have cut the cord on land line service and gone wireless-only has tripled.
The trend is expected to continue for the foreseeable future, thanks in part to the lure of smartphones. Technology analyst IDC says that last year, 712.6 million smartphones were sold worldwide, up 44.1% from 2011.
With cell service covering more of the country, it's become a more viable replacement for land line service. As of June 2012, the country was blanketed by 285,561 cell sites, a 36% increase from 2007, according to CTIA, a wireless industry group. It's also a matter of convenience. Why have two phone numbers and two phone bills when one will do?
Another reason is cost. Wireless phone companies heavily promote group plans with unlimited minute,s so when Mom or Dad sign up it's relatively cheap to add the kids -- and even Grandma and Grandpa.
U.S. households with no land line service but at least one wireless telephone jumped to 35.8% by June 2012, compared with 34% at the end of 2011, and only 10.5% five years earlier, according to the National Center for Health Statistics.
By 2016, the number of wireless-only households could climb to 50.8 million, or 42.8% of all U.S. residents with telephone service, according to IDC, the technology researcher.
Whether or not a family's gone wireless only at home depends a lot on where they live, according to the NCHS (.pdf file), which bases its findings on a twice-yearly government health study. In Idaho, for example, 44.6% of adults use only cellphones, compared with 15.3% of adults living in Rhode Island, according to the survey.
Ditching the land line
When the Wrights ditched their land line, they added a cellphone, bringing the number of mobile devices on their monthly plan to three. It was still cheaper. After paying for an extra cellphone for the family, they save about $200 to $300 per year, they say. 
Generation Y doesn't know anything else. The last time Senia Wadford, 22, used a land line, she was 16 and living with her parents. Today, the Spring Lake, N.C., woman and her husband, both Army medics, use their cellphones wherever they are, including at home.
Land lines "might be useful for families or mothers at home," Wadford says, "but not for us with our fast-paced tempo, and the fact that we have to turn our phones off for every deployment."
Even if you don't go wireless, an Internet connection and Skype or Google Voice can serve as a cheap replacement for a land line.
Betsy Richter, 50, of Portland, Ore., gave up her land line two years ago and signed up for a Google Voice number instead. The Web-based service is available to Gmail users or as an iPhone or Android app, and it provides free PC-to-phone calls inside North America, which Richter figures saves her about $30 a month. "I'm not a phone person by nature, plus both kids have their own cell numbers, as do I, so keeping a land line had little appeal," Richter says. "Google Voice has worked well for me."
Despite smartphones' popularity, there are some downsides of going wireless exclusively. 911 emergency services haven't been as reliable as they are on land line connections, though wireless carriers are working to improve that. According to CTIA, the wireless trade group, wireless 911 calls have risen to more than 400,000 a day.
Not all cell service is cheaper, either, which is why some people who give up land lines go back to using a combination of land line and wireless service.
Lynn Harris' family got rid of their land line more than three years ago, but reinstated a no-frills phone line after her husband quit working to return to school for a master's degree in counseling.
With the Oregon City woman supporting the family with two part-times jobs, money is tight. Harris pays $30 for a basic phone line plus $16 a month for a TracPhone prepaid cellphone. The cost is about half the family's previous monthly cell service bill. "More often than not, I end up leaving my cell in my purse and only answering the land line on the weekends," she says.
More from MSN Money: 
DATA PROVIDERS
Copyright © 2014 Microsoft. All rights reserved.
Fundamental company data and historical chart data provided by Morningstar Inc. Real-time index quotes and delayed quotes supplied by Morningstar Inc. Quotes delayed by up to 15 minutes, except where indicated otherwise. Fund summary, fund performance and dividend data provided by Morningstar Inc. Analyst recommendations provided by Zacks Investment Research. StockScouter data provided by Verus Analytics. IPO data provided by Hoover's Inc. Index membership data provided by Morningstar Inc.
MORE PERSONAL FINANCE SECTIONS & TOOLS