12 money lessons from the new 'Star Trek'
Money lessons are where you find them. Use these tips to live long and prosper.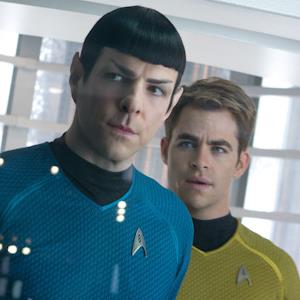 I've been a "Star Trek" fan since elementary school. While I don't dress in costume or attend conferences, I'm definitely a ST geek.
But I'm also a PF geek, which leads me to look for personal finance resonance just about everywhere. If I could turn out a piece like "
8 personal finance lessons from 'Gotterdammerung'
," you just know I'll find some pecuniary reverb in "Star Trek: Into Darkness."
One of the most important lessons comes from the filmmakers' audacity in rebooting a legend: 
1. Classics endure, but put your own spin on them.
Old PF chestnuts like
"spend less than you earn" and "save for retirement" are essentials -- but you can do these things in 21st-century ways. In fact, you may have to: If you don't earn enough to fund your retirement fully, you need to get creative about the money you
do
have.
What else did I learn at the midnight show? So glad you asked.


2. Assemble a great team.
No way could the universe be saved with a bunch of crew members who weren't willing to go the distance, so to speak. Don't hang out with lazy people, either at work or in your off-hours. Not only will less get done, you'll find that a good-enough attitude can be contagious.


3. Keep adding to your skill set.
Would Lt. Uhura have been allowed to join the away team if she didn't speak Klingon? Nope. If you want to be part of the most important projects, give your superiors a reason to include you.


4. Stay in shape.
There's a whole lot of running and climbing in this movie. Stay physically and fiscally fit so that you can keep up with the challenges of work and life. Get a little flabby, either figuratively or literally, and you may crash and burn, or simply miss a really good opportunity because you're not in a position to take advantage of it.


Smart use of energy
5. Learn all you can about your opponents.
Spock makes a very specific, very critical call to find out more about the mysterious John Harrison. The knowledge he gains doesn't necessarily change the course of events, but he now knows what he must be willing to do. If you're in a competitive industry -- and these days, what industries aren't? -- then you need to know all you can about the folks who want to take your job.


6. Improvise.
When the Enterprise can't beam up a member whose life is in danger, Lt. Uhura switches gears: "Can you beam someone
down
?" Well, yeah, they can, and down into battle she goes. If one tactic doesn't work, either at work or in your personal finances, remember: the box you think you're in may have an outside.


7. Delegate -- but pick your spots.
Kirk doesn't lead every charge, but he does get his hands dirty fairly often. If you've got a startup, save your energy for the important stuff and hire somebody to do the payroll.


8. See something? Say something.
Kirk is the only one who notices a puzzling (and potentially lethal) disconnect. Yet as the newest member of a team, he hesitates to speak up. If you notice something no one else seems to see, speak up. Yours might be the fresh set of eyes that saves a project.


Ready for anything
9. Be ready to adjust your course.
While hurtling through space in propulsion suits, Kirk and Harrison must navigate through a field of debris. If your work life or your bank account isn't working the way you want, try a different tack -- even if you think it might mean reaching your former destination a bit late.


10. Work with people you don't like.
The Enterprise crew must join forces with a bad guy who might be a good guy (or who might be even worse than they thought). Point being, they worked together for a common goal. So you don't get along with Marty the social media guru? Too bad. Grow up, be professional and do what you need to do. He might turn out to be a good guy after all.


11. The lowest point in your life leads…up.
Think you're dead in the water, either professionally or personally? Maybe you aren't. There's almost always a way out, if you're willing to change course, sacrifice, work your butt off or take huge, huge chances. Here's where that team comes in handy, either personally or professionally: Whether it's the co-workers who burn the midnight oil with you or the family and friends who have your back when you're unemployed, the right teammates can bring you back to life.


12. Sometimes intuition should rule.
A test in the Starfleet Academy involved an unwinnable situation. The solution? Change the situation. I don't need to tell you that this happens in the film (but I don't want to explain exactly how and ruin it for you). Suffice it to say that logic can carry you only so far. Sometimes you have to take a leap of faith.


More on MSN Money:

I thought it was "Harrison", not "Morrison"?
Good advice, just so long as you recognize that "see something, say something" will get you fired. This is because a rah-rah team does not want to hear that their flashy new plan has some holes that need to be patched up before they launch. Instead of thanking you for saving everyone's buttsky, you'll be branded a traitor and that horrid pejorative, "not a team player".

Come on! How's this for a money lesson from the Star Trek universe? Money, capitalism and the need for more and more stuff at the expense of humanity no longer exists. That's the future, money currently has an evolutionally chokehold on us. Let's hope we get off this crazy train sooner rather than later.
Are you sure you want to delete this comment?
DATA PROVIDERS
Copyright © 2014 Microsoft. All rights reserved.
Fundamental company data and historical chart data provided by Morningstar Inc. Real-time index quotes and delayed quotes supplied by Morningstar Inc. Quotes delayed by up to 15 minutes, except where indicated otherwise. Fund summary, fund performance and dividend data provided by Morningstar Inc. Analyst recommendations provided by Zacks Investment Research. StockScouter data provided by Verus Analytics. IPO data provided by Hoover's Inc. Index membership data provided by Morningstar Inc.
MORE PERSONAL FINANCE SECTIONS & TOOLS