3 shopping mistakes we can't stop making
The good news is we're getting smarter about saving money on groceries. The bad news? A trio of mistakes keeps costing us money.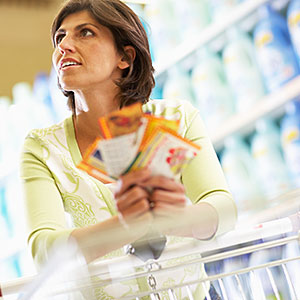 Though the economy is improving, saving money on groceries is still important to people, according to recent poll  of 1,100 U.S. residents conducted by ShopSmart magazine, a sister publication of Consumer Reports.
(Gee, you think?)
Some of our habits are good ones. More than 20% of consumers said they're more likely now than two years ago to buy store brands, shop at multiple stores to save money, use print or online coupons, or stick to a grocery list.
That's the good news. The bad news? A lot of us keep making the same shopping mistakes over and over.
Specifically: 
59% buy in bulk even if they have little to no storage space.
63% buy things they don't need because of coupons or sales.
71% toss expired food they never opened. 

Maybe we're watching a little too much "Extreme Couponing." 

Not that I have anything against coupons; I love the ways they save me money. I'm not alone: A recent survey by the RetailMeNot online coupon site indicates that 48% of U.S. consumers are proud to use coupons, considering them "a symbol of their savvy shopping skills."

Sometimes that usage needs a little work. Since September is National Coupon Month, I asked some money-saving experts for help combating those three big goofs.


Believing bigger is a better deal
The mistake: Buying in bulk even if you have little/no storage.

In theory, bulk buys make sense: You get a better price and need to make fewer trips to the store. But where will you put it all?

Half a year's worth of glucosamine can be had a great price, but it takes up great space in a studio apartment's cupboard. Even in a regular home you might be challenged to find room to store things like 36-roll bales of toilet paper or 52-count instant oatmeals.

Karen Rodriguez, who blogs at Saving the Family Money, says storage is a huge issue in her home state, Florida. Basements are rare and the heat places limits on garage storage. Here's what she tells students in her coupon classes: "(Know) what your family will use in a given time frame," and buy only what can be used before it spoils.
 
As for space restrictions, get creative about storage: 

Boxes under the beds, especially if you use the old dorm-room trick of putting your bed up on risers.
If you have a bookcase or entertainment center in a corner, store items behind it.
Hang shoe bags on closet doors to store small items like cans of tomato paste or toiletries.
Watch for file cabinets, armoires or dressers on The Freecycle Network or the "free" section of Craigslist. That extra file cabinet in your home office can hold a heck of a lot.
Put extra sheets and blankets between the mattress and box spring, then put dry or paper goods in the linen closet. Or place canned goods in a single layer on each shelf and stack linens on top.
I once interviewed a prepper who suggested piling up boxes of food, topping them with a round piece of plywood and covering the whole thing with a floor-length cloth. Instant end table -- but nobody has to know it's really cases of chili.
When to say 'no'
The mistake: Buying unneeded items because of coupons/sales.

Coupons plus sales can easily tempt you to buy something you don't truly need. Last weekend I saw an ad for Crest toothpaste that cost 99 cents after coupon and in-store rebate. My initial reaction was "That's a good deal -- I should get it."

Then logic kicked in: We already have five tubes stashed, and toothpaste regularly goes on sale for 99 cents. It was a good deal only if I needed dentifrice that day. I didn't.
Buying without thinking can bust your budget, warns Lynette Rice of the Cleverly Simple deal site. "It's too easy to get caught up in the excitement of a great deal," she says, "and forget that you need to stay within a specific spending limit."

An obvious solution is to donate such items. A food bank, social services agency or emergency shelter could likely use your overflow. So could a relative or friend who's fallen on tough times.

Or maybe sale + coupon = a frugal splurge. If you've got a shot at an inexpensive treat, why not thrill your kids (or yourself) now and then?

A coupon plus a great sale can mean the chance to try an item you've never used before. But don't buy half a dozen just because you've got the coupons.
"Make sure your household likes the product before stocking up," advises Sia Hills, who blogs at Thrifty NW Mom. "It's not a great deal if you have to toss it or give it away because they won't eat it."

Speaking of which…

Waste not -- please
The mistake: Tossing expired, unopened food.

Stephanie Nelson, aka The Coupon Mom, made a bold confession: She's had to throw out expired salad dressing, has kept deodorant so long it was dried-out and useless, and has had "more than one bottle of lotion or body wash evolve into glop after sitting in (storage) too long."

Yes, even the mother of "strategic shopping" has gone deal-simple on occasion, only to have the free or nearly free items rot on the vine. Let this be a cautionary tale to shoppers whose eyes are bigger than their pantries.

"I should have kept just a few of the items myself and then donated the rest of them," says Nelson, author of "The Coupon Mom's Guide to Cutting Your Grocery Bills in Half."

It's easy for a skillful shopper to end up with dozens of cans of beans, boxes of cereal or bottles of shampoo. Unless you're planning to donate this stuff, stop already; it's pointless to keep accumulating items that might have to be thrown out. Alea Milham of the Premeditated Leftovers site, has several tips for shoppers:

Pull older items to the front of the pantry and put new ones in the back. (I'd also suggest writing the sell-by date on the fronts of cans or packages with a dark marker.)
Inventory freezer, fridge and pantry before making a shopping list. Otherwise those rows of duplicates just build and build.
Don't succumb to marketing ploys. If the sign says "10 for $10" it generally means they're a dollar apiece, not that you have to buy 10 to get that price. If your list says "two cans of tomatoes," don't buy 10. "You will save money and reduce the chances that the extras spoil and end up in the trash," Milham says.
A note about sell-by dates: For shelf-stable foods, a sell-by date merely indicates the end of peak flavor. The United States has no universally accepted food-dating system, and no federal law requires expiration dates except for infant formula and some other baby foods.
Thus opinions about "old" food vary. For example, at least six years ago I got a number of bottles of barbecue sauce free with coupons. My partner and I are using up the last ones because he agrees with me that "best by..." does not mean "if you eat it after this date you will die a horrible death."
Food banks generally won't accept food past its sell-by date, and some people can't bring themselves to drink milk on the day it supposedly expires. Do what works for you -- but also try not to put yourself in the position of having to decide.
"If we stock up on (items) that we'll never be able to use, or end up throwing them away because they've expired, then we've done nothing but waste our time," Nelson says.


More on MSN Money
:
DATA PROVIDERS
Copyright © 2014 Microsoft. All rights reserved.
Fundamental company data and historical chart data provided by Morningstar Inc. Real-time index quotes and delayed quotes supplied by Morningstar Inc. Quotes delayed by up to 15 minutes, except where indicated otherwise. Fund summary, fund performance and dividend data provided by Morningstar Inc. Analyst recommendations provided by Zacks Investment Research. StockScouter data provided by Verus Analytics. IPO data provided by Hoover's Inc. Index membership data provided by Morningstar Inc.
MORE PERSONAL FINANCE SECTIONS & TOOLS