Lazy man's guide to money management
Think saving money, paying bills, comparing prices and shopping for deals take way too much work? All of these can be done with very little effort on your part.
This post comes from Craig Donofrio at partner site Money Talks News. 

Working is tough. And then there's the chore of having to manage the money you made as you toiled in the workplace. Leaves too little time to sit around in your underwear and catch pretzel bites in your mouth, right?
Not necessarily. There are smart ways lazy people can manage their money without breaking a sweat.

Put your feet up and review these tips to make your money work harder than you'd ever want to:
1. Auto-pay your bills
Writing checks is a pain. Instead, let your computer do the work. Many companies that regularly bill you -- like your Internet provider and the utility company -- will let you enroll in automatic payment. Visit their websites to see how to sign up. Just remember to regularly review your bank statement online to be sure it's working right.
Worried about overdrawing your bank account? Try an app like Mint.com's, which will alert you if your bank account is falling below a certain balance. Now you can sleep right through the due date on your bills.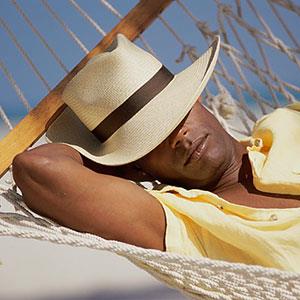 2. Auto-pay yourself
Thinking about how much to save this month is just another distraction from doing nothing. First, get your employer to direct deposit your paycheck. Then go to your bank's website and allocate a certain amount to be taken out of your checking account and put into your savings account on payday.
3. Ask for more money
If you need to make more money, don't look for additional work! Instead, ask your boss for a raise. But before that, use your lounging time to read up on how to get your boss to go along. We'll make this easy for you by providing some examples:
For this post, we spoke with an expert from Broward College's Institute for Economic Development to get some advice about seeking a raise.
In this article, we cover what to do and what not to do to make a good impression on your boss.
Here, we look at factors that, believe it or not, could cost you a promotion. For example, visible tattoos aren't a good idea.
4. Mail order subscriptions
Going to the drugstore for prescription pills? Heading out to shop for dog food? Ugh. Do yourself a favor and handle some of your common purchases with a mail order subscription. Not only can you substitute a trip to the pharmacy with a nap, you can also save money. Check out these options:
Petco will send pet products to your door at a discounted repeat delivery price.
Wal-Mart offers free home delivery for many prescriptions, and Walgreens has a similar service. Perhaps your favorite drugstore does too.
How about a shipment of toilet paper and beef jerky every so often? Home delivery by grocery stores is becoming more common, as are online grocery stores like Alice.com.
Amazon offers up to 15% off on eligible repeat order items with its Subscribe & Save program.
It sounds obvious, but be sure to compare subscription costs. You're not going to save money if the subscription price is more than the regular cost.
5. The buddy system
Some items you rarely use around the house really aren't worth your precious time and effort to buy, let alone research and read reviews about first. Go in with a neighbor or friend to buy things like ladders, power tools, hand trucks or even lawn mowers. If you're really lucky, that neighbor already knows the best brands to buy. Or, if you're really lazy, ask to borrow it. Remember to return the item before your nap.
6. Shop generic
Eventually, you will have to go to the store. But making price comparisons to get the best deal can be such a hassle. Here's a solution: Just buy generic when you can. Generic products are often just as good as the name-brand stuff. Even generic batteries can get the job done.
7. Skip the dump
Let's say you have a broken clothes dryer, but you're way too lazy to haul it in a truck to the landfill or dump. Did you know you can get someone to take stuff you no longer want off your hands for free? Put it outside on the curb and place a free notice on FreeCycle.org  and Craigslist. If the item doesn't operate properly, make sure you point that out. But in all likelihood someone will still come and pick it up.
More on Money Talks News:
DATA PROVIDERS
Copyright © 2014 Microsoft. All rights reserved.
Fundamental company data and historical chart data provided by Morningstar Inc. Real-time index quotes and delayed quotes supplied by Morningstar Inc. Quotes delayed by up to 15 minutes, except where indicated otherwise. Fund summary, fund performance and dividend data provided by Morningstar Inc. Analyst recommendations provided by Zacks Investment Research. StockScouter data provided by Verus Analytics. IPO data provided by Hoover's Inc. Index membership data provided by Morningstar Inc.
MORE PERSONAL FINANCE SECTIONS & TOOLS