You may not need a rainy-day fund
It may seem heretical to suggest, but sometimes accumulating a hefty emergency fund should not be your top priority.
This post comes from Kentin Waits at partner blog Wise Bread.

The Great Recession drove home the common-sense notion of being prepared. Specifically, it gave a lot of traction to the idea of having a six- to eight-month emergency fund. Today, nearly every financial adviser parrots the same call: Everyone everywhere should have months and months of living expenses socked away in an easily accessible account.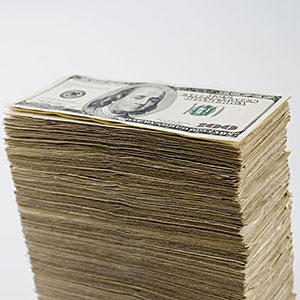 But is building an emergency fund always a good idea? And does the wisdom behind the advice translate to every financial situation? I don't think so.
At the risk of sounding heretical, I humbly assert that every financial circumstance is unique and that creating a hefty, low-interest, immediately accessible emergency fund might not be the smartest way to manage your money.
Here are a few situations where it just might be OK to skip scrimping and saving to build an emergency fund:
You have high-interest consumer debt.
Unlike an emergency, your creditors are a sure thing. If you have credit card debt, those high interest rates will be applied month in and month out. But the interest you'll get from a bank on a savings account is something akin to not-worth-mentioning​. Get more bang for your buck by paying off your credit cards first.
You have no retirement savings.
If you're young and trying to decide between funding a Roth IRA or 401k account and putting money away in case of emergency, bank on your retirement. The time horizon is long enough that you'll see real growth from compounding interest. Plus, with a 401k's company match and a Roth IRA's tax-free growth, both types of savings vehicles can be powerful wealth producers over the long term.
You have no debt and low expenses.
On the other side of the coin, if you have no debt and very low expenses, an emergency fund may not be the critical lifeline for you that it is for others. In an emergency, low overhead works in your favor and modest financial obligations can be met in a variety of ways besides a savings "super-fund." Redirect that cash toward investments that offer better long-term returns.
You have investments that are accessed easily and without penalty.
Panicked about not having money saved for the what-ifs in life? Relax. Maybe you already have an emergency fund and just don't realize it. Investment dollars that you can withdraw without penalty achieve the same goal (and may be earning a higher interest rate in the meantime).
You have flexible finances.
If you're financially flexible and can easily contract in the event of a temporary layoff or unforeseen income hiccup, maybe an emergency fund isn't an absolute essential. Having some serious wiggle room financially has some real rewards -- and not needing a huge emergency fund is one of them.
None of this advice is meant to suggest that preparation is a bad idea. Being financially alert helps us survive, thrive, and seize amazing deals when they come our way. But bloated emergency funds, built only by ignoring other wealth-producing opportunities and applied in a one-size-fits-all fashion, just don't make sense. In other words, sometimes the best preparation is knowing what we don't need to prepare for.
Do you have an emergency fund? Is your fund in a traditional savings account or another type of investment?
More on Wise Bread and MSN Money:
Throughout my working career, I rarely kept more than about $5K in the bank.  I kept pumping everything I could into stocks and mutual funds, usually through automatic monthly purchases to funds and DRIPs - a great way to force yourself to save.  If I needed more cash than I had in the bank I knew I could use credit cards and could sell stocks and transfer funds fast enough to pay the bill when the statement date arrived. If I spent a few thousand on a trip to China, Egypt, France, etc. then I might temporarily stop a couple automatic purchases to non-retirement accounts until my bank account returned to the $5K vicinity,  but otherwise I kept shoveling as much as I could.  That allowed me to retire at 56.


Decent points, but I disagree wholeheartedly in EVERY case. Your emergency fund helps you keep your investments where they are instead of having to cash in at possibly inopportune times. Having an emergency fund can PREVENT the need to incure more debt by using credit cards. Yes , if you have high interest debt, is should be paid off sooner rather than later. But the best first step in paying off debt is stopping the use of credit cards in the first place, so live below your means and save the difference until you have enough to live on for a few months, then start putting that extra monthly amount towards your debt. As for the retirement savings, yes, start as young as you can. Ideally you can get the full match from a 401k AND save for emergencies. If not, build emergency fund, then start contributing to retirement. If you live off of 90% of your Net income, you can build a 3 month(recommended minimum for most) emergency reserve in 27 months. Then start putting that 10% towards retirement. If you've been contributing to retirement fund the whole time, then INCREASE your contribution by at least 10% and you won't even feel it

Seriously bad advice.  Everybody WILL face unexpected expenses at some point in their lives.  It's a sure thing. 

Job loss is only one possibility.  Too often it's a medical crisis for yourself or a family member.  Or maybe a tornado, hurricane or flood.  A major car repair bill or home repair expense.  A death in the family requiring travel, funeral expenses, lost work time.

Immediate cash is a critical cushion.  It can make the difference in having options in a crisis, or none.  It can make a crisis manageable vs. life destroying. 

The "alternate" strategies are not a substitute for a reasonable amount of cash - IMO at least a few months of living expenses, but preferably six.  Already have high credit card debt?  Good luck charging lots more if you have a sudden need.  All assets in a retirement plan?  That costs time, a 10% penalty, and 30% or so in taxes to get to.  Investments to liquidate?  If you don't mind the risk of selling at a possible bottom, costing you way more ultimately.  A contract job?  Not if you've just had an accident or illness, or have to care for a family member who did. 

Life happens. Having resources to handle the bumps makes it happen a lot easier.


Are you sure you want to delete this comment?
DATA PROVIDERS
Copyright © 2014 Microsoft. All rights reserved.
Fundamental company data and historical chart data provided by Morningstar Inc. Real-time index quotes and delayed quotes supplied by Morningstar Inc. Quotes delayed by up to 15 minutes, except where indicated otherwise. Fund summary, fund performance and dividend data provided by Morningstar Inc. Analyst recommendations provided by Zacks Investment Research. StockScouter data provided by Verus Analytics. IPO data provided by Hoover's Inc. Index membership data provided by Morningstar Inc.
MORE PERSONAL FINANCE SECTIONS & TOOLS