Chicken wing prices take flight
Wings will hit their highest demand of the year on Super Bowl Sunday -- and their highest price on record.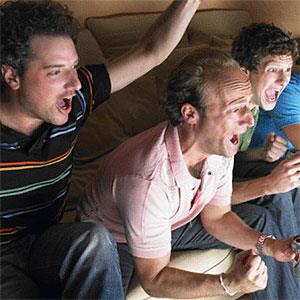 Americans will eat 12.3 million fewer chicken wings this Super Bowl Sunday than they did last year -- not because wings are less popular, but because there are fewer of them.
A 1% drop in production means wings have hit a record high price -- wholesaling for $2.11 a pound, 26 cents more than a year ago, according to the National Chicken Council.
Still, Americans will eat more than a billion wings over Super Bowl weekend. "To put that into perspective, if 1.23 billion wing segments were laid end to end, they would stretch from Candlestick Park in San Francisco to M&T Bank Stadium in Baltimore . . . 27 times," the National Chicken Council says.
When we say "wings," we're actually referring to wing portions, since each chicken wing is separated at the bone, and that skinny third part is exported to countries that value it.
Attributing the shortage of wings to high-priced feed caused by drought and other factors, the National Chicken Council, not without a sense of humor, adds:
"A chicken has two wings, and chicken companies are not able to produce wings without the rest of the chicken. Therefore, the supply of wings is limited by the total number of chickens produced. When the demand for wings is stronger than the demand for other chicken parts, the price of wings will go up, as it has this past year.

 

"The wholesale price of wings will be the most expensive ever during Super Bowl XLVII as demand rises and the supply has shrunk. Wings are also currently the highest-priced part of the chicken."
This means you'll still be able to purchase wings, but you'll likely have to pay more for them. How much more? It depends. According to NerdWallet, frozen party chicken wings averaged $2.52 a pound at major grocery stores in the week of Jan. 4-10, up from $1.97 a year ago.
Restaurant chains may have locked in a low price or decided to eat the higher cost and not pass it along to customers.
How did the wing become king of so many Super Bowl parties? The council notes that while Southerners were deep-frying chicken wings for many years, Teressa Bellissimo first cooked them with hot sauce for her son at the Anchor Bar in -- where else? -- Buffalo, N.Y., in 1964. 
In the 1980s, the council says, Americans started flocking to sports bars to watch football and, coincidentally, began to prefer boneless chicken breast over cooking the entire bird, and "wings became an inexpensive byproduct for chicken producers."
The rest is a tribute to American ingenuity: "Restaurants and bars realized they could charge low prices for the relatively inexpensive protein, and due to the spicy/salty nature of the sauce, they discovered that beer sales would go through the roof when customers ate wings."
Wings became so popular that their wholesale price exceeded that of chicken breasts in 2009. Thus, chicken breast meat carved up and sold as "boneless" wings is actually saving restaurants money.
Speaking of the Super Bowl, here are a few other tidbits we've come across:
Only in the Northeast do adults prefer bleu cheese dressing with chicken wings. The rest of the nation favors ranch, according to Chicken Council polling. (And to those who say wings are overrated, I reply, "I'll eat your share.")
CouponCabin.com did an online survey about the types of Super Bowl party guests no one wants to be around. Among those mentioned:
52% dislike the "know-it-all" guest -- the self-proclaimed expert on football, commercials, food and everything else.
41% mentioned the "remote dominator." No explanation needed here.
38% don't like the "social butterfly" who comes to talk and not watch the game.
Only 13% are bothered by the person who watches only the commercials (and apparently doesn't talk nonstop).
The survey also found that 37% admitted to having bet on the Super Bowl in the past.
More from MSN Money:
DATA PROVIDERS
Copyright © 2014 Microsoft. All rights reserved.
Fundamental company data and historical chart data provided by Morningstar Inc. Real-time index quotes and delayed quotes supplied by Morningstar Inc. Quotes delayed by up to 15 minutes, except where indicated otherwise. Fund summary, fund performance and dividend data provided by Morningstar Inc. Analyst recommendations provided by Zacks Investment Research. StockScouter data provided by Verus Analytics. IPO data provided by Hoover's Inc. Index membership data provided by Morningstar Inc.
MORE PERSONAL FINANCE SECTIONS & TOOLS