9 top Cyber Monday tips
With these tricks, you could save as much money on Cyber Monday as you did on Black Friday -- all without leaving your house, wasting gas or waiting in line.
This post comes from Karla Bowsher at partner site Money Talks News.

U.S. shoppers spent $59.1 billion over the long Thanksgiving weekend, with an unprecedented 41% of that via retailers' websites, says the National Retail Federation.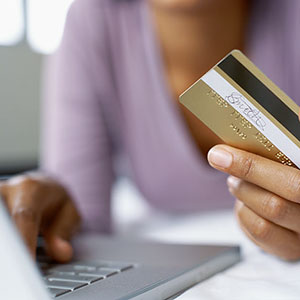 So, now that Cyber Monday is well under way, are there still deals online worth your attention, whether you're at home or at work? You bet.
"Eight in 10 retailers surveyed by Shop.org, the online division of the National Retail Federation, said they planned to offer Cyber Monday discounts, while 58% of people with Internet access at the office say they plan to shop online during the workday," reports The Washington Post.
Americans are expected to spend $1.5 billion online today, up 20% from last year. Here are some tips for maximizing your Cyber Monday shopping:
Scope out the sales. Browse dedicated sites like CyberMonday2012.com,​ check ads and visit your favorite stores' websites.
Comparison shop. To ensure you pay the lowest online price, enter an item in the search engine of a price-comparison website. I prefer PriceGrabber.com, but I also check Bizrate.com and Nextag.com just to be sure.
Check the return policy. This is especially important if you're buying a gift. To avoid sticking a loved one (or yourself) with an unwanted purchase, check out "Best and worst return policies for 2012 gifts," which offers instructions for interpreting return policies for online purchases.
Use a secure Internet connection. Unprotected Wi-Fi networks, like the ones you may access at coffee shops or bookstores, make it easier for identity thieves to intercept your personal information, including credit or debit card details.
Shop secure websites. Instead of the standard http://, look for the https:// protocol in front of a store's website address in your browser (the "s" stands for "secure"). You may also see a lock symbol, another indication of a secure website, next to the website address. If you don't see either, check whether the store offers a secure checkout option like PayPal.
Check for coupons and promo codes. To ensure you're not overlooking extra savings, search your favorite coupon aggregator and also use a search engine to look for the item name and "coupon code" or "promo code."
Avoid shipping costs if possible. Keep an eye out for free-shipping promo codes, which many stores offer to shoppers who spend a certain amount. You should also always search FreeShipping.org before making an online purchase.
Pay with a discounted gift card. Some websites, like Plastic Jungle, sell electronic versions. (However, Plastic Jungle says its e-codes may take about 24 hours to be emailed to you if you've never bought one before.) 
Get a rebate. Rebate websites like Ebates, Big Crumbs and Extrabux essentially pay you to shop online. 
More on Money Talks News and MSN Money:

So far most of my purchases have been online before and after Black Friday and then in the wee hours of Tuesday.  Fell asleep on Monday and forgot to check out the deals.  I have an American Express mileage card so I get double/triple points from shopping online all year long.  I can gain 100,000 miles in just a year, but I usually spend about $30,000 each year on my Am Ex.   Besides Target, I no longer shop at the mall.  I do most of my clothes shopping from Home Shopping Network or Land's End online. The goods have more quality and good prices online.  Amazon is the best for video games.  I even have to return 2 video games to Target tomorrow because I got a better deal on Thanksgiving day online at Amazon.  Shopping malls no longer offer good deals and the selection is so small by the time the prices are slashed.  Online, you have a bigger choice. Therefore, I go to a mall probably 3 to 6 times a year, and just to let my son walk around and go to the Lego store.  I never buy anything at the Mall, just eat at the food court. The prices are lousy and high.  
Are you sure you want to delete this comment?
DATA PROVIDERS
Copyright © 2014 Microsoft. All rights reserved.
Fundamental company data and historical chart data provided by Morningstar Inc. Real-time index quotes and delayed quotes supplied by Morningstar Inc. Quotes delayed by up to 15 minutes, except where indicated otherwise. Fund summary, fund performance and dividend data provided by Morningstar Inc. Analyst recommendations provided by Zacks Investment Research. StockScouter data provided by Verus Analytics. IPO data provided by Hoover's Inc. Index membership data provided by Morningstar Inc.
MORE PERSONAL FINANCE SECTIONS & TOOLS