15 worst gifts for men
Some gifts won't impress the man in your life. Here's a list of guy gifts to avoid.
This post comes from Jeffrey Trull at partner site Money Talks News.

Men aren't tough to shop for, but that doesn't mean you can buy us just anything. We're not picky, but we certainly don't want the same things women want.
In general, women like thoughtful gifts from the heart, and men just want stuff that's a mix of fun and useful.
Here's a tongue-in-cheek look at our annual list of gifts that men dread.
1. Gym membership
What, we're not fit enough already? This not-so-subtle suggestion that we need to get in shape won't persuade us to get off the couch, but it will be grounds for retaliation with your gift next year.
2. Silly gadgets
Retailers like Brookstone and Sharper Image are the go-to gadget stores for the hard-to-shop-for male. But please, no more 3-in-1 pens or motorized grill brushes. We already have regular versions of these things that do the job without batteries and buttons.
3. Cologne
Men either already wear a specific cologne or choose not to wear any. Your random scent selection won't fit into either of those categories, but it will sit unused in our bathroom medicine cabinet forever.
4. Tools (for a certain project)
This one may have you scratching your head since men enjoy their power tools, but hear me out. Men know when you want us to complete that household project you've been nagging about. Your gift says, "Now you have no excuse not to redo the bathroom!" Turning a gift into a chore will turn any man off. Do you like it when we give you a vacuum cleaner?
5. Ties
File this gift under "boring" and "forgettable." No man is going to get excited to unwrap a new tie, much less throw it on for a day at the office. Useful? Maybe. Fun? You've got to be kidding.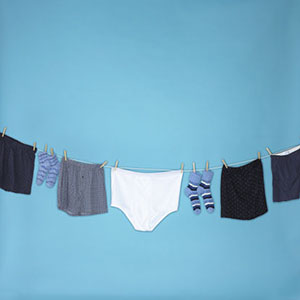 6. Shoes and clothes
It's not that men don't need shoes and clothes, we just don't get excited about this stuff. In addition, the chances of you nailing our tastes are slim. Put down that Hawaiian shirt -- it will never leave the closet. And don't get me started on how awful socks are as a present.
7. Nose hair trimmer
I received one of these before and wasn't sure what to think about it. Was it a gag gift? Or do I seriously have a nose hair problem? I still don't know, but I'm certain I've never used it. While you're at it, skip any other gift that adds, removes,or colors hair.
8. Personalized stuff
Personalized gifts aren't only tacky, but we probably don't need it whether it displays our name or not. I'm talking about mugs, shirts, aprons, or anything that says "World's best dad/uncle/brother." Find another way to tell us how great we are.
9. Bath products
Have you ever seen bath products on a man's wish list? I didn't think so. We spend close to zero time thinking about this stuff, and that tells you something about how little we care about what we use.
10. Jewelry
Men who wear jewelry don't need a ton of it. We're not going to accessorize with every outfit. If we don't already wear jewelry, your gift probably won't change that.
11. Anything "As Seen on TV"
Yes, we've already seen it on TV, and guess what? We didn't buy it. We know Snuggies are cozy and warm, but we don't want to look like the world's softest wizard. And golf club gimmicks found on TV aren't going to help our game.
12. Framed pictures
We get it: You're going for sentimental. But guys don't enjoy sentimental gifts as much as fun ones. We can appreciate couple or family photos to glance at on our workplace desk, but don't expect us to be excited about unwrapping this.
13. Gag gifts
Everyone's seen the singing fish now, and we don't need to see it again. Gag gifts are good for a quick laugh, but that's it before they're tossed out or take up residence in the garage.
14. Artwork
Decor is another one that's never going to top the list of things men think about on a regular basis. Best case: We hang it up and never notice it again. Worst case: It's off to Goodwill.
15. Coupons for favors
While women might love a coupon for a special dinner date night or back massage, men won't be excited to unwrap this one. Don't get me wrong. It's not that we don't want to spend quality time with you. But can't we do it without making it into a gift? Plus, we know this was a last-minute idea born from the fact you waited too long to shop.
More on Money Talks News and MSN Money:
DATA PROVIDERS
Copyright © 2014 Microsoft. All rights reserved.
Fundamental company data and historical chart data provided by Morningstar Inc. Real-time index quotes and delayed quotes supplied by Morningstar Inc. Quotes delayed by up to 15 minutes, except where indicated otherwise. Fund summary, fund performance and dividend data provided by Morningstar Inc. Analyst recommendations provided by Zacks Investment Research. StockScouter data provided by Verus Analytics. IPO data provided by Hoover's Inc. Index membership data provided by Morningstar Inc.
MORE PERSONAL FINANCE SECTIONS & TOOLS