American Airlines has a new kind of fee
You can now pay more for your ticket to avoid fees for checking your first bag or changing your reservation.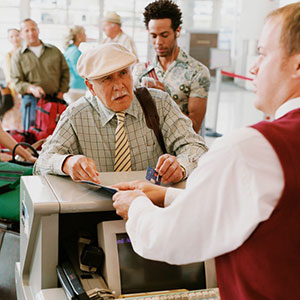 Just when you thought you had the multitude of airline fees figured out, American Airlines has upended the game by introducing a new way to price tickets.
As of today on AA.com, you can pay an extra $68 or more for round-trip tickets to prevent you from having to spend $150 later if you need to change your flight. The new add-on fees are a bit like buying insurance.
American Airlines, which is working its way through Chapter 11 bankruptcy, says it's responding to what its customers want. (Companies always say that, don't they?) The Chicago Tribune put it another way: "The move is consistent with an airline industry movement toward more fees and upselling extras." In other words, they've come up with another way to get more money out of us.
These new choices are available only on flights in the lower 48 states and only if you book through AA.com or a travel agent:
Choice tickets. You pay for your ticket, and you're charged extra fees to check a bag or change a flight.

Choice Essential. For an extra $68 round trip, you get "Group 1" boarding, one free checked bag, and no extra fee if you need to change your reservation.

Choice Plus. An extra $88 on top of your round-trip fare will get you all the pluses that come with Choice Essential, plus bonus frequent-flier miles, a free "premium beverage," and "same-day travel flexibility."
Another option, called "Fully Flexible," makes your fare fully refundable, with the cost depending on the flights.
The benefits of these new choices to members of AAdvantage and other elite flier groups are different because those fliers already get special perks.
So, are these upgrades worth the money? The first checked bag on AA's domestic flights is $25 each way. Group 1 boarding can be purchased for $9. A beer is $6, and other alcoholic drinks cost $7.
If you're the type who just can't seem to stick with your travel plans, it could be the way to go. On the other hand, if you've never had to pay a change fee and you don't check bags and refuse to pay those inflated airline drink prices, it's probably not worth it. 
U.S. airlines collect $3.4 billion in checked-bag fees and $2.4 billion in cancellation and change fees a year. How much have you contributed to that?
More on MSN Money:
DATA PROVIDERS
Copyright © 2014 Microsoft. All rights reserved.
Fundamental company data and historical chart data provided by Morningstar Inc. Real-time index quotes and delayed quotes supplied by Morningstar Inc. Quotes delayed by up to 15 minutes, except where indicated otherwise. Fund summary, fund performance and dividend data provided by Morningstar Inc. Analyst recommendations provided by Zacks Investment Research. StockScouter data provided by Verus Analytics. IPO data provided by Hoover's Inc. Index membership data provided by Morningstar Inc.
MORE PERSONAL FINANCE SECTIONS & TOOLS