Avoid stores that smell like grapefruit
Retailers can stimulate shoppers with loud music and certain scents to get them to make impulse buys.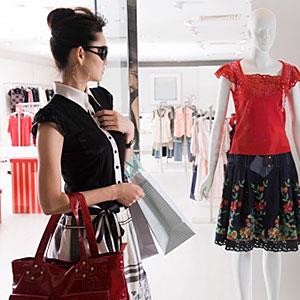 Some big retailers don't want you to feel all warm and fuzzy once you walk inside the store.
Au contraire. Research suggests that loud, fast-tempo music combined with the smell of grapefruit, considered a "high-stimulus" scent, makes people more likely to impulse buy.
The research, published in 2008, regained currency with a mention in a recent and widely read New York Times opinion piece by Oliver Burkeman.
So, what should a savvy consumer be on the lookout for? The executive summary of the research, conducted by Anna Matilla of Penn State and Jochen Wirtz of the National University of Singpore, says (.pdf file):
"A high level of excitement in a store enhances the loss of self-control, and high arousal reduces people's ability to think through the implications of their actions. It's also likely that many people's ability to resist temptation is at its lowest level at the end of the day."
Stores can achieve the desired effect by combining loud, upbeat music with "warm colors such as orange, yellow and red" and also grapefruit or other citrus smells.
The point is not to make the customer feel stressed or uncomfortable, but rather a bit charged up -- all the while providing a pleasurable experience.
In fact, other research by Matilla and Wirtz, from 2001, emphasized (.pdf file) that retailers should look at a number of interrelated factors when setting the proper tone for their stores.
It said low-stimulus music paired with a low-stimulus scent (i.e., lavender) created a much more pleasant (and spend-inducing) environment for shoppers than mixing low-stimulus music and a high-stimulus scent (grapefruit). High-stimulus music plus a high-stimulus aroma is, likewise, an anti-frugal combination.
The 2008 research also advises that retailers should want you to feel good about being in their stories. Thus, the 2008 study recommends that retailers counter the negative effects customers feel when they're in a crowded store by having employees be extra friendly and solicitous. (When was the last time you can remember that happening to you?)
Retailers also shouldn't go overboard with the music stimulation, which could backfire if it's considered inappropriate. For instance, most people wouldn't expect to jam with Funkadelic or AC/DC in a bookstore.
"Any deviation from the desired level of stimulation (i.e., both over- and under-stimulation) led to fewer of the desired behaviors of spending time and money," the executive summary said.
More on MSN Money:
DATA PROVIDERS
Copyright © 2014 Microsoft. All rights reserved.
Fundamental company data and historical chart data provided by Morningstar Inc. Real-time index quotes and delayed quotes supplied by Morningstar Inc. Quotes delayed by up to 15 minutes, except where indicated otherwise. Fund summary, fund performance and dividend data provided by Morningstar Inc. Analyst recommendations provided by Zacks Investment Research. StockScouter data provided by Verus Analytics. IPO data provided by Hoover's Inc. Index membership data provided by Morningstar Inc.
MORE PERSONAL FINANCE SECTIONS & TOOLS