No clothes shopping for a year?
How difficult would it be not to buy another item of clothing -- even underwear -- for the next 12 months? Think of the money you'd save.
This post comes from J. Money at Budgets are Sexy.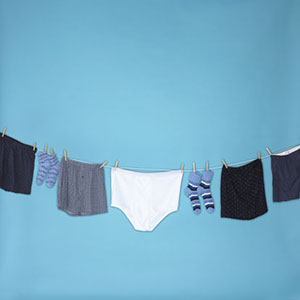 Could you go a year without shopping for clothes? Could you go a month? I read an article about a woman doing it over at SavvySugar, and I started to wonder if I could possibly do it, too. At least without driving myself insane.
I'm pretty good at completing missions when I put my heart into it, but there also has to be a good reason why I'm shooting for them or else I'll just tucker out and forget it.
And I already made my peace with clothes shopping about four years ago when I gave up ALL shopping (except the necessities) over 40 days of Lent. It was awesome -- a simple challenge that ended up changing my spending pattern forever. I used to spend $200 to $300 a month on stuff like clothes and random toys just for fun, but not anymore. I broke the habit!
But, for the sake of this article, if I were to take up another challenge with clothes, here's how hard or not it would be:
Shirts -- 8 out of 10 on the "hard-o-meter." Day in and day out I wear graphic tees and jeans -- at home, while I work, out and about running errands, and sometimes even church (though I have gotten better about wearing something at least with a collar). So I could, in theory, give up all new shirts for an entire year, but I'm pretty sure I'd start looking ragged come six or seven months down the road, because I don't have nearly enough shirts to cover me for a 12-month stretch. This one would be challenging.
Shoes -- 4 out of 10. While I tend to pick up one or two new pairs of shoes a year -- usually sneakers -- I could probably get away with none for a bit if I started wearing some of my older shoes I no longer think are cool anymore. So this department is easier to handle.
Hoodies -- 10 out of 10. This would be the deal breaker. Just like with my shirts and jeans, the hoodie is the ONLY thing I wear to keep myself warm throughout the fall and winter days. That's much to the frustration of my wife and mother, but they make them so comfy these days. And some pretty much look and feel like jackets anyway, probably to capture those consumers like me. So while I could just use the same 15 or so I have scattered across my closets (no joke), I definitely wouldn't be able to resist getting a new one if it was awesome looking and on sale. This would be a big fail in no time.
Jeans -- 5 out of 10. While I do wear jeans every single day, just like my shirts and hoodies, I luckily have enough to last me a while if I were to never pick up a new pair again. But only because I'm OK with holes and rips all over the place, as they only make them that much cooler.
Socks -- 2 out of 10. Oddly enough, this is one of the departments I have too many of. Every time I go shopping I usually pick up a few pairs (always on sale, of course) because I'm constantly on the search for the "perfect" socks out there. And when I get close, I then buy like 10 of them. So right now my drawers are overflowing with both awesome socks, and not-so-comfortable socks that I keep on the back burner just in case they're needed. I could probably last three months without ever wearing the same pair twice.
Undergarments -- 0 out of 10 on the hard-o-meter. Similar to my socks, I have plenty of boxers waiting to be worn too. I buy four to five at a time when I see a killer sale, and I'm paranoid of running low on these guys so I tend to hold onto the ones I no longer wear just in case. So 12 months of gong without new ones would be easy.
So, hoodies aside, I could probably get close to rocking this mission if I tried hard enough. But, really, there's no motivation here because I rarely spend money in this department anyway anymore. And when I do, everything's always on sale and I get a total thrill finding them.
Nothing like sporting my new crisp outfits in my basement when I'm blogging to y'all.
Think you could do it? Give up shopping the entire next year? If both your budget and closets are overflowing, it may be time to try out a new method. As the young lady mentions in that article, it would give you a chance to finally wear all your items that have been piling up as well.
If you have clothes with the tags still on, it's time to start sporting those bad boys ASAP. They're doing no good just sitting there. Either wear 'em or sell 'em and use that money to reward yourself for a solid 12 months of behaving yourself. You might be surprised how it affects your future habits.
More on Budgets are Sexy and MSN Money:
DATA PROVIDERS
Copyright © 2014 Microsoft. All rights reserved.
Fundamental company data and historical chart data provided by Morningstar Inc. Real-time index quotes and delayed quotes supplied by Morningstar Inc. Quotes delayed by up to 15 minutes, except where indicated otherwise. Fund summary, fund performance and dividend data provided by Morningstar Inc. Analyst recommendations provided by Zacks Investment Research. StockScouter data provided by Verus Analytics. IPO data provided by Hoover's Inc. Index membership data provided by Morningstar Inc.
MORE PERSONAL FINANCE SECTIONS & TOOLS