5 ways it pays to give
Deciding to increase your charitable giving significantly can have some surprising financial benefits.
This post comes from Julie Rains at partner blog Wise Bread.

Most of us have finite resources, so giving to your favorite charity means you have less to spend and save. But that generosity can also improve your finances.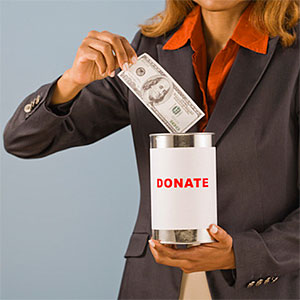 Certainly, if you make a large donation without examining or restructuring your priorities, habits and bank accounts, then giving depletes, rather than increases, your resources. But there are ways that parting with money can boost your financial status.
Making the decision to give a significant portion of your income involves confronting your financial attitudes. This faceoff can lead you to benefit from these positive actions:
1. Match financial habits with personal priorities.
Giving generously -- say, 5% to 10% of your income -- requires thought for most people. You need to consider not only how to give but also how to live. Such reflection can lead to conversations about financial priorities.
You may never have had these discussions with your spouse or family, or things may have changed since your last big talk. As a newlywed couple, for example, your goals may have been to pay off student loan debt, start saving for retirement and buy a house. Years later, perhaps now with children, these goals may have been reached. But you have not revisited priorities.
Whether you have a family or not, your focus on launching and growing your career during work hours and engaging in outside pursuits in your downtime may have prevented you from contemplating what is significant to you in terms of long-term goals.
Making a conscious effort to start or increase giving often leads to establishing and ranking financial goals. After you have had a conversation about what's important to you and your family, you can align your spending habits, budgets and pursuits with these priorities. You may also discover that by naming what you truly value, you are happier with less stuff and more meaningful (but less costly) experiences.
2. Find ways to trim costs.
If you earnestly want to give generously but don't have the extra cash and don't see a bigger paycheck on the horizon, then you'll need to lower expenses.
At first, you may not be able to think of a category that could withstand reduced spending. Eventually, though, you may find easy targets, such as entertainment, dining out, travel or clothing.
If you are like me, you can easily name areas that your spouse or children could cut to control the family budget. They may be agreeable. Or they may resist, as certain items -- a gym membership or a weekly evening out -- seem essential to their well-being. They may point to one of your hobbies as an extravagance.
Hopefully, though, you can agree on expenses that can be trimmed or eliminated. Take action, ending a monthly contract or altering habits that lead to unnecessary spending. If you give a portion of the savings, your wealth can grow even though you are making or increasing monetary donations. You may also reap higher levels of family harmony as a result of these changes.
3. Enjoy benefits that save money.
There can be benefits associated with providing financial support to a charity, even though your motivation should not be gains in wealth.
For instance, if you are part of a church, temple, mosque or nonprofit community supported by gifts from members, then you may have a built-in network of friends. These relationships can facilitate regular sharing of meals, ideas and expertise that saves you money.
4. Lower your tax bill.
Charitable donations can reduce your tax liability. Generous giving has financial value if you already itemize deductions or if the donations increase your deductions to a level that surpasses the standard amount.
5. Face reality, and make changes.
You can fool yourself into thinking that you are financially OK as long as you are meeting your monthly obligations, even if that means periodically cashing out your home equity, borrowing from your parents, raiding your Roth IRA account or overextending yourself on credit card debt.
But if you want to give more, you have to examine your financial condition: income and earning potential, spending habits, value of investment accounts and debt.
You may have plenty of disposable income or significant wealth, and find such self-scrutiny enjoyable. However, if you are struggling, this process may be painful. You may finally acknowledge that you cannot afford private-school education for your children, that your house and its upkeep are beyond your reach, that you can't take expensive and exotic vacations or that you need to land a new job or find ways to generate more income.
A financial wake-up call can help you face the truth, make difficult decisions and take practical steps to improve your finances.
Being generous doesn't automatically or magically confer greater wealth. But evaluating your situation and motivating yourself to take actions that benefit you, your family and your community can help you to make and save more.
Have you found that giving generously has had a direct or indirect benefit on your finances?
More on Wise Bread and MSN Money:

Giving to charity is a fast and simple way to help those in need but it is also still convenient for obtaining some personal gain other than the satisfaction of performing good will. Charity, in terms of giving away money or a valuable item translates to really helpful tax ride offs which we can all use. Its even more helpful to do this just before we file for our taxes. I donated an old car that I no longer needed and it was nice to get a nice load off my taxes from it. This charity accepts running and non-running vehicles to provide transportation and even financial aid. Anyone can take the initiative to help at http://www.onlinecar​donation.com/vehicle​donations.html and help improve someone's life while doing the same for theirs. 
Are you sure you want to delete this comment?
DATA PROVIDERS
Copyright © 2014 Microsoft. All rights reserved.
Fundamental company data and historical chart data provided by Morningstar Inc. Real-time index quotes and delayed quotes supplied by Morningstar Inc. Quotes delayed by up to 15 minutes, except where indicated otherwise. Fund summary, fund performance and dividend data provided by Morningstar Inc. Analyst recommendations provided by Zacks Investment Research. StockScouter data provided by Verus Analytics. IPO data provided by Hoover's Inc. Index membership data provided by Morningstar Inc.
MORE PERSONAL FINANCE SECTIONS & TOOLS