Which is frugal? Fake vs. fresh tree
An artificial tree that lasts for 6 to 10 years will cost less. But that shouldn't be your only consideration.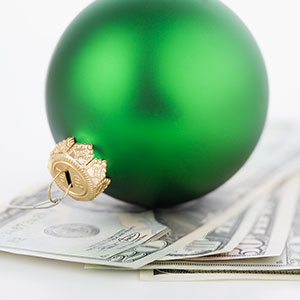 Did you know the first artificial Christmas tree was created in the 1930s by a U.S. maker of toilet bowl brushes? So says Earth911.com.
Blessedly, artificial trees have come a long way since then, and new sales figures bear that out. According to USA Today, "Early sales trends for the faux trees are up, according to Wal-Mart and Target, and at Home Depot, sales have jumped double-digits this season."
But are they a better value than a real Christmas tree? Let's figure this out:
Cost
A Nielsen survey for the American Christmas Tree Association (which includes artificial-tree purveyors) last year found that Americans planned to purchase 21.6 million real trees, at an average cost of $46, and 12.9 million artificial trees, with an average price of $78.
The association said, "The survey also found 11% of U.S. households who will display a real tree will also display an artificial tree, recognizing a growing trend toward celebrating Christmas with more than one Christmas tree." (Definitely not frugal.)
A Harris Interactive survey for the National Christmas Tree Association (the real-tree folks) produced somewhat different results for 2011: Americans purchased 30.8 million fresh trees, spending an average of just under $35. They bought 9.5 million fake trees, spending an average of $70.55. 
Of course, the price can vary greatly depending on the type and size of tree you buy and (for real trees) your location. For instance, at one tree lot in San Antonio, a price sampling by KSAT.com found a 6-foot Douglas fir for $41, a 6-foot grand fir for $51, and a same-sized noble fir for $4 more. A 10-foot noble cost $200. Slightly less expensive trees were available at home-improvement and grocery stores.
The cost of artificial trees can also vary widely, up to more than a thousand bucks. However, an artificial tree that lasts for six to 10 years is clearly the less expensive choice.
But real frugalists know that cost is not the only factor to consider when making a thoughtful decision to buy.  
Safety
The National Christmas Tree Association says that between 2000 and 2004, 45% of fires involving Christmas trees -- fake or real -- were caused by electrical failure or malfunction, and 24% started because the tree was too close to a heat source.
Note that a fake tree can catch fire, too. The U.S. Consumer Product Safety Commission says, "Look for the label: 'Fire Resistant.' Although this label does not mean that the tree will not catch fire, it does indicate that the tree is more resistant to catching fire."
What about lead in artificial trees? Says USA Today:
"In 2004, researchers at the University of North Carolina at Asheville concluded that an average artificial tree doesn't present a significant risk for exposure to lead. They did warn, however, that a significant health risk to young children is possible in worst-case scenarios."
Those generally involve older models of trees, says the research report.
Time
Artificial trees are pre-lit and assemble with ease. However, the tips might need "fluffing." Says Cheapism.com, "The key to selecting the perfect specimen is to focus on the number of tips; the more tips the artificial tree has, the fuller and more realistic it will appear."
On the other hand, real trees are fluff-free. But they require an amazing amount of water to keep from drying out. The real-tree folks recommend (.pdf file) "at least 1 quart for each inch of stem diameter." You should check and replenish several times a day.
Note: For both fake and real, remember to unplug the lights before you leave home or go to bed.
Environmental concerns
While makers of fake Christmas trees will likely disagree, it's generally recognized that buying a fresh tree is better for the environment. Fresh trees are a renewable resource grown on tree farms and easily turned into mulch when their job is done.
Fake trees -- the majority of which are shipped from China -- aren't recycled because they're usually made with PVC, says The New York Times. The landfill is most often their final resting spot.
So, which is more frugal? The tree that fits your budget, your lifestyle and your values. If you're not happy with the tree you purchased, that's not money well-spent.
Which type of tree do you prefer and why?
More on MSN Money:
DATA PROVIDERS
Copyright © 2014 Microsoft. All rights reserved.
Fundamental company data and historical chart data provided by Morningstar Inc. Real-time index quotes and delayed quotes supplied by Morningstar Inc. Quotes delayed by up to 15 minutes, except where indicated otherwise. Fund summary, fund performance and dividend data provided by Morningstar Inc. Analyst recommendations provided by Zacks Investment Research. StockScouter data provided by Verus Analytics. IPO data provided by Hoover's Inc. Index membership data provided by Morningstar Inc.
MORE PERSONAL FINANCE SECTIONS & TOOLS