Planning a medical procedure? Check the prices first
An analysis of hospital data shows extreme price variations, and indicates that Medicare gets a 73% discount. Use this info to negotiate your own medical costs.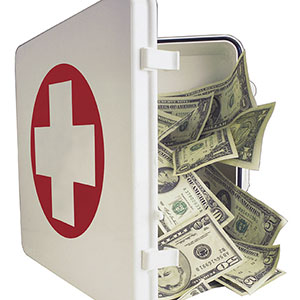 The chest pains that sent you to the hospital turned out to be just a really bad case of indigestion. Depending on where you live, the cost of treatment could send you into a second round of dyspepsia.
Treating severe heartburn, gastritis and other digestive disorders costs an average of $4,906 at Mercy Hospital in Moundridge, Kan. At the Bayonne (N.J.) Hospital Center the treatment costs $96,217 -- 20 times more than in Kansas.
This startling price variation comes from
the NerdWallet personal finance site
, which analyzed 160,000 lines of inpatient hospital data from the Centers for Medicare & Medicaid Services.
And it's not even the
biggest
price variation: Knee or hip joint replacement at one California hospital cost 40 times more than it did in Oklahoma. That's excessive even factoring in the higher costs in California, according to Christina LaMontagne, vice president of health for NerdWallet.
As the number-crunching shows, "care can be provided at significantly lower rates," she says.
But the real eye-opener is that Medicare ultimately pays only about 27% of what hospitals initially charge. That's valuable information even for the non-AARP crowd. Knowing Medicare's average payout is a great starting point for negotiating the cost of medical care -- especially if you don't have health insurance.
"An uninsured patient receiving a bill direct from their hospital might expect (it) to be
four times higher than what Medicare would pay 
for the same treatment," notes LaMontagne in a NerdWallet blog post.
Many consumers don't know what they'll be charged until the hospital bill arrives, she says. Even those with insurance may find the co-pays crippling. Some can get costs reduced by pleading financial hardship, but there's no guarantee of such discounts.


Weighing all options
Those newly crunched numbers form the basis of NerdWallet's
Hospital Price Comparison Tool
, which offers state-by-state prices for the treatment of 100 common health conditions.
This enables consumers be proactive rather than reactive. Knowing that Hospital A charges $10,000 less than Hospital B lets you choose a surgeon who practices at the more affordable facility.
Obviously you can't shop around for deals when you're facing something like a stroke or heart attack. If it's a scheduled procedure, however, there's time to consider your options. Even those with insurance can reduce their co-pays by getting the best possible price for good care.
If you don't have insurance? 
Healthcare Blue Book
 and
FAIR Health
list the estimated insurance-paid rates in your area. Ask a physician to accept this rate (or less) in cash at the time of service. To some doctors, earning less but getting paid right away is better than billing more and waiting months for reimbursement and co-pay.
A site called
New Choice Health
 sorts prices for procedures and medical testing by ZIP code. You also have the option of filling out a quote request, thereby inviting facilities to compete for your healthcare dollars.
Personal finance expert Gerri Detweiler notes that some insurance companies have tools for estimating treatment costs. Other sites that focus on health care "make it easier for patients to research health care costs, and save money as a result," says Detweiler, of MSN Money partner site Credit.com. (See "
7 websites to help you save on health care
.")


'Prices keep going up'
It's no secret that the U.S. health care system is inefficient price-wise.
We'll spend an estimated $2.8 trillion
 -- some 20% of our gross domestic product -- according to Time magazine's recent "Bitter pill: Why medical bills are killing us."     
Access to Time's entire 36-page special report is available only to subscribers. However, MSN Money's Kim Peterson provides a summary of its findings in "
7 massive problems with our health care system
."
The No. 1 fact she cited? A lack of consistent pricing: "Every hospital has an internal price list called a chargemaster, and none of those are consistent with each other, (Time) reports. The prices keep going up almost automatically, a hospital executive tells the magazine."
Consumers who think nothing of searching for the best prices on electronics or clothing may feel embarrassed to dicker over medical costs. LaMontagne suggests thinking of it in terms of long-term financial goals. The money you save on health care could go toward a child's education or the down payment on a future home.


Readers:
Do you negotiate health care costs? Got any tips to share?


More on MSN Money:
DATA PROVIDERS
Copyright © 2014 Microsoft. All rights reserved.
Fundamental company data and historical chart data provided by Morningstar Inc. Real-time index quotes and delayed quotes supplied by Morningstar Inc. Quotes delayed by up to 15 minutes, except where indicated otherwise. Fund summary, fund performance and dividend data provided by Morningstar Inc. Analyst recommendations provided by Zacks Investment Research. StockScouter data provided by Verus Analytics. IPO data provided by Hoover's Inc. Index membership data provided by Morningstar Inc.
MORE PERSONAL FINANCE SECTIONS & TOOLS