11 sneaky restaurant tricks
Restaurants have some clever ways of getting you to spend more than you'd planned.
This post comes from Amanda Geronikos at partner site Money Talks News. 

Going out to eat is fun and relaxing, but when it comes to cost, many of us bite off more than we can chew.
The average household spends about $2,500 at restaurants annually, according to the National Restaurant Association. While we like to think we're in control of what we spend, it's easy to give in to the tricks restaurants use to make us pay more. 
Here are 11 tricks of the restaurant trade. Knowing what they are is the first step to avoiding them.
1. Salty snacks at the bar
Those complimentary pretzels and peanuts weren't set in front of you as a kind gesture. They're there so you'll order more drinks. Salty snacks make you thirsty. End of story.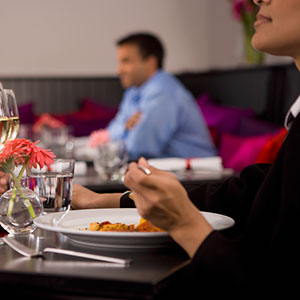 2. Menu design
Our eyes have a natural tendency to look at the right side of the menu first, so restaurants usually list their most expensive dishes in that area. Some restaurants put their most expensive items at the top of the menu, so other items look more reasonably priced. Shaded boxes and borders around menu items also attract hungry patrons and can increase sales.
3. Lack of dollar signs
Have you noticed that more restaurants are listing prices without dollar signs? That's no coincidence. In a Cornell University study, guests given a menu with only numbers and no dollar signs spent significantly more than those who received a menu with prices either showing dollar signs or written out in words.
4. Flowery descriptions
Which sounds better: "Classic Burger" or "Tavern-Style Burger with Frizzled Onions and Smoky Barbecue Sauce"? According to a six-week field experiment by Cornell (.pdf file), menus that had descriptive or creative food descriptions, rather than items with simple names, increased sales by 27%. To add insult to injury, scrumptiously described dishes often cost more.
5. Extremely friendly servers
I've personally fallen victim to this, and you probably have too. While dining at a restaurant in Chicago, I met the world's friendliest server and gave him an exceptionally generous tip (he made it a point to thank me for my kindness). According to another study by Cornell, my behavior was common. Customers leave higher tips when their servers personally introduce themselves, crouch beside the table, or ask about your day.
6. The upsell
The servers who grip your wallet with their charisma also pull you in with the classic upsell, and they're very good at it. That same Chicago server also convinced me that his restaurant had some of the best burgers in the city and persuaded me to buy a premium beer that would pair well with the burger.
7. Music
Classical music makes you spend. According to the Daily Mail, University of Leicester researchers found that classical music, associated with affluence, encouraged spending at restaurants, while a lack of music caused diners to spend drastically less.
8. Package deals
All-you-can-eat specials and buffets appeal to diners looking for a good value. While there may be a discount, restaurants pull out the tricks to get you to eat less. You've probably noticed that buffet lines often start with an assortment of low-cost breads and salads to fill you up before you even get to the meat. Sugary beverages can also fill you up. You might also find shallower plates (that hold less food) and uncomfortable chairs that discourage sitting for extended periods of time.
9. Questionable specials
"Specials" aren't always so special. In fact, they often include leftover ingredients or food that is set to expire soon. And while deals are out there to be had, sometimes specials can cost just as much as a regular-priced meal.
10. Forced waiting
Restaurant staffers make you wait so they can divert your attention to the lounge, causing you to spend more money.
11. Soups and salads trick
Many people often order a soup and salad under the assumption these items are cheaper (and more healthful). But they're not always a good deal. Salad bar items are often marked up more than 350%.
More from Money Talks News and MSN Money:
DATA PROVIDERS
Copyright © 2014 Microsoft. All rights reserved.
Fundamental company data and historical chart data provided by Morningstar Inc. Real-time index quotes and delayed quotes supplied by Morningstar Inc. Quotes delayed by up to 15 minutes, except where indicated otherwise. Fund summary, fund performance and dividend data provided by Morningstar Inc. Analyst recommendations provided by Zacks Investment Research. StockScouter data provided by Verus Analytics. IPO data provided by Hoover's Inc. Index membership data provided by Morningstar Inc.
MORE PERSONAL FINANCE SECTIONS & TOOLS